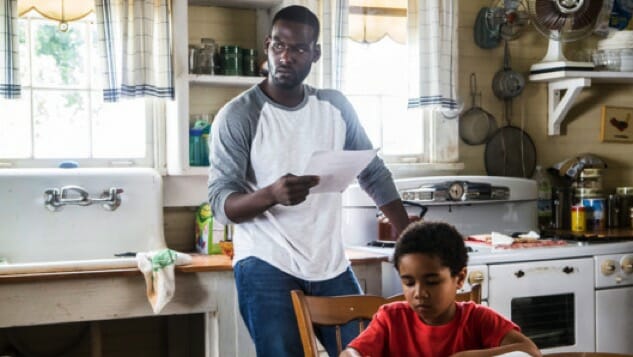 It's an all too rare experience to see Black men being vulnerable in any capacity, in their depiction in mainstream media. It has somehow conditioned many to believe that black men are incapable of such an emotion, and as a result, few black men have the privilege of seeing their vulnerability reflected in black characters on TV.
Queen Sugar, created and directed by filmmaker Ava DuVernay offers an intimate look at the life of an African American family in Louisiana, and it also gives a distinctive platform for black male characters, in direct opposition to the stereotypes often associated with them. The series, executive produced by Oprah Winfrey, has spellbound viewers with writing, cinematography, acting and compelling characters that have raised the standards of storytelling on TV. The series follows the lives of the Bordelon siblings, Ralph Angel, Charley and Nova, as they unite for the sake of saving their late father's struggling 800-acre sugarcane plantation, all of which invites a new (and authentic) exploration into black culture on TV.
DuVernay's directive eye zeroes in on Ralph Angel (Kofi Siriboe), a recent parolee and single father who is flawed, complex and looking for a fresh start. He's straddling two worlds, and often leans on his survival instincts (which is how he ends up robbing a liquor store in the premiere), but it's clear he wants to be a better example for his 5-year-old son Blue (Ethan Hutchison). Blue can be seen carrying around a doll he lovingly calls Kenya, a seemingly small addition to his character that works in a huge way to oppose gender norms. That his father lovingly acknowledges the doll as an extension of his son, without ever tormenting him for his innocent attachment, is even more important.
Siriboe tweeted to fans, that his character represents an aspect of many black men that we know. He wrote, "Let's look at black men through a different lens. See Ralph Angel and think of the men in your life. We just want to be loved."
The premiere of Queen Sugar thoughtfully fills a void for depictions of black men in their roles as fathers and sons. It punctures the "fatherless" narrative that has run rampant in the way so many stories allegedly concerned with black culture or black lives are delivered to us by white media. I would argue that such expectations go so far as to condition men to reject affection and even their own vulnerability.
Twenty years after The Fresh Prince of Bel-Air was on television, one of the show's standout moments is still discussed, especially in conversations about black men on TV. In "Papa's Got a Brand New Excuse," the show dealt with the return of Will's absent father, Lou, who only appears to abandon Will again. Will's trademark bravado morphed into a childlike energy, that would later shatter in the unforgettable scene with Uncle Phil (James Avery) validating Will's anguish. He reassures him that "it's okay to be angry," and holds him when he cries. All these years later, with everything that we've seen on TV, and this would still be a rare and shocking scene between black men. But Queen Sugar gives us hope that such moments will one day become the norm.
Earnest Bordelon (Glynn Turman), the patriarch of the Bordelon family is the one who sparks the reunion among the characters. We learn in the premiere that he is a man of great pride, keeping secrets about his failing sugarcane farm. The most poignant moment of the premiere comes in the hospital scene after Earnest is found unconscious at his grandson's birthday party. Whenever the three—Earnest, Blue and Ralph Angel—are together in the episode, DuVernay and the writers make a point to show how the Bordelon men have this profound ability to be totally present with one another. Rarely have we seen a certain generational love between black men on television, and this moment achieved greatness. Ralph wrapping his father's arms around his son, without a single word exchanged, and watching with tears in his eyes made it all the more profound.
As the story progresses in the next episodes, Ralph's tendency to coddle his son becomes more evident to his disapproving Aunt Violet. Frustrated, Violet (Tina Lifford) reveals that his father deeply regretted coddling Ralph Angel, and placing him on a pedestal as the only son. She delivers a stinging line that suggests his issues come from "wrestling with the world—a world that ain't got no pedestal for you."
Ralph Angel's sensitive when it comes to his father and also feels inadequate in the eyes of his family, especially his sisters—who often treat him like an afterthought. One of the things that makes him such a realistic character is his desperation to honor his father's legacy, and his desire to take over the sugarcane farm to one day pass on to the next generation. His confrontation with contractors repossessing his father's tractor in the third episode ("Thy Will Be Done"), pushes him to a breaking point. He aims a gun at them, to drive them off—but the presence of his son ultimately made him hand over the gun and walk away. But the dramatic standoff left him in tears at the end of the scene, and in his sister Nova's arms.
Dealing with the death of his father and a young son to raise, will undoubtedly push Ralph Angel to grow up, challenge his family's perceptions of him, and become a man—his own man. It's going to be a compelling journey to watch, and we can only hope that Queen Sugar's presentation of black, male characters like this will create a much-needed ripple effect in TV.
---
Ashley Gail Terrell is a freelance writer, occasional journalist, blogger, aspiring author and contributor to
Paste Magazine
. She enjoys drinking wine, 90s gangsta rap and perfectly executed sarcasm. Follow her on Twitter.