TNT Orders Ridley Scott's Raised by Wolves Straight to Series
Photo by Frazer Harrison/Getty
TV
News
Raised by Wolves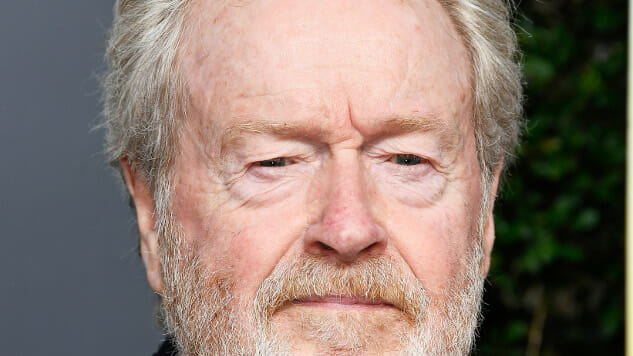 TNT has made a straight-to-series order for Raised by Wolves, which comes from director and executive producer Ridley Scott, making his television directorial debut.
The network shared this synopsis for the series:
Raised by Wolves centers upon two androids tasked with raising human children on a mysterious virgin planet. As the burgeoning colony of humans threatens to be torn apart by religious differences the androids learn that controlling the beliefs of humans is a treacherous and difficult task.
"I'm always searching for new frontiers in the sci-fi genre and have found a true original in Raised by Wolves—a wholly distinct and imaginative world, full of characters struggling with existential questions: What makes us human? What constitutes a family? And what if we could start over again and erase the mess we've made of our planet? Would we survive? Would we do better?" said Scott in a statement. "Given TNT's impressive run of bold, quality programming, this feels like exactly the right home for this kind of ambitious television."
Scott, who's long tackled challenging themes of humanity and intelligent life inside sci-fi universes on films like Blade Runner and Prometheus, will explore similar themes for his television debut with Raised by Wolves. The forthcoming series is, however, a new step into science fiction for TNT, which has stepped up its original programming in recent years with impressive offerings like period drama The Alienist and the deceptively great Florida nail salon soapy-crime drama Claws.
Early next year, TNT will premiere Chris Pine-starring limited series I Am The Night, directed and executive produced by his Wonder Woman director Patty Jenkins, and next summer, will also air a limited series based on 2013's Snowpiercer, as well as thriller Tell Me Your Secrets.
Aaron Guzikowski (Prisoners) will serve as showrunner as well as a writer on Raised by Wolves, and the series is being produced by Scott's Scott Free Productions in association with Studio T and Madhouse Entertainment. Scott will serve as executive producer along with Guzikowski, David W. Zucker, and Madhouse Entertainment's Adam Kolbrenner and Robyn Meisinger.
Some of Scott's recent sci-fi efforts, like Alien: Covenant and Blade Runner 2049, the latter of which he produced and was initially set to direct, were major box-office disappointments and were criticized for taking on too many ambitious themes for their own good. A straight-to-series order for Raised by Wolves should be reassuring news, therefore, for fans who want more time to spend inside Scott's sci-fi worlds.