Jenna Fischer Wants to Return to The Office
The actress says she "would be honored to come back" for a revival of the NBC sitcom
Image via NBC/YouTube
TV
News
The Office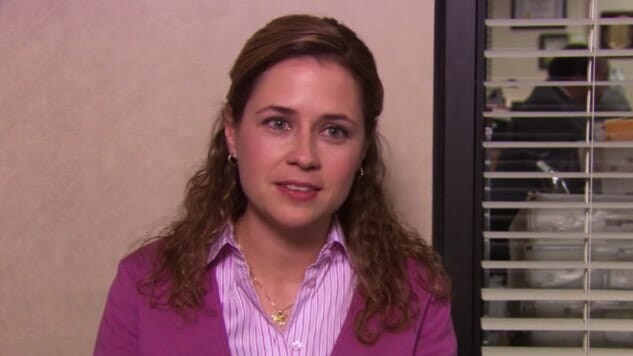 In mid-December, NBC made tidal waves when network sources revealed that they were looking to bring back their beloved, mockumentary-style sitcom The Office. Since then, numerous actors from the series have spoken up about wanting to get back to business at Dunder Mifflin, including Angela Kinsey and Creed Bratton, and now, that cohort includes Jenna Fischer, the actress behind the only and only Pamela Halpert (née Beesly).
Fischer, who appeared at the Television Critics Association's winter press tour on Monday to support ABC comedy Splitting Up Together, said that she wasn't aware of an impending return to The Office, but that she would love to reprise her role if the revival did indeed come to fruition. "I think that's for networks to figure out if I were to be asked," Fischer told reporters, per THR. "I haven't been approached about it and don't know anything about it. … But I love Pam!"
Speaking to THR after the panel, Fischer elaborated further:
I think the idea of an Office revival is a great idea. I would be honored to come back in any way that I am able to. I loved playing that character and as long as Greg Daniels is the person in charge and the visionary behind it, then I would absolutely be up for it. We just have to get Mindy [Kaling], B.J. Novak, Gene Stupnitsky and Lee Eisenberg, Mike Schur to write some episodes. That show was so great because of the talent involved behind the scenes, not just on the screen.
Initial reports of The Office's return came with several grains of salt, as NBC sources warned that the revival was not quite a done deal. Also, star Steve Carrell, whose performance as bumbling regional manager Michael Scott was key to the show's success, will not be involved with any new episodes, further tempering fan expectations. A refreshed The Office would feature a mix of old and new faces, likely achieving a similar feel to the final couple of seasons of the show's original 2005-2013 run at NBC.
The Fischer-starring Splitting Up Together premieres on ABC on March 27. Revisit a couple of classic Pam Beesly moments below, and stay tuned for more on The Office's potential return.