The Walking Dead Spinoff Confirmed Alive, More Details Revealed
Photo by Michael Muller/AMC
TV
News
The Walking Dead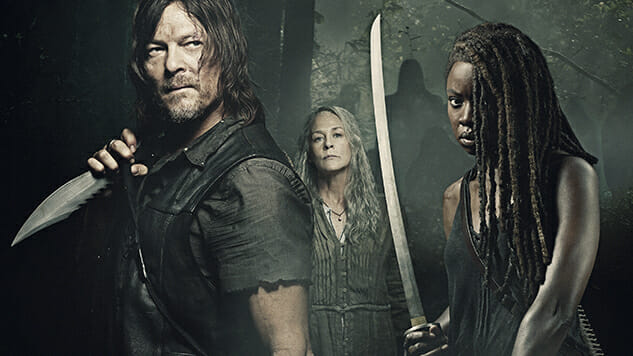 The Walking Dead universe drags itself through the mud for another day.
The Dead's second spinoff series was confirmed for a 2020 premiere at AMC's upfront event in Manhattan on Monday.
The series will star two women, and will be helmed by two men, Matt Negrete, producer and writer on the last five seasons of The Walking Dead, and Scott M. Gimple, chief content officer of the Dead franchise.
AMC's official announcement states that the third Dead series "will feature two young female protagonists and focus on the first generation to come of age in the apocalypse as we know it. Some will become heroes. Some will become villains. In the end, all of them will be changed forever. Grown-up and cemented in their identities, both good and bad."
Gimple said of the forthcoming venture, which will premiere during the Dead's tenth year of sanctuary on television:
Showing audiences an unseen pocket of The Walking Dead Universe steeped in a new mythology is a very cool way to celebrate a "Decade of the Dead" on TV and over 15 years of Robert Kirkman's brilliant comic. Matt Negrete is one of the best writer-producers in TWD's long history—I'm thrilled to be working beside him to tell stories unlike we've seen before, taking our first step into an even larger world.
Production on the series' first 10 episodes will commence in Virginia this summer.