Kyle MacLachlan Returns to the Red Room on The Late Late Show with James Corden
Photo by Terence Patrick/CBS
TV
Video
Twin Peaks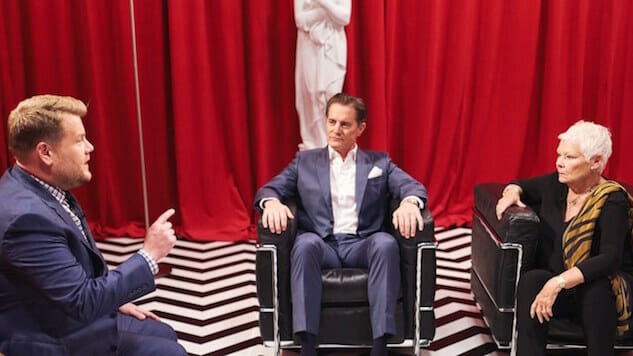 James Corden stumbled into the Twin Peaks Red Room last night, where he found Kyle MacLachlan speaking in reverse. For the actor's appearance on The Late Late Show, his dressing room was transformed into the limbo between the Black and White Lodges—complete with red drapes and a chevron-printed floor—for a sketch in which Corden becomes annoyed at the actor's voice.
Judi Dench also joins in on the conversation, and much to Corden's chagrin, she's talking backwards, as well. They only return to speaking conventionally when Corden steps away for a second, and when he confronts them about it, MacLachlan and Dench respond with demonic screeching (shout out to Laura Palmer).
When the three exit the alternate dimension to grace the main stage, MacLachlan discussed the makings of the awkward, but hilarious sex scene he shared with Naomi Watts in The Return. Watch the sketch above and the clip of interview below.