How You're the Worst's Creator and Stars Flipped the Script for Lindsay and Edgar
Photo: Byron Cohen/FXX
TV
Features
You're the Worst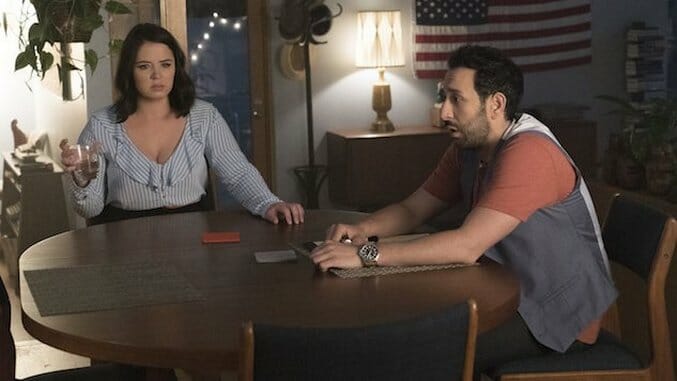 Kether Donohue and Desmin Borges are feeling a little giddy about their characters' latest trajectory.
Viewers of FXX's You're the Worst were treated to something quite surprising during last night's Season Four premiere: While Jimmy (Chris Geere) and Gretchen (Aya Cash) are reeling from their abrupt break-up at the end of Season Three, Lindsay (Kether Donohue) and Edgar (Desmin Borges) suddenly have their lives together. No, we're not kidding. Edgar is blossoming as a comedy writer and Lindsay is not only good at being a stylist—she actually wants to do a good job. These fan-favorite characters, who spent the better part of the last three seasons either manipulating (Lindsay) or being manipulated (Edgar), are coming into their own.
"The script had been flipped," Borges told Paste during a recent interview in Los Angeles. "We hold the higher status bar. Jimmy and Gretchen were before the ones who had their shit together."
For series creator and executive producer Stephen Falk, it's a chance to re-humanize Lindsay, who over the course of three seasons has, among other transgressions, impregnated herself using a turkey baster and stabbed her husband. "I felt like after last season she was the least sort of human of the characters," Falk said. "When you have a great actress like Kether, you don't want to make her boring at all. But is there a world in which she has a job and is functioning and isn't just running around being a cock-oholic."
Donohue is excited to explore more of Lindsay's layers. "I think Lindsay always had a moxie inside of her. I just think it was misdirected before. I don't think it was that different. This energy has always been there, now it's just being geared towards something else."
Donohue loves Lindsay's new hair and wardrobe ("In fittings, I'm actually trying on button down shirts!"), but playing the relatively responsible one has taken some getting used to. "It's obviously still the same character. It's still Lindsay, so what parts of her do we keep? Aya and I, as actresses, both had moments of uncomfortability, because I'm not used to being the straight man and she's not used to being kind of the out there. Especially in that scene where she's on crack and I have to do my homework. I felt like I was so boring in that scene. I was like, 'Stephen do you want me to do something to spice it up?'"
Borges plays the kindest character on a show where being nice isn't exactly a common occurrence. "Edgar was abandoned by his north star," Falk said. "I wanted to see what would happen if we made him a little more of a functioning adult."
He's a functioning adult whose days as a pushover are over. "My character would lead from his heart for a long time, and now, for the first time, I feel like he's leading with his gut," Borges said. "There's this level of confidence, but there's this knowing too that I'm not going to take this shit anymore from Jimmy."
After three seasons of Edgar pining for Lindsay and Lindsay taking advantage of him, the pair finally sleep together. "We're not really using manipulation anymore," Donohue explained. "It's not like Lindsay is sleeping with Edgar to get something out of him. They're just honest and straight up and I think they have a nice mutual respect now."
The two characters have always been connected ("We're an 'S'-shaped poop!" Donohue exclaims) but will having sex change their relationship?
"I think we're showing that friends can have benefits and still be friends on the other side," Borges said. "There's one thing that is a running theme for Stephen's version of storytelling, breaking down typical romantic tropes and putting them on their side and presenting them with a new kind of angle. Someone was asking me a couple of days ago in an interview if we are going to have like a sort of 'perfect ending,' and I said, 'Well, that depends on what you define as a perfect ending—because for this band of four misfits, I don't think a perfect ending for any of us is 'Find your soul mate, fall in love, find your perfect house, have the two kids, have the dog.' I think right now, a good place for Lindsay and Edgar to be is taking care of themselves. And that's it and they keep on pushing forward. So however that ends, whether that's perfect or not is based on your perception of what a perfect ending is."
Falk said, as a TV fan himself. there are times when he doesn't want anything bad to happen to a character. "I wanted to explore when two characters decide to go for it and it's just easy and nothing bad happens and no one catches feelings and they just bone and, 'That was fun, can we do this again and have nothing change?'" Falk said. "While Jimmy and Gretchen are at a horrible place regarding each other, Lindsay and Edgar are making it work. We wanted to show their maturity and togetherness."
What will definitely change is Jimmy's relationship with the group. He abandoned them all when he took off for a three-month, cell phone-free sojourn to a trailer park. Edgar, who suffers from PTSD, was in a good place when Jimmy decided to disappear. "All of the sudden, Jimmy doesn't come home for three months and he's left with this house that he doesn't own," Borges explains. "I'm sure that every night he's wondering where he is and being reminded of the friends he lost in battle and it's just kind of like a new swoop of emotion that's coming in that he's having to bury deep down."
Donohue said it's very good that Geere is such a likeable individual. "Everyone is supposed to hate him. He left her on a cliff. I think it's a testament to Chris as an actor that we still like him."
If there's a theme this season, it's "life leaves its goo on you," Falk said. "We're exploring the aftermath of a betrayal. Do you just come back from it, or do you have to work through it? Do you ignore it, or do you torture yourself? People like Jimmy and Gretchen can emerge from something and still think, 'I'm still me. I can just walk away.' And we start to see that's not the case."
---
Amy Amatangelo, the TV Gal®, is a Boston-based freelance writer, a member of the Television Critics Association and the Assistant TV Editor for
Paste
. She wasn't allowed to watch much TV as a child and now her parents have to live with this as her career. You can follow her on Twitter (@AmyTVGal) or her blog .