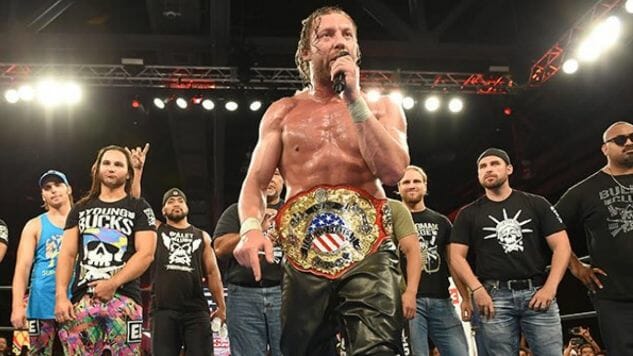 New Japan Pro-Wrestling is having one of the hottest streaks in the history of wrasslin' right now. The roster is one of the most stacked ever seen, featuring a litany of performers that can have a fantastic match any given night in just about any combination. And fans outside Japan are taking notice in increasing number, with each successive Wrestle Kingdom and G1 getting more buzz overseas than the one before. NJPW has been on a roll for years, but much of the credit for this growing international audience goes to one of the company's top guys, Kenny Omega.
The Canadian-born performer has been wrestling for more than a decade, and he's never been hotter than right now. Following two matches against Kazuchika Okada that shattered Dave Meltzer's five-star wrestling ratings, Omega became NJPW's first ever IWGP US Heavyweight Champion during the promotion's first US shows earlier in July. After the big night, Omega was reflective on his big moment. "It was an incredible energy on both nights, especially on night two," he told Paste.
The Cleaner takes the risk and lights up the crowd! Everything is on the line!
LIVE?https://t.co/pZiGp4aZKD#njpw#G1USA#njpwworldpic.twitter.com/DiYodgCTtx

— njpw_global (@njpwglobal) July 3, 2017
Omega made special note of the 2,000 folks who immediately sold out the southern California venue. "I had high hopes that we'd create a party-like atmosphere, but the fans went above and beyond to blow away everyone's expectations," he said. "It's awesome that people all over know and enjoy our product. It's huge motivation for me to push for a way larger venue next time." Omega echoed those sentiments right after his win, though in-character boasting that they could've filled 20,000 seats easily.
But how did the G1 USA special compare to the crowds in Osaka or Tokyo? "Dominion at Osaka has historically been one of our best, most lively crowds of the year," Omega noted. "Whether my match with KUSHIDA, the ladder match with Michael Elgin, or the 60 minute draw with Okada, the fans have been among the best in my career three years running now. That being said, from even before the first bell all the way until the closing mic performance, the Long Beach crowd was rocking the house in the greatest way a wrestler could ask for."
When asked how much of that success can be credited to Omega's big matches getting NJPW new exposure in the online wrestling community, he didn't act shy. "It definitely didn't hurt! Since last year I've been pretty open about my aspirations to become our international ambassador," he said. Not that he's taking all the praise for himself, of course. "I feel like even if I weren't poised to be in a main event slot, these shows would have still been tremendous. That being said I have faith in myself, The Elite, and the Bullet Club [Omega's popular faction of cool heels] that as the focus of the shows, we can turn that already tremendous product into something even more special and memorable."
The biggest question now is where does Kenny Omega go with his new IWGP US Heavyweight Championship. Currently he's busy fighting to win the G1 Climax Tournament for the second year in a row, but he's been pretty forward about his intentions for defending the United States gold. "My priority is to make this belt worth caring about," he said. "It can't be swept under the rug and it can't be the belt that's third or fourth string under our other singles belts."
At present, NJPW is full of hotly contested belts like the Intercontinental and NEVER Openweight titles, but Omega is looking beyond the shores of Japan. "NJPW has a bevy of talent but only a small core of big match performers. With that in mind, my hope is to actually venture out and find new challengers. New Japan has great guys, but we don't have all of the great guys. Whether I can succeed in my plan or not remains to be seen. However, I hope for the US Championship to allow for defenses that you couldn't see with any other championship under the NJPW banner."
@KennyOmegamanX makes his entrance for the IWGP US semi! History will be made tonight!
LIVE?https://t.co/pZiGp4aZKD#njpw#G1USA#njpwworldpic.twitter.com/letKEMlqrE

— njpw_global (@njpwglobal) July 3, 2017
After his big win, many wondered if Kenny Omega will be showing up at Ring of Honor or other international promotions to defend his gold, and it looks like that's on his mind as well. Just today it was announced that he would be defending his US Heavyweight title at Ring of Honor's Global Wars show in Chicago on October 15. But first Omega has to survive the grueling G1 Climax tournament that's seen some of the best wrestling all year.
Kenny Omega is the first non-Japanese person to win the G1 tournament, the first to receive a six star match review, and New Japan's first ever United States champion—and the year's barely half over. Who knows what other impossibilities he'll accomplish before 2018 begins?