Paige and the Redemption and Erasure of Wrestling Trainwrecks
Photo courtesy of WWE.com
Wrestling
Features
Paige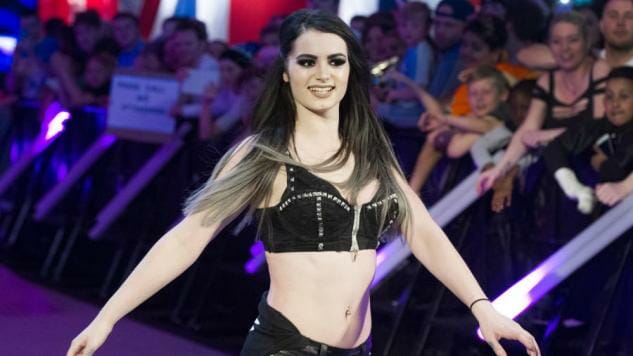 Content warning for mentions of suicide and domestic violence.
Earlier this month, news broke that Alberto El Patron (formerly Alberto Del Rio in World Wrestling Entertainment) was involved in an altercation with Paige at the Orlando airport. No charges of domestic violence were laid against El Patron, but TMZ has since reported that police recommended that Paige should be the one charged with a crime. As per WWE's wellness policy, a third violation (which they rightly consider intimate partner abuse as) would result in the termination of Paige's contract with the company.
This is the latest development in Paige's downward spiral, which arguably began when her and El Patron got together in early-to-mid 2016 and was solidified upon her two wellness policy violations in August and October of that year. She has not been seen on WWE programming in over twelve months and will not return for season seven of Total Divas, the previous season of which she was barely featured on; when she was, she was portrayed as unhinged and possibly inebriated. All reality shows need a villain, and Paige became the quintessential trainwreck of Total Divas, when she was seen on the show at all.
Feminist writer Sady Doyle, in her book Trainwreck, contends that "women disappear because they've been wrecked—because we've hated them for long enough to get bored of them. But they also disappear due to being misunderstood, or condescended to, or ignored. They vanish into irrelevance, but they also disappear into poverty, or addiction, or domesticity, or day jobs. The natural tendency is to see these disappearing girls as titillating unsolved mysteries. But they weren't spirited away to never-never land; they were talented professionals whose careers were put on hold for decades, or for the rest of their lives."
While the wider culture may be simultaneously fascinated by and contribute to the phenomenon of the female trainwreck, in a male-dominated industry such as wrestling, the majority of their trainwrecks are men. I challenge you to name on less than two hands the wrestlers who, in the past few decades, have died, killed someone, become addicted to drugs and alcohol and have physically hurt their professed loved ones. I'll start.
The long-awaited WWE 24 special on Kurt Angle that aired on the WWE Network in July charted his redemptive journey through multiple broken necks and painkiller addiction to his WWE homecoming over WrestleMania 33 weekend as a Hall of Famer and new Raw general manager. What it left out was the stalking and domestic violence charges filed against Angle by his girlfriend Trenesha Biggers, better known as Rhaka Khan during her time in TNA, in 2009.
There's also Scott Hall, who received the similar documentary-and-apology tour beginning in 2014 with his induction as Razor Ramon into the WWE Hall of Fame and culminating in the WWE-produced doc Living on a Razor's Edge: The Scott Hall Story last year. Though I refuse to take part in the exaltation of an alleged murderer (he shot a man in, again, Orlando in 1983 but was never charged with any crime) and serial domestic abuser by watching the documentary, I imagine Hall's violent past was similarly omitted from it.
Jake "The Snake" Roberts's atonement came in the form of the 2015 documentary The Resurrection of Jake The Snake, and much Jimmy "Superfly" Snuka footage exists on the WWE Network in addition to his in-memoriam regalement upon his death in January, just weeks after he was deemed unfit to stand trial in the 1983 death of his girlfriend Nancy Argentino.
A quick glance at the WWE Originals section of the Network confirms the sheer amount of male wrestling trainwreck-to-reclamation stories, but where are all the films and TV episodes about women in wrestling who've been cast out of the kingdom? We know they're out there: Chyna, Sunny, Missy Hyatt, Rita Chatterton, Paige… Even Rosa Mendes, who struggled with substance abuse and domestic violence could have Doyle's theory of disappearing into domesticity ascribed to her, after the birth of her daughter last year and her retirement from wrestling and Total Divas.
Mendes was able to correct her course from being remembered as a reality show foil at best to a footnote of wrestling history. To be a female wrestling trainwreck is to be content with nothing more.
---
Scarlett Harris is an Australian writer. You can read her previously published work at her website The Scarlett Woman, and follow her on Twitter at @ScarlettEHarris.