Best of What's Next: Best Coast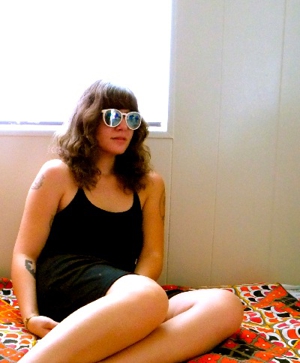 Before singer/guitarist Bethany Cosentino was crafting two-minute, beach-fuzzy sonic diary entries with Best Coast, she weathered an earnest singer-songwriter stint in her teens and a more recent drone-y period with a band called Pocahaunted. Within the past year, though, she and bandmate Bobb Bruno have recorded enough 7-inches for a family to eat dinner off of, all released in small batches on boutique labels Group Tightener, Art Fag, Black Iris and PPM. The 23-year-old Cosentino (a former Fader intern) and bandmate Bobb Bruno are shooting for a September release for their debut LP, and in the meantime they'll be spending early February on tour with the Vivian Girls. Paste recently talked with Best Coast's bandleader about Oasis' influence on the new album, a certain lie about her babysitter and finally giving Neil Young his due.
Paste: Devoted Best Coast fans already have a stack of 7-inch records. Do you collect them too?
Bethany Cosentino: I don't own a lot of 7-inches myself. However, I'm obsessed with buying girl group singles and '50s and '60s singles on 45s. It's always really cheap and accessible. At the Amoeba Records in Los Angeles, there's box after box of 7-inches and 45s. It's just a little package. Most of the time I feel way too ADD to sit there and sort through every single record. Sometimes I go to thrift stores, although they're the worst to look for records. You either look for so many to find a good one, or you just keep looking and find the West Side Story soundtrack like 500 times.
Paste: After all of 7-inch recordings you've done, are there any previously recorded songs on your debut album?
Cosentino: It's all new. We were only tracking for a week. It was really quick because we had a limited amount of time in the studio and a limited time with Lewis [Pesacov] of Fool's Gold and Foreign Born, who produced it. He recorded and produced the songs on the Black Iris 7-inch. While it was happening, I was so stressed and I wanted it to be over and sleep for five days. Now that it's over I'm jumping to start recording again because it's so much fun. Even though recording is one of the most stressful things in the world, it's also one of the most amazing and creative processes that I've ever been a part of. Everything that we had recorded before, all the previous 7-inches, we recorded them ourselves. It's cool to do something different from what you're used to doing.
Paste: What changed about the process, recording this album?
Cosentino: The record itself is going to be not that different from what we did before. There are some darker, moodier, slower songs and I don't think people are used to hearing that from me. A record should be a collage of different sounds. When you have a record of 12 songs, 30 minutes of the same song over and over or just a similar vibe—I think it can get a little bit boring. I had written these moodier, darker songs, and when we were recording them we were trying to keep these ideas in mind of these bands like Oasis and Nirvana who have these slow songs. Everything before has been so poppy and fast-paced. We're used to just sitting down and doing guitar and vocals and then Bobb does his fast surf-y kind of thing. The slow songs were a different process where Bobb does this heavy, fuzzy bass-sounding thing. Nothing too crazy. I don't think people will really be like "Who is this? This doesn't sound the same at all." I just think that it's different recording 12 songs as opposed to just two.
Paste: I read somewhere that Bobb used to be your babysitter. Not really, right?
Cosentino: No. We said that in an interview. At the end, they asked for something that nobody knows about you. Bobb and I had been joking that we would start this rumor that he was my babysitter, and he mentioned it to the camera guy and the girl who was doing the interview. When we said it, I assumed no one would believe it. My mom and my best friend were like, "What the hell are you talking about?" "Oh it was just a made-up story." And my mom said, "You shouldn't lie to people. You shouldn't just make up stories." Bobb was really into keeping the lie going, but I felt bad.
Paste: Did your parents listen to the girl groups you now hold so near and dear?
Cosentino: Not really. My dad listened to a lot of Beatles and Beach Boys stuff. My mom was into Steely Dan and Fleetwood Mac. My dad actually was a big classic rock and oldies radio kind of guy. I can remember being picked up from school and "Be My Baby" was on the radio 20 times a day. I remember hearing that song and really loving it, but not understanding that it was an actual sound. I was really young. When I was about 18, my best friend had a Ronettes "best of" CD in her dorm room when I went to visit her. When we listened to it, it was snowing. It was the first time I had experienced a bunch of Ronettes songs. I had only heard the obvious ones. I thought it was so beautiful, like a Martin Scorsese movie.
Paste: So you're obviously thinking cinematically. Are you behind those videos pairing your songs with with old film clips?
Cosentino: I have nothing to do with any of those videos. When I saw them, I thought, "This is so cool that somebody's doing this." Some people think they're official. I did an interview where a woman asked me what the simulated sex scene was like in the "Sun Was High (So Was I)" clip. That was obviously not me, it was some French chick from the '60s! I'm a fan of old films. A lot of them seem to be French new wave stuff, which I love. Whoever's making them should keep it up.
Paste: What do you think about composing music for film?
Cosentino: I would love to do something like that. I originally wanted to. When I was younger doing singer-songwriter sort of songs, when I stopped doing that, I thought about writing a bunch of songs and trying to sell them to someone or tried to write songs as a ghostwriter for someone. It would be fun to write music for film and TV. I love to write music, so basically any opportunity I have to write music and have it be heard is really cool. If somebody wanted me to—I have no idea how to get started, but if the opportunity arose.
Paste: One more thing—you were late to the Neil Young party?
Cosentino: I'm one of those people who hears one song, or even an entire record by someone like Neil Young who has a million records, and if I don't like that one thing, I'm convinced I don't like any of it. I don't know why I do that, but it's something I've done since I was a little kid. I do it with food, I do it with movies—it was just stupid. When we started recording the 7-inch at Black Iris, one of the engineers was obsessed with Neil Young. I told him I didn't like him, but he made me listen to On The Beach. I was like, "Yeah, whatever." When I looked it up, and found the record cover, it was one of the coolest things I've ever seen. A record that has a cover that cool has to be good. The first song on the record, "Walk On," is incredible. I shouldn't have been a hater of Neil Young.
Others Tagged With