Flying Lotus: Cosmogramma
[Warp]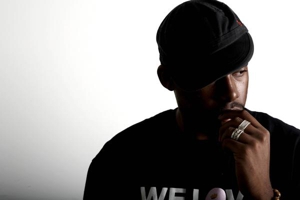 MC transcends jazz, hip-hop, space and time
The third album from Los Angeles-based producer Flying Lotus (nee Steven Ellison) is an engrossing exploration of sonic possibility. Featuring contributions from Thom Yorke, vocalist Laura Darlington, bass producer Thundercat and jazz instrumentalist Ravi Coltrane, it's a study in contrasts: provoking but reassuring, kinetic but focused, clean but clattering.
Ellison belongs to an international collective that stretches from the depths of L.A.—where he, Daedelus, Nosaj Thing and Gaslamp Killer, lit by the glow of their laptops, host a weekly club night known as Low End Theory—to the industrial heights of Glasgow, the territory of experimental production queen Mary Anne Hobbs. The magnetic live experience of Low End Theory is writ large on this album, which draws both from those complex layers of sound (so different from the measured hip-hop beats dominating the airwaves) and from Ellison's family history. His aunt, the late Alice Coltrane—that great jazz multi-instrumentalist and swamini of a California ashram—gave him the freewheeling vocabularies of both jazz and space-conscious East Indian spirituality, heirlooms on which Cosmogramma banks heavily.
Though it lacks a narrative frame, the album manages to remain stylistically and thematically cohesive. In the first 10 minutes, the beats build almost frantically, then relax into a dreamy spiral and spike again; Yorke and Darlington's vocals highlight Ellison's swirling sounds, giving them sonic edges. The Radiohead frontman's dreamy musings on "…And the World Laughs with You" aren't an intrusion, but they work better as gleams and fragments on "Do The Astral Plane," a track that begins with playful scatting and settles into a deep swinging groove, backed by impeccable percussion.
Flying Lotus has truly mastered the silicon machine: His byte-and-bass combo screams, buzzes and pounds through ever-shifting beats, which clink with mantra-like repetition until they suddenly give way to a universe of unforeseen noise. On Cosmogramma, this never-ending stream of aural textures sounds effortless, and the enthralling swirl of jazz, drum 'n' bass, dubstep and hip-hop beckons you toward the edge of something damn near cosmic.
Others Tagged With