Ben Sollee: Inclusions
[Thirty Tigers]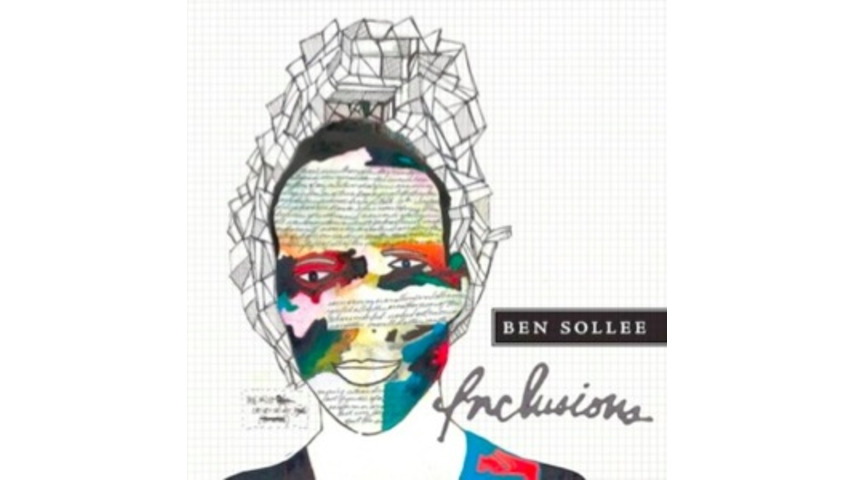 There aren't too many singer-songwriter-cellists operating in today's indie world, but then again, there's very little that's ordinary about Ben Sollee. A Kentucky boy, Sollee grew up studying classical music but worshipping Lauryn Hill. He played cello in The Sparrow Quartet, a bluegrass-based band with Chinese lyrics. He's a political activist—not just a pretend one: He teamed with My Morning Jacket's Yim Yames and folk songwriter Daniel Martin Moore for the Dear Companion project, which was recorded and toured behind in protest of the controversial Appalachian mining practice known as mountaintop removal. Oh, and he's also known for touring across the country in a freaking superhuman bicycle.
With such an unusual human being resume, there's a lot that could distract from Sollee's music. And that's a shame. His first two albums made quiet splashes with the jam/folk crowd, but so far, he's picked up more press for everything else than his own recorded output. Being buddies with My Morning Jacket has helped some—not only did the Dear Companion album turn out to be an amazing little project in its own right (with Sollee stealing the show with his sharp lyrical wit and terrific folk stylings) but he's also taken his musical bond with Yames to the next level, recording cello parts on several tracks for My Morning Jacket's upcoming sixth album, Circuital.
Dude's had a busy few years. But with Inclusions, he's released a collection of songs that completely justifies his laborious journeyman efforts. The first thing you'll notice is that this guy is one hell of a cellist. Or, more accurately, you'll feel the presence of his playing, but he employs his instrument in such tasteful, eclectic ways (never showing off his degree through extended solos) that it's almost tough to notice he's playing it. On the glorious, uplifting march of "Hurting," he switches from double-bass-like plucking to broad sawing strokes, injecting some juice where most artists would have relied on straightforward acoustic strum. On the transportive rumination that is "Embrace," Sollee is content to simply saw away at two extended notes, wrenching tension from unsteady bow noise. The key point is that he's a songwriter first, instrumentalist second. His playing, no matter how colorful or inventive, is always at the mercy of his tuneful compositions. But he's certainly not afraid to demonstrate his dexterity when the context works—on the funk-folk celebration that is "Electrified," Sollee smacks and strokes away with the grace of a master, culminating in an almost Zeppelin-like break of pulsing intensity.
Vocally, he takes a lot of cues from Paul Simon—from his wordy, rapid-fire cadence and his gentle, "don't-mind-me" timbre to his lightly abstract poetry, which reaches skyward, toward God (or just the heavens) and outward, toward the minutiae that make up our everyday existence, somehow symbolizing more. Over the borderline country-rock stomp of "The Globe," Sollee paints a portrait of a non-believer in the Age of Shakespeare—"He'd grown tired of the tragedies / Tired of the death, tired of seeing Romeo take one last breath for somethin' as crazy as love." One great lyric in "Hurting" goes, "Kick the rocks down the road, but there's no use to pray / 'Cause some days you won't remember, but most days you can't forget." But for all his dense, lovely imagery, Sollee makes what might be his most poignant lyrical mark with a simple mantra—"It's gonna be all right."
Inclusions is as eclectic as Sollee, exploring post-modern jazz one minute and simple folk the next, with gospel themes running up the spine. It's a surprising and rewarding journey, one best experienced with a good pair of headphones—where the intimacy is at its highest. It's a spiritual album; there are references to "The Rapture" and images of baptisms scattered throughout, although Sollee's not shoving an outright religious message down the pike. More importantly, it's a spiritual album anyone can appreciate—in terms of nature, in terms of believers and non-believers. It's a celebration of all things "electrified."
"You are a believer / You stand up for what you think is good," sings guest vocalist Cheyenne Mize on the climactic piano revery "I Need." But it's Sollee's message, through and through. Sollee wants you to believe…in something. Perhaps, if nothing else, the healing power of music.
Others Tagged With