Todd Snider: Agnostic Hymns and Stoner Fables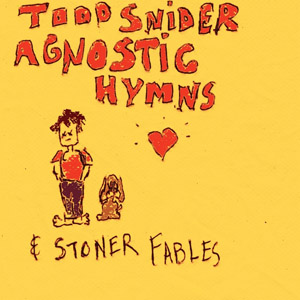 Chock full of songs about crooked bankers, the pleasures of recreational drugs and the evils of organized religion, Todd Snider's reputation as America's favorite alt-folk shit disturber remains firmly intact with the release of his newest album Agnostic Hymns and Stoner Fables.
Over the past decade or so, Snider's musical direction has evolved considerably from the early John Prine-influenced acoustic story songs that he performed on his first few records. Since the release of The Devil You Know in 2006, he has leaned towards a fiercer, looser Vic Chestnutt "we're all going to hell in a hand basket" style of grunge that perfectly suits the lyrics and desperate (or desperately funny) situations Snider describes. In Todd Snider's musical universe, the lines are clearly drawn between the rich and the poor, the haves and the have-nots. On the one side are the cleanly scrubbed, workout driven, rich white men sporting expensive suits designed to hide their corpulent, corrupt souls and bullying ways. On the other side, are the working people, the beautiful losers and the salt of the earth like "Digger Dave" who are trapped somewhere between a bad economy and the torments of a warm-hearted but crazy woman.
There's nothing easy or relaxing about any of the songs on Agnostic Hymns and Stoner Fables. Guns, backstabbing, betrayal and dreams left in the dust spew like shrapnel from Snider's loose cannon approach to telling a story. The opening track, 'In the Beginning,' which argues that from the very start of civilization, religion has been the tool that the rich have used to control the poor, is typical of Snider's perspective. Even when situations seem to turn out right in his songs, there's always an implied threat around the corner. For instance, the deceptively gentle lullaby for "Precious Little Miracles" with its lovely vintage Hoagy Carmichael-style acoustic melody may lull listeners into a sense of calm at first, but listen carefully and lyrics such as "so, your school is a joke and you'll always be poor and your pleas to the rich won't be heard anymore/is that what you crazy kids are so upset for?" could be enough to set anyone's day on edge. Add to that the sloppy, Keith Richards-style just-out-of-bed guitar riffs that Snider so obviously loves and uses to great effect on songs like the acerbic "New York Banker," and Agnostic Hymns and Stoner Fables may just be a serious contender for the album with the worst attitude of 2012. Thanks Todd!
Others Tagged With