Georgia Anne Muldrow & Madlib: Seeds
[Entertainment One Music]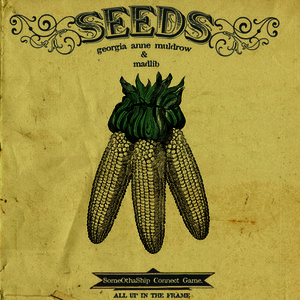 A Madlib co-sign generally spells success. The famed multitasker, hip-hop maven and noted abuser of psychotropics works within a spacious wheelhouse, composing trippy futurist manifestos for everyone from MF Doom to Freddie Gibbs, De La Soul to Ghostface Killah. While Madlib's solo work (2000's The Unseen, 2003's Shades of Blue) tends to be unwieldy, his newest pet project is wholly functional. The producer and creative muse/first-time collaborator Georgia Anne Muldrow are in unswerving lockstep; turns out it's not so hard doing business with strangers after all.
To be sure, this isn't quite the Madlib of nine years ago: he opts out of the grim aesthetic beauty that was so integral to records like Doom's Madvillainy. Instead, we get sun-ripened soul that radiates the pulpy warmth of an L.A. summer—fitting, since both Muldrow and Mad claim Tinseltown as home. Although an R&B record in character, Seeds draws us into the deepest recesses of hip-hop-hewn gospel ("Wind"), adult contempo ("The Birth of Petey Bradshaw"), and funk piping hot off the assembly line at Motown ("Calabash"). "Best Love" tips its hat to the halcyon sounds of early '80s MOR, while "Husfriend" nails the weird, volcanic calm of Madlib's beloved Krautrock. All the while, Muldrow behaves the part of a dream apprentice. She melds out her own voice, full of grit and mossy sex appeal, without getting in the way of Mad's controlled chaos.
Seeds is quaint in its psychedelia, but it's not a hallucinogenic cocktail like Shades of Blue. On that album, Madlib spliced up old jazz records and sent them hurdling into the next millennium. Here, he seems to grapple for some semblance of the past. A high-falutin but deserving comparison might be J Dilla's Donuts, where the late vinyl junkie made magic with obscure, uncanonized oldies. For these guys, resurrecting items of yore is purely quotidian.
Others Tagged With