Killer Mike: R.A.P. Music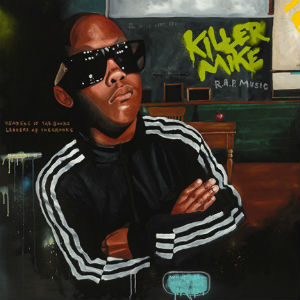 "A no concession policy remains in force," thunders a familiar voice on "Reagan." As the right wing in American politics continues to sputter into helpless self-delusion, as they try frantically to airbrush the 40th president's image, one Atlanta firebrand and avowed 99 percenter is steaming: Killer Mike. New album R.A.P. Music finds Mike on the offensive, taking an axe to the banks, the beltway and the history books. Like Occupy Wall Street, the movement that spawned more than a few signs reading some variation of "Ronald Reagan sucks balls," R.A.P. Music is a synthesis of the confusion and rancid despair pervading every vacated storefront and foreclosed home in every corner of today's economically bleeding America.
Shoring up that ire is weirdo extraordinaire El-P, who elevates R.A.P. Music to a feral weapon of protest with beats that smoke like ether. The album is all go and no show: Southern-strategizing New York rap flush with the semblances of Cali groups like N.W.A. and Above the Law. El-P's synths could score a spy movie; his drums are vicious enough to call forth the image of an elephant stampede; his drums hurt like last month's jobs report. While the producer's recent Cancer4Cure was funkier than funky, R.A.P. Music is more brutal than brutal.
It used to be that Mike's strangely lopsided catalog kept the prodigal talent out of Hottest MCs contention. Here, he crosses the qualification threshold. Even putting aside his berserk, imagination-defying technical skill—he stays deep enough in the pocket to get lost there—there's not a wasted breath on R.A.P. Music. After the lyrical blackout "Go!" and pulverizing breakbeat medley "JoJo's Chillin'," Mike offers words of caution on "Ghetto Gospel" and "Willie Burke Sherwood," a children's story told with the sensitivity and insight of Slick Rick. If these tracks lament how people of color "get lapped by them guys selling lies for them white men," then "Don't Die" violently externalizes that feeling of disenfranchisement. "Back to the scene, goin' wild in the bedroom/Grabbed the cop's gun, left from leaking with a head wound," Mike raps. The cop's partner meets a similar fate: "Yelling 'fuck em' as I buck a 45 at his fillings/Trying to knock his brain through the motherfucking ceiling."
Others Tagged With