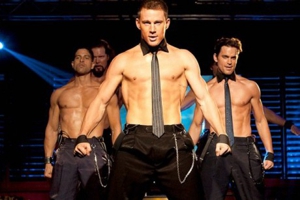 Hot producer-star Channing Tatum draws from his personal history for this raucous comedy-drama set in Tampa's Xquisite Male Dance Revue. Tatum worked as a stripper for eight months early in his career, and if Magic Mike is any indication, it was a good time for both the ladies and the performers—the movie certainly is.
Channing plays the titular main attraction at a weekend dive run by onetime-stripper-turned-manager Dallas (Matthew McConaughey). Mike is a popular performer, but stripping three nights a week doesn't pay the bills on his swank beachfront pad and brand-new pickup truck, so he makes ends meet by working a construction gig. He's also got a couple of entrepreneurial enterprises on the side, including a detailing business that may or may not actually have customers and a dream to custom-build furniture full-time.
Mike has a stake in Dallas' Revue—they're not partners, but Mike is adept at recruiting audiences, and Dallas has promised him a piece of the action when they move the act to Miami. So when Mike crosses paths with 19-year-old Adam (Alex Pettyfer), he sees something in "the Kid" and throws him into the mix with Ken (White Collar's Matt Bomer), whose signature act is playing a Ken doll come to life; Big Dick Richie (Joe Manganiello), who doesn't need any props apart from what he was born with; Tarzan (professional wrestler Kevin Nash), who skates by on his impressive physique—that is, when he can take the stage; and Latin-flavored Tito (CSI: Miami's Adam Rodriguez). In turn, Adam introduces Mike to his practical sister Brooke (impressive newcomer Cody Horn), the only person who challenges Mike's lifestyle of dancing, easy money, partying, women and generally just having a good time.
The guys' hands-on performances, choreographed by Alison Faulk, are enthusiastic and energetic, if not always polished, with indelible set pieces like the part-Singin' in the Rain, part-Matrix treatment of "It's Raining Men" that introduces us to the act. Of course, Tatum and his moves, which launched the Step Up franchise, are the star of the show, and they are indeed thrilling, if gratification is slightly delayed.
What you may not have even known you wanted until you got it is a solo by McConaughey, an electrifying turn that marks the climax of the action. McConaughey is perfectly cast to begin with but then turns around and makes the role his own, even incorporating an allusion to his infamous bongos incident. He's sleazy yet sexy, equally alluring to the women he services and the men he employs. The ladies in the small packed house go wild for these guys, and their excitement is infectious.
Magic Mike is just fun, and it's fun because it's good. Along with a solid script by Tatum's producing partner Reid Carolin, director-cinematographer Steven Soderbergh (who took a low-budget, highly experimental look at the life of a high-end call girl in The Girlfriend Experience) brings a warm golden aesthetic that's at once polished and serendipitous. The way the sunlight dapples the actors' bodies during a sunset beach scene is particularly lovely. But Magic Mike would hardly be as magical without Tatum, whose good looks, athletic physicality, easygoing charm and heart-on-his-sleeve sincerity are as seductive to moviegoers as to the women he dances for on-screen.
Director: Steven Soderbergh
Writer: Reid Carolin
Starring: Channing Tatum, Alex Pettyfer, Matthew McConaughey, Cody Horn, Olivia Munn, Matt Bomer, Riley Keough, Joe Manganiello, Kevin Nash, Adam Rodriguez, Gabriel Iglesias
Release Date: June 29, 2012
Others Tagged With