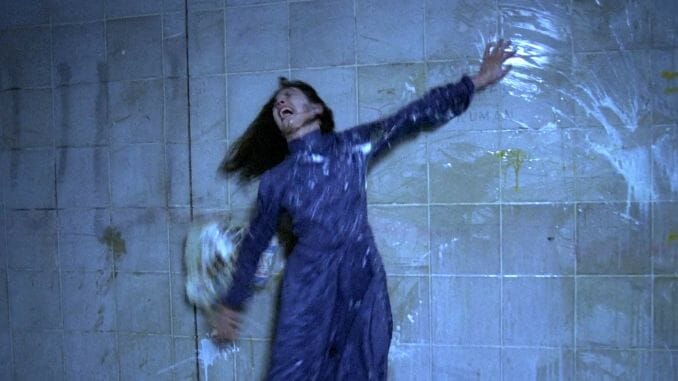 The best movies on Metrograph At Home—the streaming service curated and maintained by the fine folks behind Metrograph NYC's theater and the Metrograph distribution company (which helped bring restorations of films like Possession to discerning moviegoers—are hard to nail down simply because there's so much quality on offer. Much like the Criterion Channel or another highly curated service, there's some serious distance between what Metrograph At Home offers compared to a more slop-centric streamer like Amazon. That's a huge plus, but it can also be a little intimidating. We've looked at the very best on offer, and kept our list up to date with the films coming and going to the service
Available on Roku, Fire TV, Android TV, Apple TV, Google TV and Chromecast, Metrograph at Home offers over 100 movies, hand-picked by the same team programming the theater. Maybe you can't make it out to a screening at Ludlow Street. Maybe you want to supplement your frequent trips with some bonus content and better deals. Maybe you live somewhere where an "arthouse theater" is just whoever in town owns the most Criterion DVDs or has the biggest torrented Plex library. Whatever the case, there's fewer and fewer opportunities to watch rotating film collections that actually feel like collections rather than business decisions. With movies streaming from filmmakers like Jane Campion, Jafar Panahi, Joanna Hogg, Jean Renoir, Jean-Luc Godard and others whose first names don't start with J, there's a ton of film history at your fingertips—supplemented by filmed Q&As and informative subsection write-ups. It's relatively inexpensive ($50 gets you a year, with extra goodies if you live in New York) and thoroughly rewarding.
Here are the 30 best movies streaming on Metrograph At Home right now:
---
1. PossessionYear: 1981
Director: Andrzej Zulawski
Starring: Sam Neill, Isabelle Adjani
Rating: R
Runtime: 124 minutes


When Andrzej Zulawski's Possession finally opened, critics, unfamiliar with horror movies to the point of lacking qualification to cover them, plead the fifth by pivoting to Roman Polanski's Repulsion. Let's be fair to these critics: In 1983, they saw Zulawski's vision trimmed by 40 minutes and recut into what writer, filmmaker and scholar of Eastern European cult cinema Daniel Bird calls "a conventional horror film," speaking with Paste. As if proving the point, Metrograph Pictures premiered a new 4K restoration of Zulawski's masterwork. This version of the film, Bird says, is not a conventional horror film, by either the 1980s' standards or those of today. Because today, Possession has an audience and a reputation. Possession is gooey, gory and grotesque, and on romantic matters it's plain old icky. The movie's hardest to watch scenes occur between its protagonists, Anna (Adjani) and Mark (Neill), a husband and wife in the midst of upheaval against the backdrop of Cold War-era West Berlin, a place experiencing upheaval of its own. Mark's a spy returned home having completed undisclosed espionage in an undisclosed country. Anna fell for another man in Mark's absence and wants to try separation. Mark abhors the idea, though he abhors the man, Heinrich (Heinz Bennent), more. Most of all, he abhors the discovery that Anna's been two-timing both of them with a slimy tentacle monster in a derelict apartment just a hair away from the Berlin Wall. Possession captures the dissolution of two relationships: West Germany's from East Germany and Mark's from Anna. Everything ends in tears. That's horror, folks.—Andy Crump
---
2. CaravaggioYear: 1986
Director: Derek Jarman
Starring: Nigel Terry, Sean Bean, Tilda Swinton
Rating: NR
Runtime: 93 minutes


A tragic, beautiful experiment in blending painting with cinema—and in blending period biopic with modern nonlinearity—Caravaggio saw filmmaker Derek Jarman get about as mainstream as he ever would. Replicating the masterworks of Caravaggio (Nigel Terry) in exquisite detail (and what else would be expected from the production designer for Ken Russell's The Devils?), Caravaggio is stunning in its pseudo-static moments. Lingering on immediately recognizable compositions, lit and colored to perfection, poetic interludes of voiceover are broken up by sheer artistry from Jarman and production designer Christopher Hobbs. But Caravaggio's merits aren't simply found in its media-bending stagings of paintings. Add in some anecdotal adventures from the painter's admittedly punk rock life, and the cheeky anachronisms, heartfelt AIDS gestures and searing religious criticism craft a truly representative portrait of a person while keeping to a non-traditional method befitting its subject. Another way in for contemporary viewers: Sean Bean and Tilda Swinton fulfill their destinies in their debut performances as two vertices in Caravaggio's bisexual love triangle.—Jacob Oller
---
3. Camille Claudel, 1915Year: 2013
Director: Bruno Dumont
Starring: Juliette Binoche, Robert Leroy, Emmanuel Kauffman
Rating: NR
Runtime: 95 minutes


Art and madness have always coexisted, but Camille Claudel, 1915 is about what happens when you take away the art and stifle a troubled, extraordinary mind. Built around a poignant, controlled performance from Juliette Binoche, French writer/director Bruno Dumont's film looks to understand the darkness that covered Camille Claudel in 1915—and the remaining 30 years of her life. This is by no means a conventional biopic. We don't see Claudel's youth, or her time as famed sculptor Auguste Rodin's assistant and mistress, or her emergence as a bold, brilliant artist. Dumont isn't interested in building a conventional narrative around the short timeframe that the film does explore, let alone her entire life. Instead, he journeys into alienation and desperation, demanding and rewarding his audience's attention. Dumont's formal compositions emphasize the contrast between Binoche's demeanor and the grotesqueries of the sanitarium. The asylum feels like a convent, with a sunny courtyard juxtaposed against dingy interiors. Her fellow inmates, played by actual patients, feed her madness. Dumont may be courting controversy by using real mental patients, but the decision yields results that couldn't have been achieved otherwise. The film avoids veering into exploitation by simply showing the patients as they are and not sensationalizing the material. In one scene, Binoche picks up a hunk of clay from the ground and nudges it around with her thumb, hinting at an urge to work, to create. We can see all her feelings up there on the screen—her passion, her fear, her frustration. Camille Claudel, 1915 is a poem to a hopeless situation, and it's these moments of yearning that really bring out its beauty.—Jeremy Mathews
---
4. Long Day's Journey into NightYear: 2019
Director: Bi Gan
Starring: Tang Wei, Huang Jue
Rating: NR
Runtime: 138 minutes


The film that's broken box office records in China asks that you wait to put on your 3D glasses until you see its title card, which emerges 74-or-so minutes into the film, after our wandering noir-oneiric narrative leads Luo Hongwu (Huang Jue) to a theater where he falls asleep. His 3D glasses perched on the end of his nose, we're pulled into his dream, a mild-mannered noir (of sorts) of its own, part psycho-sexual sinking into complete delusion and part alternative history, all represented by a 59-minute (or so) single take. It's anecdote enough to justify broken record talk, but it hardly does any justice to just how enchanting director Bi Gan's film can be, even before we stumble into the virtuosic stuff, as Luo's drawn back to his old neighborhood by the death of his father, though mostly preoccupied with finding his long-ago lover. Her name is Wan Qiwen (Tang Wei), and she was probably involved in a criminal organization that probably had something to do with the murder of Luo's childhood friend Wildcat. Probably—as Luo draws closer to tracking down the woman he remembers with so many charged emotions, his memories return in hyper-stylized fragments, like premonitions for both good and ill, and the prospect of actually finding her becomes more and more laced with dread. But then, we plunge into his head even further, feeling—through unbroken immersion and unpretentious iconism—the many complex ways he's forever drawn to more than this woman, but to the life that's died behind him. Bi's second film after the similarly ravishing Kaili Blues, Long Day's Journey into Night astounds as powerfully as it refuses to rest on gimmick alone. —Dom Sinacola
---
5. Hard to Be a GodYear: 2013
Director: Aleksei German
Starring: Leonid Yarmolnik
Rating: NR
Runtime: 177 minutes


Aleksei German's final film is a stark, wild journey through medieval sci-fi filth. Like the drunken bastard child of a dreamy Andrei Tarkovsky epic and a Terry Gilliam yarn, in Hard to Be a God we see hints of Tarkovsky's pensive takes, as well as his predilection toward existential speculative fiction (he adapted his 1979 film Stalker from a novel by Arkady and Boris Strugatsky, the same Russian brothers who wrote Hard to Be a God in 1964), coupled with a sort of sensory overload as German's frames wander through countless intricate details that call to mind Gilliam, another director attracted to obsessive, timeless dystopia. Tarkovsky may have a penchant for surreal confusion, but he anchors his oneiric sensibilities in characters' motivations, desires, and souls. Here, there's no real motivation, no real desire, and no real soul, just a crawl through depravity. But if that's all you're after, then here you go: This shit is executed majestically. —Jeremy Mathews
---
6. NostalghiaYear: 1983
Director: Andrei Tarkovsky
Starring: Oleg Yankovsky, Domiziana Giordano, Erland Josephson.
Rating: NR
Runtime: 130 minutes


It's pretty much unavoidable that, in any discussion of Andrei Tarkovsky's work, the phrase "cinematic poetry" will come up. The great Russian filmmaker was a master at evoking emotions, and in Nostalghia he lures the viewer into a deep sense of longing and sadness. Oleg Yankovsky plays a Russian poet who travels through Italy, unable to resolve his fascination with the country with his disconnection from his homeland and general sense of isolation. Tarkovsky delves into his character's psyche with one visual wonder after another. Steam engulfs and obstructs a mineral spring pool. A damp room with puddles transforms into a hilly landscape. Dreams recall scenes of the past and confuse character identities. It all leads to an utterly engrossing closing sequence, which culminates in the glorious reveal of the film's majestic closing shot. —Jeremy Mathews
---
7. BacurauYear: 2020
Directors: Kleber Mendonça Filho, Juliano Dornelles
Starring: Bárbara Colen, Thomas Aquino, Silvero Pereira, Sônia Braga
Rating: NR
Runtime: 132 minutes


Brazilian directors Kleber Mendonça Filho and Juliano Dornelle's Bacurau begins with a woman named Teresa (Bárbara Colen) being driven down a winding mountain road with sweeping swathes of lush greenery below. Suddenly, a splintered wooden casket appears in the middle of the asphalt. After the driver swerves to avoid it, there is another one. And another. Soon, broken caskets litter the entire road. The cause of the coffin calamity is revealed when Teresa sees that an open-back truck transporting caskets has collided into the mountainside, killing its passengers. The scene is oddly pleasant, though, as opportunists have quickly begun selling off the least damaged goods to a line of passersby, both seeming giddy about the exchange. Death is pervasive in the film, but it is often funny, and coincidentally Teresa is on her way to a funeral. Her grandmother—the beloved matriarch of Bacurau, a small Brazilian village where she grew up—has died. The entire town mourns her death, oblivious to the fact that their little village is slowly, literally, being erased from the face of the earth. Here, what has seemed like a horror film morphs into a weird Western that incorporates psychoactive flora, a seemingly benign history museum, and even an apparition or two. That's not even counting the UFO. Bacurau is wildly creative, and its hilarious, Dadaist aura provides an uncanny comfort despite ample bloodshed. This is not to say that it's without heart-wrenching loss and tearful contemplation of a world on fire. It's clear that there is no space for moral ambiguity in this film. In reality, the Amazon is ablaze, rampant inequality festers and indigenous populations are displaced all for the net benefit of the ruling class. Bacurau is a long overdue neo-colonial revenge fantasy. —Natalia Keogan
---
8. Mountains May DepartYear: 2015
Director: Jia Zhangke
Starring: Zhao Tao, Zhang Yi, Liang Jingdong, Dong Zijian
Rating: NR
Runtime: 126 minutes


The films of Jia Zhangke often explore a simple, supple theme: the ways time changes everything. A frequent chronicler of the massive transformation going on in China—technological, cultural, economic—Jia studies how individuals cope when the world they know shifts under their feet. The filmmaker behind The World, Still Life and A Touch of Sin plays with that theme anew for Mountains May Depart, a somewhat straightforward love story. I say "somewhat" because the film, which travels across three time periods, could almost be viewed as Jia's one-movie version of Richard Linklater's Before trilogy, watching the development of a couple's relationship over 25 years or so. But Mountains May Depart soon proves that with whom it's concerned is more than just a handful of characters—yet again, the writer-director is investigating an entire society in transition. Opening in 1999 to the strains of the Pet Shop Boys' exuberant cover of The Village People's "Go West," Mountains May Depart introduces us to a romantic triangle already in progress. Tao (Zhao Tao) has feelings for both Liangzi (Liang Jin Dong), a worker in a coal mine, and Zhang (Zhang Yi), a wealthy man who will end up buying Liangzi's mine. Liangzi resents Zhang, a feeling that's only exacerbated when Tao accepts Zhang's marriage proposal, declining to attend the wedding. That triangle's destiny will play out over two more eras—2014 and, provocatively, 2025—but that summation doesn't do justice to Jia's particular ambition. While he certainly cares about his characters' fate, he also has his eyes fixed on larger issues. In this sense, Tao, Liangzi and Zhang represent different aspects of Chinese culture, their individual paths meant to be heavily symbolic. In the world of Mountains May Depart, people lose themselves for plenty of reasons, but Tao alone seems to retain a core sense of herself, which is a triumph in a Jia film. It can hardly be an accident that the movie ends on her in a scene that can only be described as hopeful. Time changes everything, Jia tells us, but maybe some things survive—a good person's soul, for instance.—Tim Grierson
---
9. Sympathy for Mr. VengeanceYear: 2002
Director: Park Chan-wook
Starring: Shin Ha-kyun, Song Kang-ho, Bae Doona, Han Bo-bae, Im Ji-eun
Rating: R
Runtime: 129 minutes


Blunt. Pointless. Devoid of passion. And no, I'm not just talking about my first reviews. This is revenge in Sympathy for Mr. Vengeance, where attempts to better one's station or right injustice end in a cacophony of senseless brutality and collateral damage. Park's film is filled with offbeat, outsider characters, but the whole film is framed and shot so clinically, it's difficult to muster a whole lot of sympathy for the players involved—despite how horrible a situation they find themselves in, be it bereft of a child or conned out of a kidney. Stylistically, it often feels more like a industrial film about murder than a crime thriller, distancing us from the rich and thorny emotional crises that plague the protagonists of Oldboy or Lady Vengeance. Can we ever truly feel sympathy for those who commit such barbarity? Can there ever be satisfying closure once violence is committed against someone? Sympathy may feel colder than other Park Chan-wook films, but its rebuttal to the glorification of violence in mainstream cinema still grabs you by the throat.—Rory Doherty
---
10. DiamantinoYear: 2018
Directors: Gabriel Abrantes and Daniel Schmidt
Starring: Carloto Cotta, Cleo Tavares, Anabela Moreira, Margarida Moreira
Rating: R
Runtime: 92 minutes


Everyone in the world loves football—or, as we Americans lamentably call it, soccer—and everyone in the world loves Portuguese player Diamantino Matamouros (Carloto Cotta), an athlete of such status, notoriety and power that he might as well be a modern deity. Diamantino, or, as his friends call him, "Tino," is such a virtuoso on the field that everyone, a few in particular, wants to know what makes him such a genius player. (It's imaginary giant fluffy puppies. No, I'm not joking.) With his athletic skill and international ubiquity, he is, shall we say, a vision of modern Portugal. Or he could be. Events in which people implicitly or explicitly present themselves as a kind of synecdoche for a nation is political, and Diamantino is a comedy about when someone is that body of politics and doesn't really understand it. There is no secret to Diamantino's performance; he's a beautiful, brainless jock, whose heart would be on his sleeve if he had a shirt on long enough to justify the metaphor. Also, if he could find said sleeve. But just because he's kind of a moron doesn't mean he's not lovable. Rather, Cotta gives Diamantino a sweet honesty, a preciousness which is carefully etched on his occasionally vacant, bemused expressions. The cult of celebrity he experiences both firsthand (he gets meme'd, hilariously) and by proxy (he has pillows and bedsheets with his face and body) is beyond his control, which is why he's the perfect specimen to use for an explicitly political agenda by Portuguese nationalists who want to leave the EU. The sweetness of the film finds an amusing complement in its strange eroticism, itself part of the queerness of its genre mixing. It's part study of masculinity as politic, part examination of the politics of sporting events, part espionage thriller, part sci-fi, part family comedy. The film has a slyly satirical edge, not merely for the way that Diamantino is repurposed for a nationalist cause, but for its subtle sympathy and skepticism of the role that celebrities play in public political discourse. It's not hard to imagine a future in which a brainless famous person is manipulated into becoming the poster child for a nationalist movement; after all, there are enough famous people who do that of their own volition. —Kyle Turner
---
11. Fire at SeaYear: 2016
Director: Gianfranco Rosi
Rating: NR
Runtime: 106 minutes


Fire at Sea is an imagistic grasp at a few months on the Mediterranean island of Lampedusa, 100 miles south of Sicily and the first glimpse of land for hundreds of thousands of refugees fleeing Africa and the Middle East. With no voiceover and little context, Italian director Gianfranco Rosi juxtaposes the lives of men, women and children barely sustaining themselves on the fringes of society, of humanity, with the everyday, mundane existences of the denizens of the island—both those who devote their lives to helping the refugees and those who work or play or eat big mounds of spaghetti without one thought for the deluge of sad souls passing over their home turf. In long takes and cinematography that aches with the need to push beyond the boundaries of the screen, Rosi indulges in the rhythm of that juxtaposition, daring us to move on from one atrocity after another in order to understand what moving on takes: a lot of boring afternoons and silent plates of spaghetti. —Dom Sinacola
---
12. A Touch of SinYear: 2013
Director: Jia Zhangke
Starring: Jiang Wu, Zhao Tao, Wang Baoqiang, Luo Lanshan
Rating: NR
Runtime: 129 minutes


A Touch of Sin, from Chinese director Jia Zhangke, would appear to be a departure from his previous acclaimed work. But on closer inspection, his particular cinematic DNA has been perfectly preserved. It's just that, this time, there's a lot more bloodshed than we've come to expect from him. A Touch of Sin is Jia's stab at more commercial filmmaking, although one should not confuse this ensemble drama with a conventional action movie or anything so easily accessible. (Jia made this film with the backing of Shanghai Film Group, a government-sponsored production company, which was a first for him.) The independent auteur of quiet character pieces like The World and Still Life has constructed a story about four loosely connected individuals whose lives are touched by violence or death. At its center are the same concerns that have always interested Jia—namely, how ordinary Chinese citizens are adapting to the rapid economic development of their nation. As usual, the characters struggle mightily with that proposition. But in A Touch of Sin, their anguish is expressed in gunfire and knife fights. This is less an action movie than it is an acting-out movie.—Tim Grierson
---
13. Hermia & HelenaYear: 2016
Director: Matías Piñeiro
Starring: Agustina Muñoz, María Villar, Mati Diop
Rating: NR
Runtime: 87 minutes


Near the start of Hermia & Helena, Argentinian writer-director Matías Piñeiro lets his camera's gaze drift across the sky, focusing on one character in the distance before eventually moving toward someone else in the foreground. Much of what's enrapturing about this deceptive wisp of a film is contained in this gentle flourish. Gracefully traveling between characters while giving off a sense of elusive, carefree profundity, Hermia & Helena isn't quite a comedy or a romance or a drama. But it sure is lovely. The movie most closely follows Camila (Agustina Muñoz), who leaves Buenos Aires for a university fellowship in New York. When she arrives, she'll take over the apartment of her friend Carmen (María Villar), who previously lived in New York for the same fellowship. Both of them are working on translations of A Midsummer Night's Dream, and fans of that Shakespeare comedy will know that Hermia and Helena were the play's central characters, each struggling with romantic woes. Camila and Carmen are the stand-ins for Piñeiro, who in his previous films, such as 2012's Viola, also used the Bard's work as an inspiration for his own. But intimate familiarity with A Midsummer Night's Dream is not a prerequisite for being swept away by Hermia & Helena. Besides the cheeky black-and-white short film that interrupts the narrative for a couple minutes, Piñeiro's movie throws in other whimsical asides. Marked-up passages from Shakespeare's work are superimposed onto scenes at unexpected moments. A character walks down one subway entrance and emerges from another a continent away. Images are laid on top of other images. The timeline zips around to make room for a palate-cleansing flashback. And the entire story feels like a collection of individual sequences, as opposed to a tidy cause-and-effect narrative. In its offhand way, Hermia & Helena's modest flittering creates the sensation of being young and not seeing your life as anything more than a random string of events. There aren't great highs or lows in Hermia & Helena, but there is a perpetual awareness that life is pretty amazing once we sit back and allow the world to envelop us. That sounds painfully corny, but in Piñeiro's hands, it's a playful notion—one that the frequent use of Scott Joplin music on the soundtrack only intensifies.—Tim Grierson
---
14. It Felt Like LoveYear: 2013
Director: Eliza Hittman
Starring: Gina Piersanti, Giovanna Salimeni, Ronen Rubinstein, Jesse Cordasco, Nicolas Rosen, Richie Folio, Kevin Anthony Ryan, Case Prime
Rating: NR
Runtime: 115 minutes


With It Felt Like Love, writer-director Eliza Hittman takes a few routine subjects—the coming-of-age story, sexual awakening, adolescent confusion—and reminds us that a confident directorial voice can make material this common appear as fresh, strange, and surprising as a good science-fiction story. She herself invokes Maurice Pialat and Catherine Breillat when describing her influences in this genre, but her fascination with skin and bodies also owes a debt to Claire Denis. The movie's opening image shows the protagonist, 14-year-old Lila (Gina Piersanti), standing on the shore of a beach, staring out onto the water in a one-piece bathing suit. At the start of the shot, she's out-of-focus; by the end of it, her back has come sharply into focus. (Hittman's use of shallow focus is one of the movie's greatest qualities; one particularly enthralling example arrives during a fleeting moment aboard a Ferris wheel, when Lila's blurry hand collides with the people below on the ground.) Our first look at Lila's face, which directly precedes the title card, is startling: it's caked with white sunscreen lotion, and she's staring back into the camera, as if wondering what we're even doing here watching her. Set during a hot summer in a working-class Brooklyn neighborhood, It Felt Like Love's primary concern is charting Lila's sexual anxieties and experiences. Hittman's aforementioned experimentation with soft focus is nothing less than extreme, and her employment of slow motion and expressive colors likewise pushes the material into aesthetically adventurous terrain. A key party sequence in the middle of the film speaks to this: Hittman depicts Lila wandering through the space in a slow-motion haze, surrounded by red and green. Hittman and cinematographer Sean Porter's insistence on close-ups puts a lot of weight on the shoulders of Piersanti—who, like her director, is here giving her feature debut. But the actress responds to the challenge with an absorbing performance that manages to remain true to the film's troubling ambiguity without sacrificing psychological consistency or clarity.—Danny King
---
15. Lady VengeanceYear: 2005
Director: Park Chan-wook
Starring: Lee Young-ae, Choi Min-sik, Kim Si-hoo, Oh Dal-su
Rating: R
Runtime: 115 minutes


The best entry in the Vengeance Trilogy marked its first female protagonist and Park Chan-wook's first collaboration with Jeong Seo-kyeong, and there's no better film to kick off one of the finest writer-director partnerships in modern cinema. Park's female characters changed drastically for the better from this point; here illustrated by the aggrieved Geum-ja (Lee Young-ae), released from prison after a lengthy sentence for a crime she falsely confessed to so she could protect her daughter. It unpicks the emotional burden and aftereffects of vengeance in a measured, almost surgical way, and only in the trilogy's final chapter do we see a central relationship that doesn't become corrupted and vile. The final act, where the vengeance is actually carried out, is undoubtedly Park's finest hour; filled with brutality, tragedy and quiet displays of powerful humanity. It's a turning point for Park—one that would only lead him to greater glory.—Rory Doherty
---
16. Millennium MamboYear: 2001
Director: Hsiao-Hsien Hou
Starring: Shu Qi, Jack Kao, Chun-hao Tuan, Yi-Hsuan Chen
Rating: R
Runtime: 119 minutes


Millennium Mambo is the first movie in director Hou Hsiao-hsien's career to be distributed theatrically in the U.S., and that's reason alone to seek it out. It's the story of Vicky (Shu Qi), a modern young woman in Taipei with a little money in the bank and not much to do besides smoke, drink and hang out at clubs with her friends. She bounces between her controlling, on-again-off-again boyfriend Hao-Hao (Tuan Chun-hao) and the older, possibly wiser Jack (Jack Kao), with occasional detours to a snowy part of Japan. Each of these three locations has a gravitational pull on Vicky, sometimes defying all reason, and the movie artfully balances them and seems to weigh them for their worth, just as Vicky is doing the same. Every frame of the movie pulses with color and light. One of Hou's strengths, evident in all of his movies, is his masterful sense of space. He fully utilizes the three dimensions of his locations, but not by roving the hallways. His camera usually sits still, but he makes the audience aware of spaces beyond its reach so that his worlds feel observed rather than acted. People disappear through doorways, but they still exist. They don't stand artificially in front of the camera. If they need to move into the kitchen to get something, they do, and Hou's camera waits for their return. The spaces in Millennium Mambo are more cramped than usual, and the situations more urban and tense. He packs the frame with people and furniture, reflecting not only the characters' physical locations, but their lives as well, bouncing off each other, unstable, in need of fresh air. The way the music both connects and contrasts the settings is often mesmerizing. A country and its history are reflected in its people, and few filmmakers capture them so well.—Robert Davis
---
17. The Woman Who LeftYear: 2016
Director: Lav Diaz
Stars: Charo Santos-Concio, John Lloyd Cruz, Nonie Buencamino, Shamaine Buencamino, Michael de Mesa, Kakai Bautista
Rating: R
Runtime: 226 minutes


The Woman Who Left is based on Leo Tolstoy's short story "God Sees the Truth, But Waits"—but director Lav Diaz uses it as a springboard for a meditation on not only the violent history of the Philippines, but on more universal themes of faith and morality. The political angle of The Woman Who Left is made explicit from the start, with a radio broadcast on the soundtrack that indicates the year in which Diaz's film is set: 1997, just after Britain's handover of Hong Kong back to China, and also a time rife with kidnappings-for-ransom in the Philippines, with many of the targets rich Filipino-Chinese. Though it takes place in the late 1990s, Diaz is implicitly addressing the current, murder-ridden Rodrigo Duterte regime—and, through its generally virtuous main character, Horacia (Charo Santos-Concio), offering a figure suggesting the kind of empathetic humanity that could point the way out of the Philippines' current crisis. Emphasis on "generally" regarding Horacia's saintliness, because there is one major complicating factor: her thirst for revenge against ex-boyfriend Rodrigo Trinidad (Michael De Mesa), who she discovers was the one responsible for getting her sent to prison for 30 years for a crime she didn't commit. Ambiguity is reinforced by Diaz's long takes and stationary set-ups, his camera (he shot the film himself) adopting an omniscient stance that leaves all judgments to the viewer. Compared to the atmospheric moodiness and occasional flights of dream-like fantasy of his earlier films, The Woman Who Left is pretty straightforward, with only Diaz's silvery black-and-white cinematography, one sequence of handheld camerawork, and a few shots that play inventively with focus to depart from its overall story- and character-driven thrust. And yet, the characters here are so vividly drawn and performed, and the contemplative mood so remarkably sustained, that the film casts a genuinely suspenseful and mesmerizing spell over the span of its nearly four hours. Don't be daunted by its length: at its best, Diaz's film has the richness of a great, wide-ranging, deeply immersive novel.—Kenji Fujishima
---
18. Body and SoulYear: 1925
Director: Oscar Micheaux
Stars: Paul Robeson, Mercedes Gilbert, Lawrence Chenault
Rating: NR
Runtime: 99 minutes


A rare surviving movie from pioneering Black filmmaker Oscar Micheaux's early years, Body and Soul maintains some of his pet themes while entirely giving itself over to a gripping debut performance from Paul Robeson. A scorching critique of organized religion and how it related to Black life, taking far further a mistrust Micheaux briefly explored in Within Our Gates, Body and Soul sees Robeson (freshly successful on the stage) play two parts: A violent, drunk, extortionist preacher and a mild-mannered inventor. One of the cruelest and most intimidating men of the cloth outside of The Night of the Hunter, Robeson's Reverend Isaiah T. Jenkins is a bundle of vices and hypocrisy—perfect for exploiting a congregation all too eager to give itself over to any passing preacher, one more concerned with the next life than the one they're living. Shouldering that brassy role is a performance to match. With a menace that fully utilizes Robeson's NFL physicality and a scuzzy charm that twists his handsome charisma into vulgarity, Jenkins is a monster worth devoting a film towards. Body and Soul is a fiery and dark film, with just a dash of the surreal thanks to the dual roles, a late plot twist and a horror-tinged flashback sequence set in an abandoned shack.—Jacob Oller
---
19. A Cottage on DartmoorYear: 1929
Director: Anthony Asquith
Stars: Norah Baring, Uno Henning, Hans Adalbert Schlettow
Rating: NR
Runtime: 88 minutes


This thriller taps into the darkness of the human soul, depicting jealousy and violence when a love story doesn't go the desired way. But it also refuses to paint its villain as a monster, instead putting doubt over the degree of malice meant in his jealous actions. Director Anthony Asquith is full of visual invention, finding brilliant cues into flashbacks and creating a chilling atmosphere throughout, excelling in particular when a romance's outcome becomes clear at a movie house. (The film was made during the transition to sound, and the musicians stop playing for the talkie.)—Jeremy Mathews
---
20. The Hitch-HikerYear: 1953
Director: Ida Lupino
Stars: Edmond O'Brien, William Talman, Frank Lovejoy
Rating: NR
Runtime: 64 minutes


Who can say no to Ida Lupino? (Not Doc Sportello, that's for sure.) As a woman-helmed production, The Hitch-Hiker was a rarity in its heyday, though if you didn't know Lupino held the reins, you might not guess the film was directed with a feminine touch. The Hitch-Hiker was as much an anomaly in Hollywood as it was a change of pace for Lupino, who, after directing four features that each revolved around the struggles and victimization of women, decided to try her hand with decidedly more masculine fare. Decades later, her film is still generally considered the first noir directed by a woman, but it should really be thought of first as a slim, unsparing, suspenseful slice of true crime. She puts her foot on the gas and doesn't let up until the very end. —A.C.
---
21. MetropolisYear: 1927
Director: Fritz Lang
Stars: Gustav Fröhlich, Alfred Abel, Rudolf Klein-Rogge, Brigitte Helm
Rating: NR
Runtime: 114 minutes


Metropolis never slows as it delivers a constant stream of iconic images. Fritz Lang filled his parable with all the sci-fi/adventure tropes he could: the mad scientist, the robot, the rooftop chase, the catacombs and, as it turns out, a devious henchman. Metropolis, too, is a great reminder of just how difficult it is to judge an incomplete film. In fact, many silent films are missing material, even when it isn't made clear in screenings or on home video. While Lang's film has always been known for its spectacular special effects—it's legally required that I use the phrase "visionary" while discussing it—not until a few years ago did modern audiences see a film anywhere close to the one that first premiered. It turned out that Metropolis's best performance, Fritz Rasp as a ruthless spy for the corporate state, was part of that missing material, and it gives the film a greater sense of urgency, increasing the feeling of class-based antagonism. With that unknown excellence lurking in one of the most famous films of all time, it leaves us to wonder what else was lost in nitrate flames. —Jeremy Mathews
---
22. L'Age D'OrYear: 1930
Director: Luis Buñuel
Stars: Gaston Modot, Lya Lys, Caridad de Laberdesque, Lionel Salem, Max Ernst, Germaine Noizet, Josep Llorens Artigas, Duchange, Ibanez
Rating: NR
Runtime: 63 minutes


As it is with Un Chien Andalou, drawing any cohesive narrative structure out of Salvador Dali and Luis Buñuel's L'Age D'Or, their feverish nightmare of a takedown of respected social norms, is futile. From skewering the moral emptiness of the bourgeoisie (Buñuel's favorite subject), to giddily ridiculing the Catholic church, the point of the film, which the filmmakers largely admitted, is to extract strong, visceral reactions out of the oppressively controversial images that Dali and Buñuel throws at us. Uncut cinematic surrealism like this may be better consumed in shorter bursts—Un Chien Andalou's 16-minute runtime a perfect specimen—so L'Age D'Or's one-hour runtime deliberately tests one's patience at points. Yet, as the final collaboration between two of the most formidable surrealist artists of the early 20th century, its importance and influence is, however broad, indisputable. —Oktay Ege Kozak
---
23. The StrangerYear: 1946
Director: Orson Welles
Stars: Edward G. Robinson, Loretta Young, Orson Welles
Rating: NR
Runtime: 95 minutes


Orson Welles' third feature film was the first to feature documentary footage of the Holocaust. This film noir follows a UN War Crimes Commission agent, Mr. Wilson (Edward G. Robinson) who's hunting down fugitive Nazi Franz Kindler (Orson Welles). Wilson releases a repentant former associate of Kindler's, hoping the man will lead him to the fugitive. Kindler has has moved to a small New England town and married the daughter of a Supreme Court Justice, teaches at a prep school—essentially has erased every possible trace of his former identity, save one: a longtime obsession with clocks. The former associate does find him, but Kindler's a little reluctant to confess, opting to strangle his former friend, instead. Wilson continues to prove Kindler's identity, and Kindler goes to greater and greater lengths to conceal it. Ultimately, of course, his undoing is a clock—literally. The producer was originally planning to hire John Huston to direct The Stranger; Welles got the job because of an ill-timed military tour that took Huston (literally and figuratively) out of the picture. Welles hadn't directed a film in four years and was so eager for the work that he took a contract stipulating that if he went over-budget he'd be paying the studio out of pocket. It's possible that Welles' inventiveness was partially forged by the constraints under which he found himself working on all of his early films. He was dogged by cut-happy producers (it's not even clear how much footage was removed but Welles was relieved of the first 16 pages of his script before principal photography even started) and contrarian casting and locations choices (Welles wanted Agnes Moorehead to play the investigator; the studio cast Robinson; likewise he got a budget-driven "no" on filming the prep school scenes at The Todd School in Illinois, his own alma mater). The desire to personalize this film despite so many interventions were probably fundamental to the development of its nightmare-like tone and the use of reflective surfaces to provide depth and dimension in his constructed set. (Check out the drugstore scene where Wilson plays checkers with Billy House.) But perhaps most striking is the use of actual footage from concentration camps, which are still shocking to look at today but were exceedingly potent in the 1940s when large numbers of Americans still did not understand that the camps really existed. In typical Welles-versus-studio fashion, the producers backed out at the last minute on the promise of a four-picture deal to follow this film—-they had become convinced it would run at a loss and Welles was incapable of directing a mainstream hit movie. As it turned out, it was Welles' only significant box office success on release, and remains a canonized film noir. —A.G.
---
24. A Girl Walks Home Alone at NightYear: 2014
Director: Ana Lily Amirpour
Stars: Sheila Vand, Arash Marandi, Mozhan Marnò, Marshall Manesh, Dominic Rains
Rating: NR
Runtime: 104 minutes


Advertising itself as "the first Iranian Vampire Western," A Girl Walks Home Alone at Night transcends just about every word in that description, and yet it has the defiant one-dimensionality of a lurid graphic novel. Its moody atmosphere is all of a piece, cutting off our connection to characters or any sense of deeper thematic or emotional terrain. The film stars Sheila Vand (Argo) as the titular girl. She lives in Bad City, a desert community littered with slowly churning oil derricks and an unsettling open pit where dead bodies are dumped. This unnamed character walks the city streets at night decked out in a chador, which makes her look like a superhero. More accurately, she's a vampire, feasting indiscriminately on men deserving of the grisly fate. (Pimps and other baddies seem to be favored targets.) Shot in Southern California, A Girl Walks is a triumph of high-contrast lighting, the dark shadows coexisting with the flickering streetlights. (The whole movie exists in the same arresting permanent-midnight environment of Touch of Evil, where empty desert threatens to consume the few signs of civilization.) Such a heightened visual palette risks becoming monotonous, but Amirpour and cinematographer Lyle Vincent keep delighting the eye, finding endless ways to surprise us with the ghostly appearance of Vand in the background. (With her pale face, heavily-mascaraed eyes and dark cloak, she's the most bewitching vision of death you've seen on a screen in a while.) Amirpour has crafted a tone poem to alienation and first love that's incredibly sensual and eerie. It has its share of spilled blood, but Amirpour prefers the creepy-crawly to the crudity of gore. Like Jim Jarmusch, she enjoys playing around with genres from an ironic distance, letting her noir-ish tone set the terms for everything else that goes into the film. Hers is a feature debut is so enveloping that it doesn't much matter that not a lot happens within the frame. Draped in dreamy black-and-white and scored with proto-Morricone instrumentals and evocative goth-rock, A Girl Walks Home Alone at Night proudly stakes its claim as an aspiring cult classic. —Tim Grierson
---
25. Goodbye to LanguageYear: 2014
Director: Jean-Luc Godard
Stars: Héloïse Godet, Kamel Abdeli, Richard Chevallier, Zoé Bruneau, Roxy Miéville
Rating: NR
Runtime: 70 minutes


Jean-Luc Godard made Goodbye to Language in much the same spirit as Taro Gomi's seminal children's book Everyone Poops: no matter what differences may set us apart from one another, we're all united through our undeniable human need to defecate. It's the greatest of equalizers. This, of course, suggests that any such spirit can be coaxed out of the film in just one screening. Woven sporadically throughout Godard's visual essay are moments in which his quartet of protagonists talk philosophy on the john, the thunder of their bowel-voiding peppering conversation with the sounds of intestinal exertion. Coming from any other director, these sequences might stretch our willingness to offer our continued patience, but anyone who signs on for a modern Godard flick should probably have an idea of what they're getting into. This holds true for Goodbye to Language as much as it does for, say, 2010's Film Socialisme or 2004's Notre Musique—though the latter films are downright coherent by comparison. It's dense. It's opaque. Goodbye to Language is crafted in a way that aggressively defies immediate understanding, really allowing only mitotic absorption; though it clocks in at 70 minutes, it feels like it's twice as long. As a topper, Godard and his cinematographer Fabrice Aragno shot the whole damn thing in 3D. Coats, branches and many sundry objects poke out at us from the screen while the colors—oh, the colors!—practically vibrate with intrusive urgency. The toilet humor is almost a palette cleanser for his movie's experimental qualities—which is a sentence I stand wholeheartedly behind. But these aren't complaints; they're the exact reason that the movie is such a joy to behold. So what does it all mean? What's the ultimate point? Godard has a lot on his mind, as evinced by the sheer volume he's jammed into Goodbye to Language's sinewy frame. In that regard, maybe there doesn't have to be a point, because the point, perhaps, is just to rifle through Godard's brain-library and glimpse if only briefly what it's like for him to live within that overstimulated architecture. That explains, if not justifies, the film's sheer breadth of referentialism, which includes archival footage clips alongside nods to Fritz Lang, Alexandre Aja, Jean Cocteau, Samuel Beckett, Fyodor Dostoevsky, Mary Shelley, Lord Byron, Jean-Paul Sartre and, perhaps unsurprisingly, Godard himself. These materials, which Godard weaves together with a young man's brio, aren't a sendoff for language but rather a send-up: They wryly blur the line between truth and fiction, reality and fantasy. Maybe language keeps us at arm's length from nature, but if so, it still does a pretty solid job of articulating the full gamut of human emotion. Put in short, the film is chaos, but glorious, wondrous chaos that lets us see what genius looks like from the inside. —Andy Crump
---
26. This Is Not a FilmYear: 2012
Directors: Jafar Panahi, Mojtaba Mirtahmasb
Rating: NR
Runtime: 75 minutes


In December 2010, renowned Iranian director Jafar Panahi (Offside) was sentenced to six years in prison and banned from making films for 20. His crime? Supporting the opposition party during Iran's highly charged 2009 election. Three months later, on the eve of the Iranian New Year, while his wife and children are away delivering gifts, Panahi is home alone in his apartment. He turns on a camera. What follows is a document of the day-to-day life of a man under house arrest: He spreads jam on bread; he brews tea; he feeds his daughter's pet iguana; he calls his family; he checks in with his lawyer. But This Is Not a Film also evolves into a provocative meditation on the nature of filmmaking itself, because, although he has been barred from directing films, writing screenplays, leaving the country and conducting interviews, Panahi's sentence says nothing about reading or acting, so this is what he does in front of a camera, explaining what his most recent film would have been about had he been allowed to make it. Like René Magritte's The Treachery of Images, in which the artist scrawls the words "This is not a pipe" under a painting of just such a smoking device, this is not a film but a representation of one. Which, in fact, might make it all the more truthful. —A.E.
---
27. Arabian NightsYear: 2015
Director: Miguel Gomes
Stars: Crista Alfaiate, Dinarte Branco, Carloto Cotta, Adriano Luz, Rogério Samora, Maria Rueff, Cristina Carvalhal
Rating: NR
Runtime: 383 minutes


Nearly six and a half hours, the Arabian Nights trilogy isn't exactly that: If one watches one, one should watch all three, but if one watches one, one should wait some time to watch the next, and then one should wait some more time to watch the next after that. Not because Gomes's tri-volume'd opus is an especially weighty film—it's actually quite a lot of fun to watch—but because it seems as if Gomes never really intended it to be viewed all in a row. In assembling a hybridized narrative of documentary and adaptation fable, Gomes provides a take on the aforementioned classic story by distilling its spirit into an entirely bonkers portrait of modern Portugal in the throes of economic desolation. A cadre of bureaucrats can't get rid of their erections, a beached whale explodes only to beach a mermaid, an immortal dog happily serves generations of owners, an old skinny criminal uses teleportation to avoid the authorities, a rooster avoids execution by telling the story of young lovers embroiled within an arson investigation, a judge listens to the testimony of a talking cow who seeks permission to speak from a gender-ambiguous genie, a community of gruff bird trappers prepare their finches for singing competitions—and somehow I feel as if I've missed so much, unable to grasp the light but immense complexity of what Gomes has accomplished. Of course there is the overarching story, of Scheherazade telling nightly stories to the King of Baghdad to avoid execution, and there is inexplicable time-leaping, as there is the emergence of Gomes himself, explaining that even he is unsure of what it is he's doing, which the audience has no reason to disbelieve, which the director obviously expects, which the audience can't possibly accept without total devotion to the sheer glee of Gomes's kitchen-sink conceit. Above all, the Arabian Nights volumes are a testament to the power of storytelling, to losing oneself within the folds of a human imperative without once taking that imperative for granted. —Dom Sinacola
---
28. CollegeYear: 1927
Directors: Buster Keaton, James W. Horne
Stars: Buster Keaton, Anne Cornwall, Harold Goodwin
Rating: NR
Runtime: 66 minutes


Sandwiched in Buster Keaton's filmography between two elaborate, grand-scale epic masterpieces (The General and Steamboat Bill, Jr.), College naturally seems small by comparison, with its contemporary genre story of a nerd trying to learn athletics to woo the woman he loves. But don't let that make you think The Great Stone Face didn't pay the same attention to building gags, teasing the audience, and finishing it all off with a thrilling finale. The film also features a scene with Keaton in blackface, as his character gets a job as a "colored waiter." While the racism shouldn't be brushed aside, Keaton deconstructs the racial humor by surrounding himself with black staff members at the restaurant, who walk around the restaurant normally while his character increasingly turns up the racist pantomime as he senses his ruse unravelling.—Jeremy Mathews
---
19. DaysRelease Date: August 13, 2021
Director: Tsai Ming-liang
Stars: Lee Kang-sheng, Anong Houngheuangsy
Rating: UR
Runtime: 127 minutes


Early in Tsai Ming-liang's Days–in the second or third shot, in fact, so something like 10-15 minutes into the film–we're left to ponder Lee Kang-sheng's third nipple. In a soaking pool, at a bathhouse maybe or somewhere health-care-related, Kang (when he has a name, Tsai often refers to Kang-sheng's characters as "Kang" or "Hsiao-kang") silently, nakedly floats, the camera mostly consumed with his torso, our view of that third nipple practically sharpened by the pane of still water between us and his skin. He dozes, not for the last time. The water in which Kang is submerged reflects the essences of what lies outside of frame–reflecting his vulnerability by intimating much more vulnerable flesh just below our view–as much as it reminds us of Days' opening shot, where Kang sits in a chair staring out a window, the window between us and Kang, watching a rainstorm pick up, the shadows of tropical trees shaking in the drop-littered glass. (Water too, usually flooding urban spaces, makes for a constant motif in Tsai's films.) The longer we watch him, the more we feel as if he's outside in the storm, or the storm is inside the room with him, watching itself rage. And the longer we watch this nipple, consider it and everything that lends it context, the more we're encouraged to think of it within the world of Tsai's previous feature films (Days his 11th). And the more we reminisce about all the films in which that third nipple was there, under Lee's shirt or lost to the sumptuous grain of 35mm film, the more we see all of Tsai's work as a slipstream, in which the "same" people live scores of alternate but intertwined lives, each film a brief but meaningful glimpse into how these lives meet–or don't meet–skeins in the broad tapestry of loneliness and alienation that increasingly consumes us. The third nipple was there all along. Meanwhile, Days as a title pretty much represents the trajectory and velocity of our course. We look in on the quotidian of Non (Anong Houngheuangsy), sitting with him as he prepares dinner, takes a shower, eats, sleeps, wanders through markets. There is no story to this, only habit and survival and the soothing gestures of ritual. Days marks the point in Tsai's filmmaking at which he's reached his most empirical; if for each film, beginning with 1992's Rebels of the Neon God, the Taiwanese filmmaker has gradually peeled plot from the gnawed bone of simply captured human experience, then in Days functionally nothing is explained. We're not even afforded subtitles (on purpose, as an opening title card informs us) for the film's few passing glances of dialogue. We'll watch from across the street, buses and walkers occasionally obscuring our view, unable to hear if they're talking, unable to make out if their lips have any purpose. All we know is for that long moment, they're no longer alone. And after all this time spent in their company, that knowledge is more than enough.–Dom Sinacola
---
30. The Grand BizarreYear: 2018
Directors: Jodie Mack
Rating: NR
Runtime: 60 minutes


A spectacle of tedium; an opus of patience: Experimental filmmaker Jodie Mack seems to bring so many of her aesthetic and physical concerns to bear with the jaw-dropping The Grand Bizarre, one struggles to conceive of the ways she "got that" or "did that" or "made that happen." Context, especially in Mack's work, is important—the climax of the hour-long film uses the scant sounds of Mack's 16mm Bolex camera in her studio, clicking once per image, to convey just how arduous the gleeful images we'd witnessed were to birth—and while we watch the swathes of textiles and colors spin and whirl across the screen and throughout countless international landscape, patterns whorling in time to a, in turns, quirky and menacing and blissful techno beat (like Holly Herndon's Platform or Matthew Herbert's concept albums, an arrangement of post-industrial detritus metamorphosing into music), we can't escape the nagging question: Was all this work worth it? The answer must be "absolutely," because The Grand Bizarre is too often astounding, but the answer is in the question as well. Mack wants us to know that she individually photographed innumerable pieces of cloth, that she painstakingly animated this whole hybridized doc. Mack wants us to be constantly aware of her work—just as she, in filming huge open air markets and major shipping ports and long car rides with fabric strobing in the rear view mirror (how many hours did she sit in the back of a car and just hold up pieces of cloth?), begs us to think about the labor behind these textiles and colors and patterns and materials, how much human effort is expelled in getting them, doing them, making them happen. Exciting and exhausting, The Grand Bizarre is both celebration and eulogy to that which nourishes us as much as it kills us. —Dom Sinacola