Laetitia Sadier: Silencio!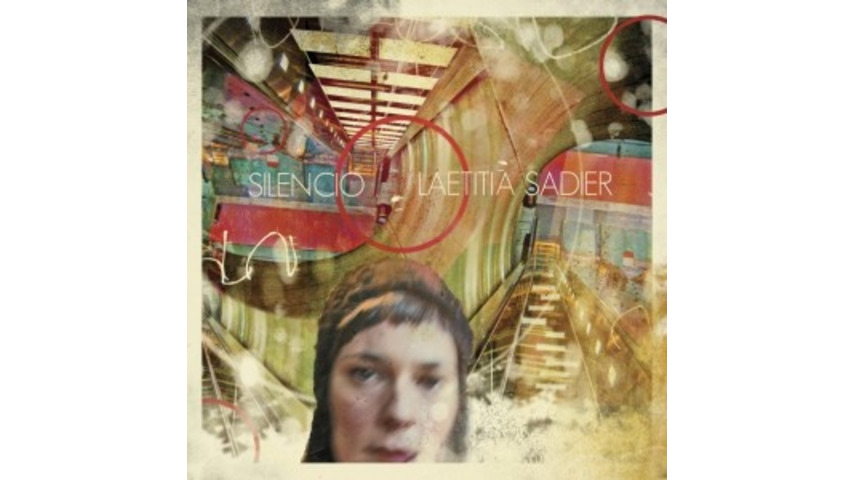 "Lightning Thunderbolt" is the track you're looking for, if you're curious how far Laetitia Sadier could possibly get from her decades-long outfit Stereolab. Over pensive acoustic guitar and either real or fake flute solos, she sings about fires and shimmering spirits, sounding for all the world like a take on something from Beck's Sea Change. The thing is, solo album or no solo album, Sadier will never be a traditional songwriter, and fine as her voice is, her command isn't out front enough for it to feel right reducing her to "singer." She's a texturalist, a sonic bricklayer, and if she's writing tunes and nothing but, they're groovy ones.
Taking its cues from the extra-funky (and underrated career highlight) Chemical Chords, one of Stereolab's two final records, the Silencio! big highlight and centerpiece is "Fragment Pour le Future de L'Homme," all thick groove with disco percussion clinking around like ice in a glass, and a constant guitar vamp that gives way to verses rife with rich, woody bass. A vibraphone plays the hook. Like Stereolab, even at their least notable, Silencio! is nothing if not wonderfully produced. And on "Fragment" once horns and ba-ba-bas kick in, it's like legendary disco producer Larry Levan's fever dream lives again, with a tiny bit of Eno-produced Talking Heads thrown in. There's nothing Sadier's fans won't enjoy about this record.
But that doesn't mean there's much to love. Without her band, Sadier's two solo albums have just sort of treaded water. There's no added heft or deep-seated motorik jam or well, rock 'n' roll on here. There's "high art" and "film soundtrack" and typical smarty-pants cocktail music, but except for "Fragment," nothing that would threaten to take up space on your homemade best-of-Stereolab mix. But she does more than just punches the time card—there are definitely interesting moments here if you're willing to ride this record for your Sadier fix until the next product comes along. The flanged percussion and warped string samples of "Merci de M'avoir Donne la Via" are worthy of Arto Lindsay's samba tinkering, perhaps if he were to apply it to the Flaming Lips' Soft Bulletin, where every sound feels copped from a crackling old film reel. "Silent Spot" could be one of Wayne Coyne's explorations as well, if he became vibraphone-obsessed the way Tortoise is. And all over the place you hear Air, the band that shares with Stereolab the dubious distinction of making lounge music cool again. But without really running off the map, Sadier just sort of drifts between poles. Silencio! is better than Air's last few albums and less rewarding than Stereolab's. And if she has any interest in thwarting the term "middlebrow," now would be the time to deploy it. That would require more verve than this pleasantness—as would memorable songs.
Others Tagged With