Micachu and the Shapes: Never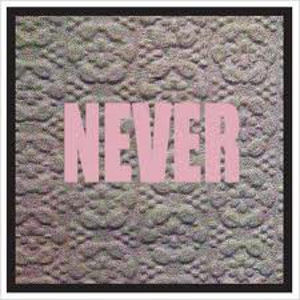 You have to respect Mica Levi's dedication to sheer atonality, like a child trying to see how long she can push two magnets together at their opposing ends before her hands get tired. Which is not to say that her music as Micachu is childlike, although it kind of is—in a good way. Her desire to make music so damn strange is childlike. But anyone can make a mess or a scrap heap. It takes a bright, instrument-inventing student who was once commissioned to write a piece for the London Philharmonic to make something that's so carefully crafted to be the opposite of pop while still obeying its rules. Some of these rules include keeping it brief and having a sense of humor about it. The opening track of her first true album in three years prominently features the words "I'm easy to please." Haha.
A similar avant-gardist debuted in 2009, albeit more quietly: tUnE-yArDs. With Levi, Merrill Garbus shares a junkshop aesthetic, Beefheart-esque outsider chord progression and a strong, jagged sense of rhythm. But she traffics in big themes like sex and politics, universals that helped her win the Village Voice's Pazz & Jop poll with w h o k i l l last year. By contrast, Levi's Never hints at what might've become of Garbus if she never left the basement. In 35 minutes, these 14 vignettes are less synth-noodley than on her debut Jewellry, and more percussive, like Tom Waits' clattery recent output conceived as a no wave band.
A power drill finishes off "Easy," whereas "Waste" sounds banged to bits by trashcan lids. More drill-like harshness comes back up in the intentional, sheet metal-like awfulness that saws through "Holiday," though these songlets are so short that the noise is cathartic like the best hardcore punk or Sonic Youth. Unlike tUnE-yArDs, references to the outside world remain obscure and mostly musical. The one-note hook on "OK," one of only three tracks on Never that break the three-minute mark, is reminiscent of pushing a button in an elevator. Somehow the Pac-Man start music creeps backward into "You Know."
The main glue on Never, and what elevates it slightly above Jewellry, is the low tone of everything. Nothing's too high-register to disrupt or overly fancify, at least up until the final track "Nowhere," and that's a highlight. Slightly louder than the rest of the album, "Nowhere" is a buzzsaw punk song in the tradition of Kleenex/LiLiPut, just like St. Vincent's Record Store Day single "Krokodil" earlier in the year, with squashed, cut-up horns on a chorus that actually sounds joyous. Other highlights like "Easy" and "OK" get in and get out like a breeze. An outsider-noise breeze album? Indie-rock's making summer weird indeed.
Others Tagged With