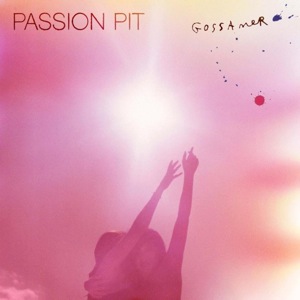 A little over halfway through "Carried Away," the hyperventilating third track on Passion Pit's hyperactive second album, the cooing chorus opens up into frontman Michael Angelakos singing out "We all have problems, we all have problems, we all have something to say!" The exhortation acts as a thesis for Gossamer, whose neon-bright soul appears so similar to the bubbling pop that brought Passion Pit into underground ubiquity—I can't be the only one who's had romance spring from arguing whether the original or remix of "Sleepyhead" was better. With Passion Pit's second album, these confections are more confessional: the album very nearly didn't happen—Angelakos almost killed himself. Again bringing Manners producer Chris Zane, this album is a crystallization of his internal struggle.
The album is a tour of Angelakos' internal life in the same way that Bon Iver, Bon Iver is a tour of Justin Vernon's, though while the Wisconsinite's ecosystem is tranquil, the Brooklynite's is tumultuous, and that dramatic energy is the animating force of the album, supplying MDMA highs—the exquisite crush of "I'll Be Alright"'s chiptune chorus for instance—and withdrawl lows—the warped, paranoid repeating voice of "everyone's alone, everyone" in "Mirrored Waves." It is in this rhythm of rupture and rapture that he does battle with his demons, though he also has the help of angels, as shown in the the baby-stay-with-me soul of "Constant Conversations." After Angelakos and Zane, the third presence here on Gossamer is Kristy Mucci, Angelakos' stalwart fiancé. Both muse and anchor, she's the one that is "standing in the kitchen, pouring out my drink," and, it sounds, saving his life.

 Diagnosed as bipolar when he was 18 and holding a habit of self-medication, Angelekos fills his music with substance and substances. Now 25, Angelakos might be the millenials' mold of the suffering artist: brilliant, broken and multi-tabbed. Let's hope that the angel Gabriel called to in "Where We Belong" stays off a while longer—as Passion Pit is only getting better.
Others Tagged With