The Gaslight Anthem: Handwritten
[Mercury Records]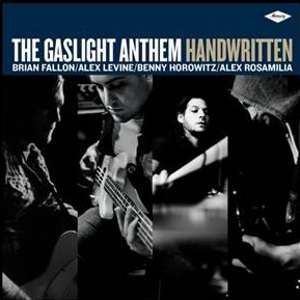 Change is scary. Sure, change can be invigorating, a means to progression and achieving the next big thing. But in terms of music, changing something that's already earned a band a cushy spot between Bruce Springsteen and the Bouncing Souls? Now that's scary.
Luckily for the boys in The Gaslight Anthem, they're willing to take on that change slowly and gently for expectant fans who've been harboring high hopes for the Jersey group's fourth full-length album, Handwritten. Frontman Brian Fallon seems to ease fans into this change on the mid-album rocker "Biloxi Parish," nearly cooing, "I'll be with you through the dark so that you do not go through the dark alone or on your own."
So if 2010's mainstream record American Slang was an evolution from 2008's breakthrough, The '59 Sound, then Handwritten feels like a diversion from previous albums entirely. With Brendan O'Brien's slick production and Fallon's noted shift toward introspective lyrics, The Gaslight Anthem seems to have settled into a more mature sound akin to "We Did It When We Were Young" rather than "Great Expectations."
But between the middle-of-the-metronome songs ("Keepsake"), mild bridges ("Handwritten") and ballads ("Mae" and "National Anthem"), the most riff-heavy, driving songs on Handwritten push the album from a good one to a great one. Lead track and first single "45" serves as an excellent kick-off track with fast guitars and Fallon pushing the limits of his gloriously gravelly vocals. Alex Rosamilia's guitarwork shines throughout the record, especially in the end solo of "Mulholland Drive." But the searing, two-minute "Howl," which hearkens back to 2007's raw debut Sink or Swim, steals the show with its ferocity.
Just a few seconds into Handwritten, Fallon yelps what could very well be his mantra for the album: "I can't move on and I can't stay the same." So to the fans who can't cope with change, get off the New Jersey Turnpike now, or stick along for the ride.
Others Tagged With