Ariel Pink's Haunted Graffiti: Mature Themes
[4AD]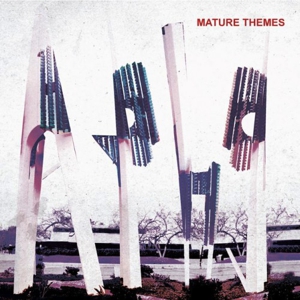 With all the buzz that's been building for him and his Haunted Graffiti bandmates over the last several years, this new record could have been a commercial breakthrough for the weird and wild Ariel Pink. But instead of moving in the more polished direction hinted at by his 4AD debut, Before Today, Pink takes a step back to keep moving ahead on Mature Themes, blending the lo-fi vibe of his earlier bedroom work with the more accessible sheen of his last record.
With its esoteric pop-culture cutouts ("Trolololololo … Who sank my battleship / I sank my battleship … G-spot, H-bomb, lets go!"), Mature Themes is a bubbling word stew, an absurdist stream-of-conscious pastiche ladled atop a bed of Oingo Boingo-style '80s ray-gun synth pop by a psychedelic 8-bit videogame Captain Beefheart. Imagine Hall & Oates up in the (breakfast) club, flailing with The Fugs after a jolt of DMT—that or if they'd re-shot the graveyard scene from Easy Rider with Peter Fonda, Dennis Hopper and their dates writhing 'round the tombstones in neon-pink Adidas jumpsuits to the score of Guided By Voices turned loose in a Korg factory.
Cool as all that sounds, the bizzaro train barreling us deep into Ariel Pink's whimsical inner world on Mature Themes jumps the tracks—and the shark—every now and again. While the wordplay can be as fresh and intriguing as Beck and his spray-painted vegetables were when "Loser" hit in 1993, just as often it comes off as tired, forced gibberish (exhibit A: "Suicide dumplings dropping testicle bones"). "Schnitzel Boogie" and "Symphony of the Nymph" are also low points—the potentially room-clearing former trying way too hard to conjure Zappa's sublime silliness, and the latter a below-average take on the kind of freaky-and-free sex anthem Of Montreal has excelled at on recent albums.
More often than not, though, Ariel Pink and Haunted Graffiti hit their mark on Mature Themes. The title track delivers righteously with its woolly blanket of yacht-club cocktail synths and a cruel-to-be-kind melody worthy of Nick Lowe himself. Right on its heels beams the 12-string sunshine jangle pop of "Only in My Dreams," a bonafide beach-party classic from this SoCal-based band. And the album wraps gorgeously with white-soul ballad, "Baby," a song that picks up long after the glaring sunlight of "Only in My Dreams" has receded beyond the horizon into starry, timeless night.
While there's nothing on this new record quite as accessible and single-worthy as Before Today's "Round and Round," Mature Themes is another satisfying step in Ariel Pink's evolution—an album as melodically, hypnotically addictive and surprisingly danceable as it is arcane.
Others Tagged With