Shannon McArdle: Fear the Dream of Axes
[Bar/None Records]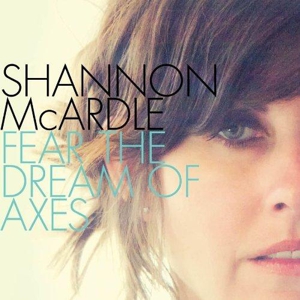 After her marriage and her band broke up, Shannon McArdle quickly responded with Summer of the Whore, an appropriately intense album. That album was an impressive but heavy listen, its catharsis matched by its precise exploration of difficult feelings. Four years later, McArdle returns with follow-up Fear the Dream of Axes. This time she's less hurt but every bit as open, and her glimpses and vignettes cover a spectrum of experience in a manner that's no less sharp.
The album's languid opening on "Give Me the Hi Hat, Mister," while captivating, doesn't suggest that McArdle's about to take us through tarring-and-feathering, prison stays and even a murder mystery (at least two of those are metaphorical, in case you're worried). It does suggest an easy kiss-off to the trappings of lost love, but McArdle will return to broken relationships throughout the album.
She's better, though, when examining the complexities of ongoing relationships, spilling out the sort of imperfections that both scratch and stick. The alt-country "Stockpile" gives a quick flip of self-denigration, but McArdle never gives away how much irony might be in the lyrics. The doubt of "My Kitchen Chair" revolves around honest appraisal, fear and self-destruction without stemming from either of those three. The pretty indie-pop allows McArdle to play with her delivery and phrasing—when she speeds up to get a bunch of words in, it's time to take note.
The sorts of songs highlight the uncertainty of relationships, and the fuzziness of self-awareness. McArdle's thinking on this topic peaks with the dreamy "Warden," a track that plays with traditional warden/jail/love tropes. The singer's ambivalence about leaving stems from concerns about her captor, herself and the general nature of such things. A line like "the birds died between my fingers" becomes neither guilt nor threat, but an essential background fact.
McArdle makes most of her details feel necessary. Given her continuing penchant to use many words and to write long songs, it's a good skill to have. McArdle's success on Fear the Dream largely stems from her ability to use simple diction to create lyrics that are neither easily explicated nor impenetrable. "Freighted Sky" captures a particular feeling, epitomized by the line "I'll see your void and I'll raise you more." There are some sort of existential crises at work here, but there's the optimism of new love, pushing at the bordering anxiety.
If that's one of the brightest songs on the album, the title track might be the darkest. Maybe a kind warning, or maybe a psychological assault, "Fear the Dream of Axes" simultaneously suggests an revelatory need while denying the wisdom of interpretation. Whether there's a fear of beheading or, as the song hints, castration, there's something dark forcing through, but the singer's as unreliable as the dream, caught up in a concerns about another woman.
Reliable or not, the singer on "Fear the Dream" is confident in her own statement. Most of the other lyrics find people adrift in nearly unnavigable confusion. McArdle herself, though, sounds utterly in command, and it's rare to hear someone so assured in ambivalence.
Others Tagged With