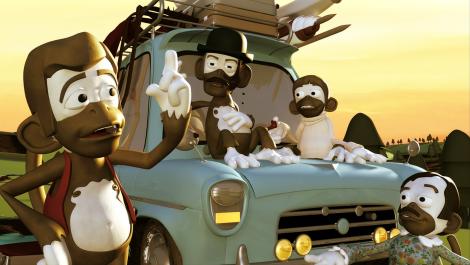 Several years before his death in 1989, Monty Python member Graham Chapman recorded himself reading excerpts from his book, A Liar's Autobiography, an ostensibly fictionalized account of his life. These recordings of his surreal, darkly comic work serve as the basis for this animated adaptation, in which Chapman and (most of) the other Python troupe voice themselves and various other characters. Directors Bill Jones, Jeff Simpson and Ben Timlett have amassed a number of animation houses to bring the different segments to life, each in a different style.
It's always seemed that a deep undercurrent of pain and sadness runs through the greatest and most effective comedians as the private yin to their public yang, and Chapman is a prime example. Though occasionally funny, this is not a comedy. Though peopled with John Cleese and the others, it's not a Monty Python movie. Rather, A Liar's Autobiography is an impressionistic journey through a troubled life and mind.
That's not to say that the works of the seminal sketch comedy team are ignored. By the movie's own account, the three most influential aspects of Chapman's life were sex, booze and Python. Famous Python sketches and songs are used throughout to punctuate events and underscore emotional beats, such as the canny use of the Colin "Bomber" Harris bit, in which a wrestler, played by Chapman, enters the ring to face off against himself. There are also smaller, subtler nods to classic Python sketches that peek through, so the die-hards can have a good time playing Spot the Reference (if not Spot the Loony).
The editing early on is a little stilted, resulting in the feeling that the script is being read, not performed, and deflating some of what humor there is. The animation is as varied in quality as it is in quantity; in certain segments the Python members are rendered as monkeys in cheap-looking CGI. But the filmmakers seem to have been more inspired by the latter, darker portions of Chapman's life: when he injures himself in a fall during a drunken stupor, the sequence is shown in beautiful strokes of watercolor. His struggle with celebrity is represented by a phantasmagoric trip through a party in Los Angeles with the likes of Elton John and Rod Stewart caricatured as cartoony space aliens, and Chapman himself as a doe-eyed astronaut floating in space, untethered.
It's to the directors' credit that, despite the stream-of-consciousness structure and the constantly changing visuals, the film manages to be cohesive. It's not an easy trip; the audience has to work a little bit to understand what's happening, but then, that makes it all the more rewarding. A Liar's Autobiography is flawed and enigmatic, but ultimately entertaining. Much like its subject.
Directors: Bill Jones, Jeff Simpson, Ben Timlett
Writer: Graham Chapman
Starring: Graham Chapman, Terry Jones, John Cleese, Michael Palin, Terry Gilliam
Release Date: Nov. 2, 2012 (in theaters and on EPIX)
Others Tagged With