Alicia Keys: Girl on Fire
[RCA]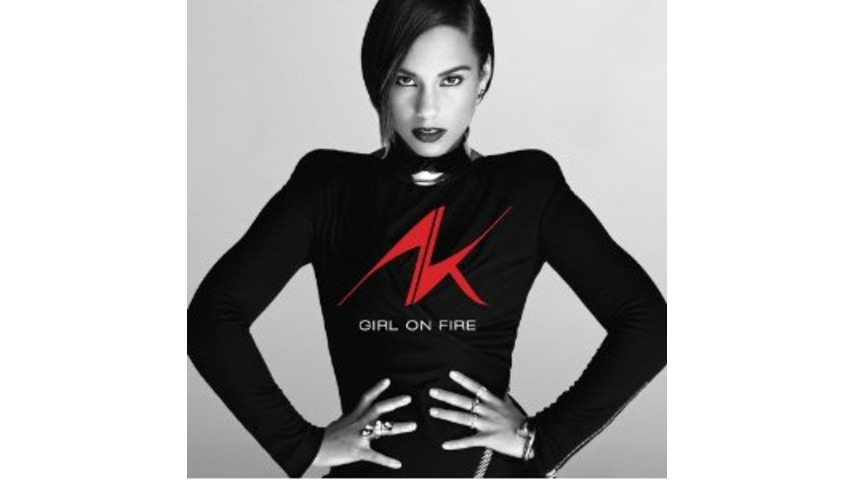 With a few carefully considered piano notes, "De Novo Adagio" reminds fans of soul diva Alicia Keys' classical roots and sets the stage for an album that reaches beyond obvious anthems ("Empire State of Mind," "Fallin'") for a new urbanity, offering a variety of moods, notions, even introspection. Fear not, fans of ubiquity! Girl On Fire's title track, especially the Inferno Version with rap from fashion-freak Nicki Minaj, throbs from radios everywhere, hook thrusting with the mindless sloganeering that eradicates hope for deeper meaning.
Yet from the opening confession "It's been a while. I'm not who I was before/ You look surprised, your words don't burn me any more" on "Brand New Me," it's obvious this is Keys seeking. Girl reckons with old loves, new selves and the embrace of finding those who make her whole. Whether it's the retro R&B of "Tears Always Win," co-written with Bruno Mars, or the sparse, almost folk of "That's When I Knew," re-teaming her with Kenneth "Babyface" Edmonds, this is Keys finding her vulnerability and letting it unfurl with a strength that's honest instead of bludgeoning.
"Even The King," written with UK sensation Emeli Sande, is a consideration of the things that matter—with just voice and piano. The amber tone in Keys' voice holds a dusky resolve that exults instead of clings. Contemplative, marveling, this is a woman who knows what she desires can't be purchased.
The post-Whitney soul queen for the masses, Alicia Keys was poised, coifed and Clive Davis diva'd into perfection. Ten years into her career, she's still a musical haven for suburban moms, hipster boutiques and bohemians not ready for the wild side.
She enlists Jamie XX for the fat-bottomed "When It's All Over," her velvety voice drifting over a track thick with slithering synths, beats that build and surge that lead to a philosophical embrace of loving what was, ending with a cameo from son Egypt.
The quasi-bedroominess of "Fire We Make" never quite finds release; Keys' voice moans but is dwarfed by Maxwell's bedroom spark. More successful: the muted percolation of "Listen To Your Heart" offers encouragement to seek your own truth.
Though weighted down by its obvious chorus, the Beatz/Dr. Dre collaboration "New Day," opening with military beat and techno punch, suggests this is only the beginning of what Alicia Keys is capable of. Like Stevie Wonder—who could throw together cloying ballads, funky grooves and reggae homages—Keys is willing to probe her oeuvre and now her own self for songs that resonate beneath the surface.
Others Tagged With