Veronica Falls: Waiting for Something to Happen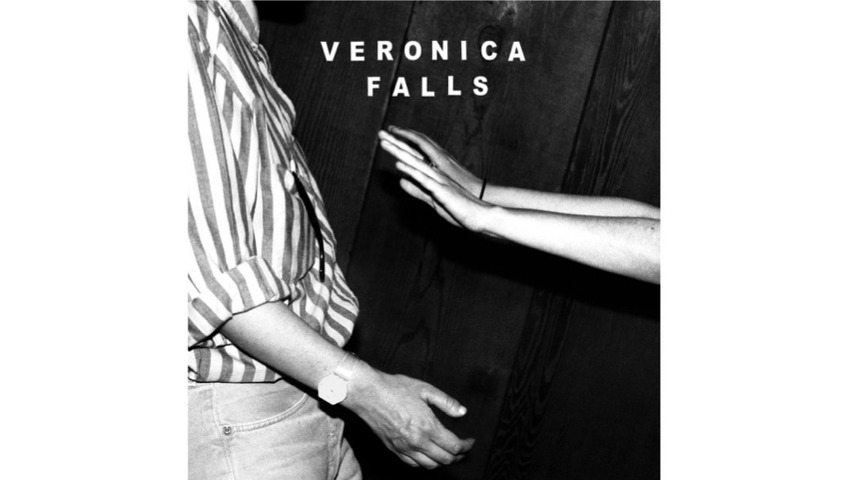 If any genre seems out of place in 2013, it is the typically British brand of indie pop commonly called "twee." That little word is about as flattering in the U.K. as "emo" is in the States, and it has been attached to bands as varied as Los Campesinos! and Belle & Sebastian, with neither particularly flattered by the label. Recently, both the debut of Veronica Falls and the two albums from Allo Darlin', have reached beyond their London scene and caught American attention, all while flying closer to a C86-mold of distinct "tweeness" than B&S or Campesinos ever have.
Veronica Falls' 2011 self-titled LP in particular wore its influences like a tailored uniform, recalling R.E.M., The Smiths, The Pastels and Young Marble Giants, with such a lack of connection to current musical trends that leads to the question of whether the sound of this new wave of twee is only part of the story. Whereas the original NME C86 tape was presented by some journalists in contrast to the rising popularity of rap music at that time, much of the music on the tape was thought a reaction to the shameless masculinity that dominated rock in the mid-'80s, whether that was the steel-boot kick of hardcore or the muscle-glistening guitar stroke of hair metal.
This is not the state of present London. But making simple, unaggressive pop songs worked as a statement then because it was contrary to what popular rock 'n' roll had become. If Veronica Falls, as well as other similar acts, are responding to something with a borrowed '80s aesthetic, knowingly or subconsciously, the most logical target would be the inorganic and impassive electronic music that dominates dance clubs, particularly as it has gained a large slice of the music media's attention.
Of course, just as some traction appears in this mini-movement (emphasis on "some" and "mini"), Veronica Falls have shed elements of their previous signature with sophomore release, Waiting for Something to Happen. Veronica Falls is noted for a balance between unassuming indie pop and what they call "graveyard pop," often touching on both simultaneously. With Waiting for Something to Happen, a quick sequel by most standards, the dark and light levels are pushed to the middle and drenched in color and tracers, as if the band members were given access to a cobwebbed garage for six months with the sole entertainment being a small supply of psychedelics and their parents' record collections.
Opener "Tell Me" weaves harmonized guitars and mirrored male/female vocals, less layers than a singular thick melody, and takes an already classic rock-indebted style and dresses it in bell-bottoms. This nod to the '60s psychedelia reoccurs in the subtly surfy and menacing "If You Still Want Me" and the more traditional garage-psych "My Heart Beats," and, though initially refreshing, by the time "So Tired" arrives near the end of the collection, its title rings too true, blending into a singular vision of psych-twee where the songs are difficult to distinguish.
It's when Veronica Falls stick to their comfort zone that the most memorable results arrive. "Teenage" carries fitting lyrics with lines like "driving late at night, I let you listen to the music you like," a trivial detail imbued with importance by vocalists Roxanne Clifford and James Hoare, with these and many of the album's sentiments being easy spaces to occupy for listeners regardless of their current age. The earnest pleas of "Daniel" are essentially vague ("I can't go on without you," "please don't leave me") and never give us any specific details to latch onto besides the titular first name, yet the song is still affecting—but only if the audience freely opens up while listening, with Veronica Falls nudging us to feel something… to feel anything.
The idea of "waiting for something to happen" is even a mammoth cliche, but on the title track, the up-tempo bounce and emphatic cymbal crashes all are scripted to make old seem new again, using the music that touched their own hearts to affect another generation in the same way. And maybe Veronica Falls and the reemergence of twee isn't responding to a coldness or a detachment from the most basic human emotions that some contemporary music holds. Maybe this is just a group of British musicians whose music taste is not "of the moment." Regardless of why twee pop is seeing a small resurgence, enough to inspire themed club nights and joint bills, it should be unsellable in 2013, but like R&B and hardcore and garage all have seen recently, it's when backs are turned that vitality can be reclaimed.
Others Tagged With