Robert Randolph & The Family Band: Lickety Split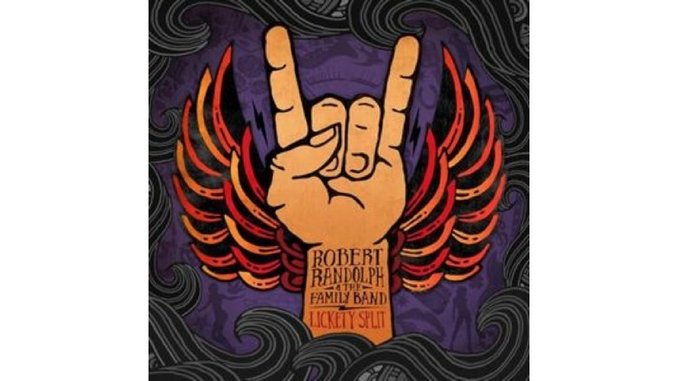 Since bursting into public consciousness, sacred steel prodigy Robert Randolph has straddled the worlds of the holy and the profane. On the jam band circuit, the flashy performer has ignited festivals with his note-bending steel play, making them swell, quiver and thrash under his slide. Yet, at his core, Randolph comes from the church, and that gospel truth can never be washed away.
"Born Again," the second track on Lickety Split, has the velocity of a Sunday morning church choir in full glory, his sister Lenesha in full-bore wail. Then, as if there's no more to be had, Randolph make his steel curl and buzz with equal speed on the ride out. By transcending the expected, the New Jersey-born firebrand caught the attention of the non-believer—and his kineticism continues throwing sparks.
But that's also the challenge. To lure and engage secular audiences, there are elements that seem grafted—often awkwardly—onto the songs. "New Orleans"—with its easy groove and bits of B-3 organ wafting through as a woman's voice rises from the molasses-sweet melody—hits a wall with the half-sung, almost-rapped male juxtaposition part that lands like a drunk uncle. Regardless of hip hop's hybridization of genres, why bust what doesn't need it?
The "Cool Jerk"-evoking "Amped Up" and the Lenny Kravitz-feeling "All American" seem cast for marketshare party-mongering and the hope of 30-second commercial placement. Much truer to Randall's visionary nature is his freewheeling grind on the Rascals' "Good Love" that churns, whirls, boils and rises hot in a way most instrumentally driven tracks can't in captivity.
That same euphoria infuses the Trombone Shorty-punctuated "Take The Party" with its own spirit of abandon, while the Ohio Players' "Love Rollercoaster," all choppy wah-wah guitar and Sly Stone-feeling vocals, benefits from the scrawling steel guitar that cuts shape into the wall of funkiness.
The songs really serve as a backdrop for Randolph's musical prowess. Designed to work for frat kids, fest-goers and other party people, in the end, what matters is the way he plays. In Randolph's hands, the steel becomes an electric fountain of raw want, curling punctuation marks and incendiary bursts of melodicism where dimension and muscle flex beyond conventional playing.
On "Welcome Home," an anti-war/pro-veteran ballad of embrace, the hippie meander is washed with big churchy vocals and a genuinely weeping steel part that suggests the conflicted emotions—anger, regret, comfort—we should feel about the fate of our soldiers. Not preachy, but a strong witness, Randolph hits a truth that speaks to his generation in a palpable way.
Others Tagged With