Blind Boys of Alabama: I'll Find a Way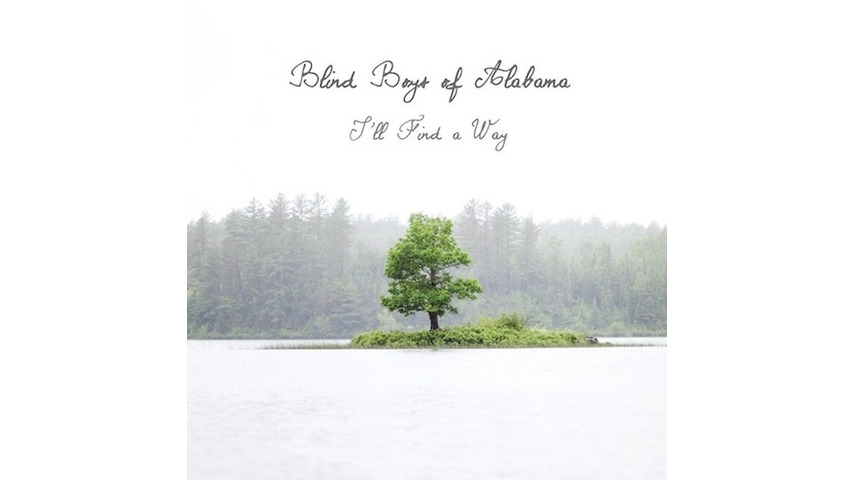 Insouciance isn't a gospel word, yet that's what makes the Justin Vernon-produced I'll Find A Way so engaging. Here the iconic Blind Boys of Alabama sound more joyful, jubilant and ready than ever, their faith a source of palpable euphoria, whether laced with tuba, tambourine or resonator guitar.
The Bon Iver leader makes Way a progressive, rootsy affair. As a drum echoes hollow and the piano sustains and spreads like a sunset, Vernon's reverence permeates Bob Dylan's "Every Grain of Sand." What reads as a match made as generational marketing becomes an intersection of faith from different realms. Elegant and elevated, believing's universality becomes a bond.
Vernon—an unlikely religious studies major at the University of Wisconsin—brings his ecclesiastic leanings to the BBoA. Whether the spare, buoyed-by-harmony "My God Is Real," the reggae shuffle of "I've Been Searching" or the falsetto witness "Take Me To The Water," it's obvious faith is where you take it and what you make it.
A few thick electric guitar chords, sassy upright piano and brassy trombone blasts let the Ralph Stanley-evoking "God Put A Rainbow In The Clouds" suggest perspective is everything. No matter how meager, there's a silver lining to be sought as the octogenarians' thick harmonies rain down.
An intriguingly eclectic collection of vocalists guest, ranging from My Brightest Diamond's Shara Worden's silvery light on the hushed "I'll Find A Way" to Merrill Garbus of tUnE-yArDs' raw counterpoint on "I've Been Searching." On the Chi-Lites' never-timelier "There Will Never Be Any Peace (Until God Is Seated at the Conference Table)," White Hinterland's Casey Dienel's velvet flutter rises from the Blind Boys' meditative parts to tug at conscience and nudge to a higher sort of truth in ruling.
And there's the minor-keyed sanctified rave-up "Jubilee," featuring Patty Griffin in open-throttle stompage. Full-rut tent revival spirit, the beat stomps as the track boils and churns in some kind of ecstasy beyond the mortal coil. A rolling bass line pushes as free-form vocal lines and a punctuated "Jubilee" are intoned over and over the banjo plinks and trombone blares curls of witness beyond words, the song finding its peak in spent spasms of glory.
Faith is a blind draw. One only embraces spirit by eschewing what is known. Somehow, grace moves through what's unspoken in a sustained note, a pillow of B3, a performance quivering with quiet commitment. "My God Is Real," equal parts pain and passion, finds Ben Moore's rough edges and thrown back, yet controlled delivery a rock to stand upon. Unadorned, it leaves no doubt about the sanctity that abides.
Others Tagged With