After Government Shutdown, Chuck Schumer Says Border Wall Funding Is Off The Table
Photo by Alex Wong/Getty
Politics
News
Chuck Schumer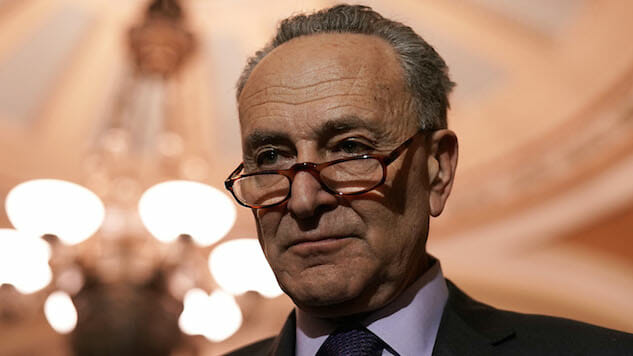 After the federal government shutdown that ended on Monday, Democratic Senate minority leader Chuck Schumer has indicated that funding for a border wall is off the table.
According to Politico, Schumer, through an aide, informed the White House on Monday that he was retracting the offer he made last week to give Trump $1.6 billion in wall funding that Trump requested for the year, per two Democrats. Now they say Trump will not get a better deal than that on his signature campaign promise.
Following the 69-hour government shutdown, the bill that was signed to continue funding the government did not include protection for "Dreamers" who were brought to the country through the DACA program.
After Schumer was initially open to sacrificing border wall funding to appease Trump in an effort to uphold DACA, the Republicans' failure to include protection for Dreamers in this bill has led Democrats no choice but to take border wall funding off the negotiating table.
Hogan Gidley, a White House spokesman, said Tuesday that the Schumer offer never existed. "You can't rescind money you never really offered in the first place," he said on Fox News.
Many progressives were angry with Democrats for caving so quickly in negotiations with Republicans. Senator Bernie Sanders cited its lack of support for DACA, lack of funding for Social Security, understaffing at the VA, lack of disaster funding for places like Texas, Florida and Puerto Rico, and his preference for an annual budget to government funding on a month-by-month basis.
While progressives do have legitimate qualms about this recently passed government funding bill, especially considering the concerns that Democratic voters have about Democrat lawmakers' unwillingness to stand up for their principles like Republicans, Democrats did manage to secure funding for CHIP (Children's Health Insurance Program) and a deal for DACA is not yet off the table.