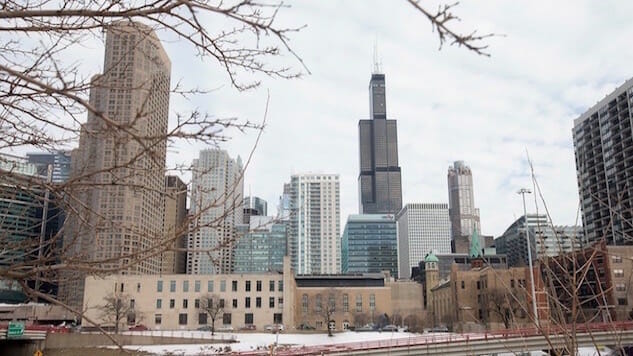 Listen, New York is pretty great. The Empire State Building: very tall. Times Square: so many screens. The Holland Tunnel: a great tunnel. But, at least when it comes to theatre, it sometimes feels that because the highest profile theatre is usually on Broadway, actors, directors, playwrights, and designers feel like New York is the only city where you can make a living as a theatre artist. That's a bummer for the rest of the country, where great theatre also exists but often goes overlooked. So here at Paste we wanted to give some love to nine great theatre cities (that aren't New York), and the amazing performances they have to offer.
Chicago, IL
Do not let its sidekick-esque moniker, "The Second City," fool you. Chicago has one of the most thriving theatre scenes on the planet and is probably the youngest and most energetic. In addition to big guns like the Goodman and Broadway pipelines like Steppenwolf, Chicago hosts a massive network of inventive non-equity companies like the Hypocrites and the House Theatre of Chicago. Throw in comedy institutions like the Second City, iO, and the Annoyance (Chicago is the birthplace of long-form improv, after all), and excellent training programs at DePaul and Northwestern, and you have the rare major American city where theatre is regarded not as a stepping stone to another medium or another city, but as a limitless art in and of itself.
Boston, MA
Full disclosure, I grew up in Boston and may be biased, but I have to credit the accessible, superlative regional theaters in Massachusetts for kickstarting my interest in theatre in the first place. In the metro Boston area alone you have the Lyric, Speakeasy, New Rep, American Repertory Theatre, Actor's Shakespeare Project, and Huntington—not to mention Boston University and Emerson. In addition, you're a relatively short drive away from Merrimack Rep, the Berkshire Theatre Group, and the Williamstown Theatre Festival. For such a small state, it packs a pretty big punch.
San Francisco, CA
Los Angeles may have cornered the market in film and television, but it can't compete with San Francisco for great regional theatre. The Orpheum hosts all the big touring Broadway shows, and smaller companies are littered around the Bay Area, but San Fran's big draws are Berkeley Rep (an excellent mix of world and regional premieres), and the American Conservatory Theater (A.C.T), the city's flagship company. Though artistic director Carey Perloff will retire at the end of this season, she literally brought back the company from the brink of earthquake-related destruction in the 90s, and reinstated its renowned graduate program. I have no idea how you could afford to live there, but if you do, good for you.
Minneapolis, MN
Thanks in part to generous arts funding from the government (ahem), the Twin Cities (we'll throw in St. Paul for good measure) has more theatre seats per capita than any other American city besides New York. I didn't even know anyone was counting. The feather in its cap is the Guthrie Theater, a stunning facility that has been going strong for over fifty years. The Playwright's Center also makes the city a destination for writers—whose work with the Center has won every award possible—while also championing diverse voices through its many fellowships.
Louisville, KY
Louisville has a lot going for it in many categories, and indeed is home to one of the fastest growing theatre scenes in the country. But it would earn its place on this list if only for the existence of the Actor's Theatre of Louisville, a 30-show-a-year powerhouse that is also home to a year-round apprentice company as well as the Humana Festival—the premiere new American play festival in the country. Name a great play at random and there's a good chance it premiered at the Humana Festival. The Gin Game, Crimes of the Heart, Dinner with Friends, Getting Out, Agnes of God, Becky Shaw, Gnit, The Christians. Seriously, keep going. I'll wait.
Houston, TX
Houston has the requisite massive performing arts complexes like the Hobby Center, but it also has the Alley Theatre, a fierce company that has premiered works by Paula Vogel, Ken Ludwig and (more recently) Rajiv Joseph. It's a great theater and all, but it also happens to look like a castle, and is actually rumored to be haunted by the spirit of a director who was murdered by an ex-security guard there in 1982. As Houston's theatrical profile continues to rise, let's not forget that.
Atlanta, GA
Yes, new tax incentives from Georgia have made Atlanta the new place to shoot blockbuster superhero movies and zombie TV shows. This is good news for everyone in the Peach State who works in entertainment but it's especially good for the dedicated actors who have made Atlanta their home and built a regional theatre scene to rival Boston's. You've got the Alliance, Horizon, Aurora, True Colors Theatre Company (run by live TV musical/August Wilson maestro Kenny Leon), the Actor's Express, and Atlanta Shakespeare Company. You also have Center for Puppetry Arts. Puppetry Arts!
Philadelphia
Placed snugly and conveniently between New York and D.C., Philly combines the tactical location of Boston with Chicago's grassroots passion. It's also old. The Walnut Street Theatre has been in continuous operation for two-hundred years, making it the oldest playhouse in the country. Then, of course, you have kickass non-profits like the Arden (co-founded by Stupid Fucking Bird's Aaron Posner). It all comes together in September, when the Live Arts Festival and Philly Fringe flood the city with fantastic experimental work.
Washington, D.C.
Finally, you have the nation's capitol, where it seems like the only people getting anything done at all are the city's resident performing arts centers. D.C. may have a, um, storied relationship with live theatre, but between Arena Stage, the Shakespeare Theatre Company, the Studio Theatre, and the daring and weird folks at Woolly Mammoth, you have an impressive and expanding scene that sort of makes up for the late unpleasantness over at Ford's theater (where, somehow, you can still see shows). To cap it all off, you have the Kennedy Center, where, among other things, college theatre program flock annually to compete in the American College Theatre Festival.