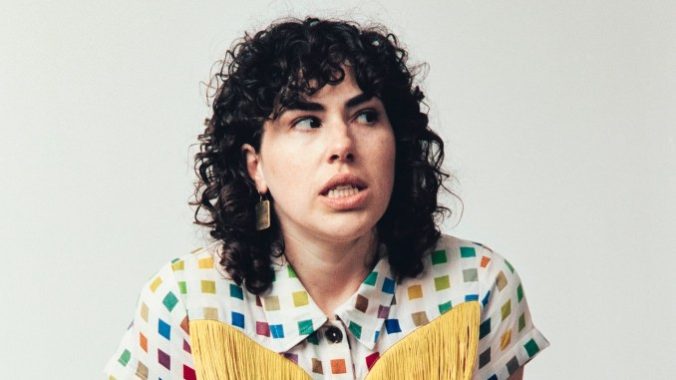 There's a lot of pressure on a stand-up comedian's debut album to properly introduce them to us, sight unseen; you need to be confident in your ability to sell jokes based on your voice and your voice alone. Luckily for LA-based comedian Cara Connors, her voice is one of their strongest suits, bolstering her record Straight for Pay, which was taped at the Hideout Chicago.
Connors' vocal elasticity is truly a wonder, immediately bringing to mind Adam Sandler's goofy impressions. At other moments, hearing Connors deliver a line in a strange, high-pitched manner makes you feel like you've been dropped into a Broad City episode and Ilana's doing a bit. Connors' various impersonations are akin to meeting a whole cast of characters that you're already familiar with, even if you're not fully acquainted yet: creepy divorced Uncle Jim; the drunk, dance floor-ready mom at a wedding; a well-meaning but misguided straight ally. Besides these caricatures, Connors also exploits her voice to drive home points, either as a punchline or to emphasize their own unease. And as a millennial, she's got plenty of anxiety to go around, channeling it in ways that are not only funny, but also make the listener feel seen.
Connors' cadences and level of energy might not be for everyone. You have to be ready to receive her wild, bordering on cartoonish (some voices even remind me of Homestar Runner or Cartman from South Park) delivery. But for those who are into it, Connors' comedy hits home hard. As a fellow queer person who was raised Catholic, their observations about coming out and religion's hindrance of self-acceptance were especially relatable.
Some of Straight for Pay's funniest bits arise from Connors' self-deprecating stories about discovering her queerness. Connors was originally married to a man, and her jokes about their divorce and her sexual orientation are hilariously acerbic. The album is littered with astute comments about topics both big and small, like how moms love a "pop of salmon," which genuinely had me laughing out loud. There is a small bit of material, like her screed against Paw Patrol, that feels like a rehashing of something I've already seen on Twitter, but Connors' singular voice manages to keep these moments exciting.
Speaking of excitement, one of the record's best jokes arrives near the very end, when Connors indulges in some rare crowd work. She calls up an audience member and asks him to impersonate a lecherous old man who mistakes Connors and their girlfriend for sisters. The results are side-splitting and show off her improv skills.
If Straight for Pay is any indication, 2023 bodes well for colorful emerging comedians. Here's hoping Connors takes the comedy world by storm.
---
Clare Martin is a cemetery enthusiast and Paste's assistant comedy editor. Go harass her on Twitter @theclaremartin.