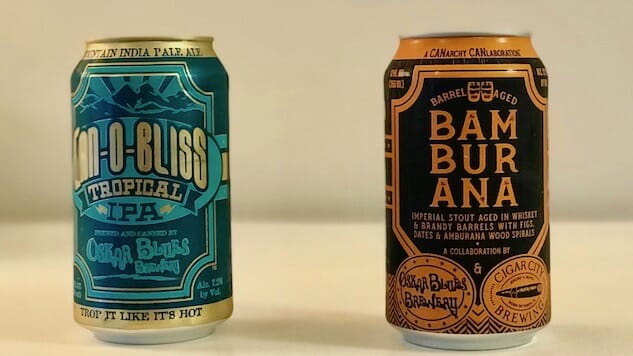 At some point, the world has to grow tired of IPAs, right? I mean, there are roughly 7.2 billion different IPAs out there right now, and every brewery in the United States is putting out approximately one new IPA a day. I'm no economist, but we have to be approaching the point of IPA market saturation, right? Too much supply, not enough demand. That's the way it works with every other product in the world. Except we're not talking about your typical product that's subject to the standard laws of supply and demand. Because IPAs are above the law. Things like supply and demand, gravity, they can't touch IPAs. We will never grow tired of them. Oskar Blues understands this, so they're releasing a new three-part series of IPAs called Can-O-Bliss with a Tropical IPA, a Hazy IPA and a Citrus IPA. They sent me the Tropical, along with a new barrel-aged imperial stout, because lord knows you can't get enough of barrel-aged imperial stouts either.
On to the beers.
Can-O-Bliss Tropical IPA
First, do you even have to call an IPA "tropical" in 2019? Isn't it sort of implied? Anyway, the name is spot on because when you crack this beer open, you can smell it across the room. It's sweet and fruity, full of mango and papaya. It pours a hazy, pale yellow with a healthy head. Based on the visuals and the nose, I was expecting a fruit bomb—something one dimensional, but OB delivers with something far better than just a sweet IPA.
The hop bill is robust, with Mosaic, Azacca, Eldorado and Idaho 7 in the works. Yes, this beer is "juicy." It's soft and fruity, and the papaya and mango carry over from the nose to deliver a really mellow sort of sweetness. But there's also some zesty tangerine and enough bite on the backend to reign in the tropical sweetness. It's smooth and silky, but there's also an intriguing numbing effect that builds on the tongue, like certain flowers I've had in drinks that are almost electric. And then there's a surprisingly dry finish that sucks all of that sweetness and zest out of your mouth, making you want to go back for another sip. Bitter? Not particularly. But certainly more so than some other tropical IPAs out there.
All in, it's a wonderful IPA that makes me want to try the other two beers in the Can-O-Bliss series. See? IPAs will never be subject to the laws of supply and demand. We will always want more.
---
Bamburana
And then we have the barrel-aged imperial stout. Actually, make that double barrel-aged imperial stout, as this particular 12.2% stout was aged in whiskey barrels and brandy barrels. It was also brewed with figs, dates and amburana wood spirals, which apparently is a wood from South America. I had to look it up. That's a lot to take in, but here's the quick synopsis: Bamburana is no exercise in subtlety. This beer is over the top boozy, over the top sweet, and over the top good. Because you don't want a subtle beer when you reach for a barrel-aged imperial stout. You want something that's going to make an impression.
As you might expect, Bamburana pours black with little to no head. It smells like leather and antique shops with just a hint of Christmas cookies. It's a dark, almost meaty beer that's loaded with sugary sweetness and a solid punch of booze. It's more "sweet brandy" than "whiskey hot," and I definitely take notice of the figs on the sip, as well as some fruit cake and what can only be gingerbread cookies. The wood is lost to me in the midst of all that sweetness, with only the notes of brandy to bring me back to earth. It has an almost chalky mouthfeel with a really long finish.
Oskar Blues and their CANarchy partners Cigar City Brewing collaborated on this beer, and it's a combination that wins all over the place. It's really good, but I'm not surprised because Oskar Blues and Cigar City both know how to make a stout and they both know how to barrel age that stout. This isn't new territory, and yet there's something refreshing and different about this beer. Maybe it's the figs or the unapologetic sweetness of it. I don't know, but put barrel-aged stouts in the same law-defying category as IPAs. I will never grow tired of them. More is always better.
---