ICYMI: When It Comes to Anthology Series, Inside No. 9 Is a Welcome Alternative to Black Mirror
BBC/Sophie Mutevelian
TV
Features
Inside No. 9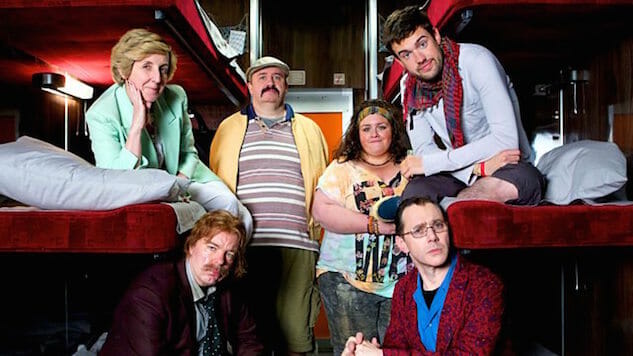 The anthology series has become something of a television oasis. With all the new TV to consume, there's nothing more refreshing than a show that requires little to no long-term commitment. American Horror Story and Black Mirror are two of the most talked-about anthology series of the decade, and each takes the concept in a different direction: The former unspools one serialized story across a full season, while the latter goes for the episodic approach, telling a different story with every installment. Still, neither is without its entanglements: AHS, from Ryan Murphy and Brad Falchuk, has demanded more of (if not always rewarded) its most ardent fans, as its seemingly unconnected seasons became increasingly intertwined in the series' mythology; even Black Mirror, from Charlie Brooker, has had the spirit of binge-watching behind it since its Channel 4 days, when word of mouth and a bit of piracy helped a lot to gain it a following outside the U.K.
By these standards, Inside No. 9, created and written by Reece Shearsmith and Steve Pemberton, requires almost no commitment at all: Though it's been compared to Black Mirror since its debut in 2014, its episodes are much shorter—30 minutes, versus an hour or more—and its genre, "dark comedy," is even broader than Black Mirror's big-umbrella sci-fi, embracing drama, horror, and plenty of other unexpected influences. And against Brooker's cautionary tales about the uses and abuses of technology, Inside No. 9 is neither so introspective nor so moralistic: Sometimes a macabre episode is just a macabre episode, you know? A flippant "what a pity" is the series' defining ethos.
If you've missed Inside No. 9, it's understandable. While Shearsmith and Pemberton—both of whom turn up as characters in nearly every episode—have managed to create something very special with the series, their love of very dark comedy, which is their creative calling card, is bound to rub some viewers the wrong way, even in the series' more impressive episodes. (In the otherwise brilliant "A Quiet Night In," for instance—a bold effort for a series' second episode, and an almost fully silent one—fumbles its late revelation that a character played by Oona Chaplin is a transgender woman, with all the sadly expected "comic" beats to follow.) Inside No. 9 might match Black Mirror's ability to depress its viewers, but it also has the ability to take those same viewers and frighten them, make them squirm, even make them cry. And, again, it does so in an impressively concise form, especially compared to its contemporaries.
Shearsmith and Pemberton clearly know that what they're creating is likely to offend in one way or another: Sexual abuse, ritual sacrifices, and mental illness (to name just a few) all come into play, and while not necessarily functioning as "the joke" of their respective episodes, such taboo material is something one should come to expect from the series. But the actual stories, their twists and turns, are ultimately the point. No two episodes of Inside No. 9 are alike in execution or structure or even style—though the series in general is never flashy on that front. While Black Mirror tells the story of how people are reflected through technology and the outside forces implicated in that, Inside No. 9 is more about telling the stories about those outside forces themselves, from jealousy to religion to greed to loss. To wit, despite all its twists and shocking moments, Inside No. 9 is also a literature nerd's dream: The series is never more comfortable than when it riffs on obvious influences like the works of William Shakespeare (comedies and tragedies alike), Agatha Christie's mysteries, or even the plays of Harold Pinter.
Though there are weaker episodes of Inside No. 9, none are lacking in the effort department: The series is always what it wants to be. And what it wants to be is, essentially, a weekly bottle episode, turning a constricting, low-concept premise into something high concept: The "No. 9" of each episode tends to refer specifically to the room or house number in which the episode takes place. (HBO's anthology series, Room 104, is set in one motel room, and while that's an impressive feat, a change of scenery might actually do it some good.) In episodes like Season One's "Sardines" and Season Two's "La Couchette," this makes for especially claustrophobic experiences: the former in a wardrobe during a game of sardines—its largest space is the bedroom itself—and the latter within a sleeper train car made for six people. Even the more expansive locations tend to be so limited that Inside No. 9 slowly but surely removes the idea of "space" with every passing scene.
Maybe most alluring, about Inside No. 9, is that it retains the "something"—its status as one of television's best-kept secrets, an underground or cult hit—that Black Mirror, despite producing number of standout episodes since, lost with its move to Netflix (and an appreciably larger budget) in 2016. In fact, though there's no actual rivalry between Black Mirror and Inside No. 9—Brooker has lauded Shearsmith and Pemberton's work, calling their series "so cleverly done" that he's not quite sure if he could do it himself—there is something like a friendly competition between them: Inside No. 9's recent live episode (a gimmick in a series whose entire premise is "gimmick," on some level), aired the same month it was announced that Black Mirror's upcoming season would be doing a gimmicky "Choose Your Own Adventure"-style episode. (One drawback of Inside No. 9 being very British is that the full magic of the live episode may be lost to American viewers, as much of the mythology and backstory that goes along with the episode requires more than a passing familiarity with the cultural context, as well as with Shearsmith and Pemberton's promotion for the episode in the U.K.)
While Inside No. 9 is somewhat doomed to remain a cult series for the rest of its lifetime—it's already had four seasons at this point without breaking big in the U.S., and I'm writing an ICYMI column about it, after all—there's arguably an episode for everyone, from those that emphasize the "comedy" in "dark comedy," to those, like "12 Days of Christine" and "Empty Orchestra" (essentially a romantic musical) that reveal the show to be far more than one thing. Really, every episode reveals Inside No. 9 to be more than one thing. And in a time when both the anthology series and the half-hour drama are gaining steamamong critics and audiences, it feels necessary to acknowledge Inside No. 9's established place in that world.
Inside No. 9 is now streaming on BritBox. The first two seasons only are available on Hulu.
---
Despite her mother's wishes, LaToya Ferguson is a writer living in Los Angeles. If you want to talk The WB's image campaigns circa 1999-2003, LaToya's your girl. Her writing has been featured in
The A.V. Club
,
Indiewire
,
Entertainment Weekly
,
Complex
,
Consequence of Sound
,
and Flavorwire
, among other publications. You can find her tweets about TV shows, movies, and music you completely forgot about @lafergs.