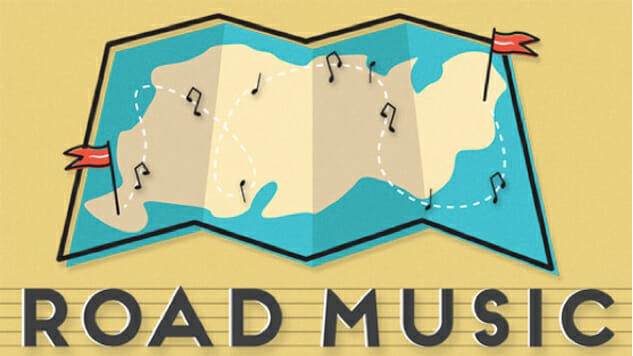 For this series, we'll be following Paste's own Curmudgeon, Geoffrey Himes, as he sets out on a massive road trip across the South, exploring musical landmarks, traditions and history along the way. Fourth stop: Memphis, Tennessee.
The famous photo of the "Million Dollar Quartet" shows Jerry Lee Lewis, Carl Perkins and Johnny Cash leaning over Elvis Presley, who's sitting at a piano. Behind the four singers are the perforated white acoustic tiles that covered all four walls and the wave-shaped ceiling of Sun Studio on Dec. 4, 1956, when Presley stopped by to visit his old stomping grounds and an impromptu jam session broke out. A large copy of the photo hangs in the studio today, and behind the black frame are the very same acoustic tiles captured by the camera 60 years ago.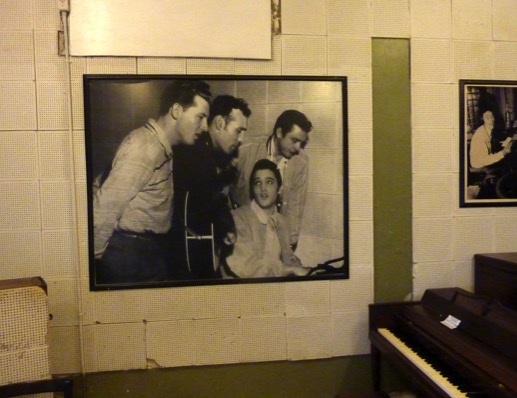 The echo between the long-ago photo and the room as it looks today is thrilling because it provides a connection that is not just emotional or spiritual but physical. You can stand there now and know that's it's not just the same site where so many landmark recordings were made; it's the same materials in the same room. This is where Jackie Brenston, with help from Ike Turner, recorded "Rocket 88," often considered the first rock 'n' roll record. This is where Howlin' Wolf cut "Moanin' at Midnight" and B.B. King cut "B.B.'s Boogie."
This was the room where, in August 1953, a nervous, 18-year-old truck driver named Elvis Presley paid a few dollars to record two songs for his mother—or so he claimed. He later admitted he hoped to be discovered by Sam Phillips, the owner of the Memphis Recording Service, as the storefront was known at the time. Phillips wasn't in that day, but Sun's office manager Marion Keisker recorded Presley and encouraged him. And her office in the reception area between the front door and the recording area is still there.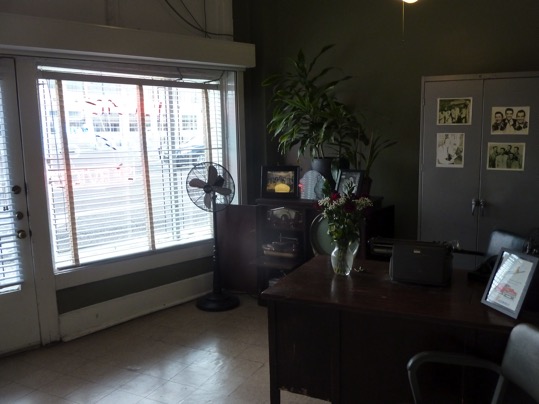 The recording room, surprising small when you see it in person, is where Presley, fooling around between takes in a recording session 11 months later, sang a swaggering version of Arthur Crudup's "That's Alright, Mama," retaining the blues feel of the original but adding a carefree confidence. Phillips immediately recognized that combination as something entirely new. He made Presley record that song—and many more like it.
It was a series of recordings that changed the world. As you stand in the room today, you can see the Xs in black electrical tape where Presley, lead guitarist Scotty Moore and upright bassist Bill Black stood on the linoleum floor, and you can see the glass window cut into the acoustic tiles; behind that window Phillips himself paced the floor and shouted out excitedly when he heard Presley goofing around with "That's Alright, Mama."
Today you can visit Sun Studio seven days a week with tours once an hour on the half hour. Following a 25-year hiatus after Phillips moved his operations to another studio nearby in 1962, Sun reopened as a working studio again in 1987. Since then it has hosted recording sessions for U2, Def Leppard, John Mellencamp, Chris Isaak and hundreds of obscure acts trying to grab a bit of history and a bit of magic. The building has become a key node in Memphis' current music scene, and most of the employees are local musicians.
When I took the tour again this week, for example, my guide was Lahna Deering, half of the wonderful Memphis duo Deering & Down. She was not the kind of sober docent you find at most art and history museums; she was funny and irreverent in way that was appropriate for a place made famous by young people making young people's music. And when she triggered the Sun Studio recording of Johnny Cash's "I Walk the Line," she played along in perfect time to demonstrate how he used a dollar bill woven through an acoustic guitar's strings to get that track's percussive train sound.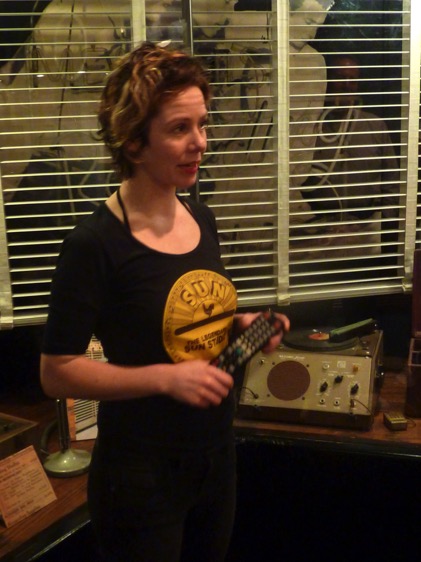 The tour begins next door in Taylor's Café, which was a soda fountain in 1953 and is still serving thick milkshakes today. The musicians hung out here, and some of them, including Roy Orbison, stayed in the rented rooms above the café. Those rooms are now the main gallery of exhibit.
Compared to Memphis's top music museums—Graceland and the Rock 'n Soul Museum—Sun is light on artifacts. It has a lot of early 78s and 45s and posters, but most of the guitars and recording equipment are of the era but not from Sun Studio and its artists. The museum does boast a new exhibit of the radio studio used by Dewey Phillips, the popular Memphis disc jockey who first played "That's Alright, Mama," and made it a local hit.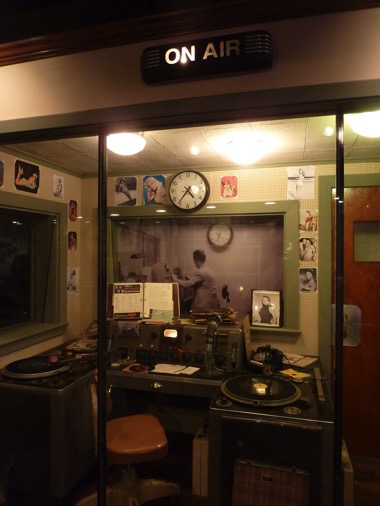 But Sun Studio—like the Stax Museum in East Memphis—has the ultimate artifact: the actual room where so much unforgettable music was recorded. And through neglect rather than design, it is mostly unchanged since that history was made. That's what draws tourists and musicians from all over the world.
There's a photo in the studio of U2's Bono recording at Sun in 1988. Within the snapshot, behind the Irish singer, is the picture of the Million Dollar Quintet that still hangs on the opposite wall. And the photo-within-the-photo is hanging on those same white acoustic tiles.