Rosamund Pike and Chris O'Dowd to Star in New (and Very Brief) TV Series from Nick Hornby
Photos by Jason Merritt/Getty, Alberto E. Rodriguez/Getty
TV
News
State of the Union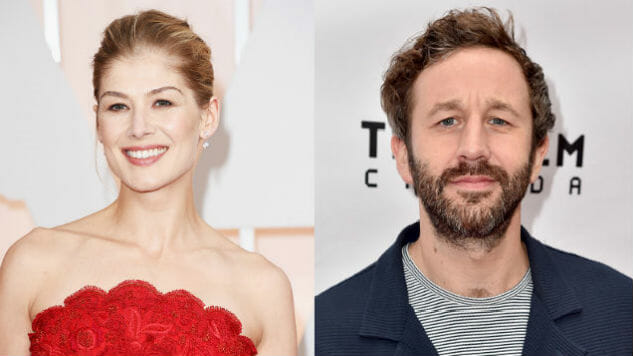 There are certain TV shows that if you're absolutely, positively late to the party on, they're almost too daunting to even bother diving into; catching up on 67 episodes of Game of Thrones, for instance, would be the equivalent of starting a new relationship, minus the benefits of actual human contact and/or sustained happiness. With the sheer amount of good TV that exists, let's all just own up to those secret sighs of relief we breathe when we read the words "limited series," or when the "culturally significant" (and wildly depressing) Leftovers-type shows get canceled. Admitting is the first step.
All that said, a new TV series from Nick Hornby is here to relieve the weight of the hour-long albatrosses around our necks. As THR reports, each episode of State of the Union will clock in at roughly 10 minutes. Given the unusual length of the project, SundanceTV has not specified whether the series will be released in installments or as a collective package, but one thing's for sure: If it's the latter, the short run time will make State of the Union dangerously bingeable.
The series will star Rosamund Pike (Gone Girl) and Chris O'Dowd (Bridesmaids) as a married couple who meets at a bar each week before heading to couple's therapy. Pike worked with Hornby on An Education, while O'Dowd was introduced to the author while making the forthcoming adaptation of Hornby's novel Juliet, Naked, due out this August.
Hornby is best known for his novels High Fidelity and About a Boy, as well as for his Oscar-nominated screenwriting credits for An Education and Brooklyn. The author is set to write all 10 episodes of the series, with the Oscar-nominated Stephen Frears (The Queen) onboard to direct.
Shooting starts this summer in London, but stay tuned for further updates on State of the Union as preproduction continues.