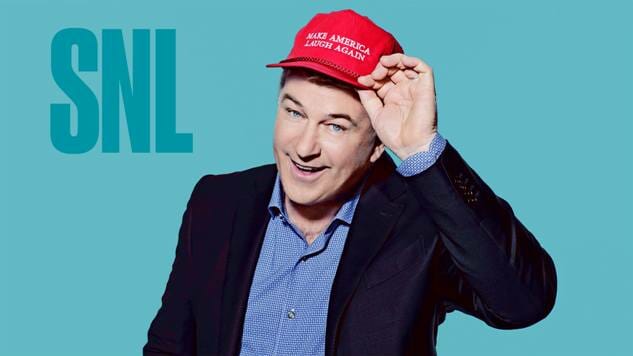 Ask a liberal what truly energizes them politically. It's the fight, the struggle against the forces of tradition and societal stasis. Conservatives are just the opposite. They become energized by the capture and protection of political power, by the establishment of tradition. This dynamic made for awkward hits, misses, and diversions into character-driven comedy by left-leaning comedians during the Obama years. Truly subversive political comedy has ebbed and flowed for years now—mostly ebbed. But now, ushered in with the election of Donald Trump, it's back with a vengeance.
While talk shows struggle to find their Trump-era voice, to manage the simmering outrage on a nightly basis, Saturday Night Live has broken away from the pack. The show has re-found its footing after eight years of wandering in the wilderness of political satisfaction.
After last week's surprise hit, Melissa McCarthy is back, this time at the top of the episode with "Sean Spicer Press Conference Cold Open." McCarthy is so good at this. Though the real Sean Spicer is more nervous, more petulant than belligerent, McCarthy's take on the embattled Trump press secretary finds its genius in the channeling of "Spicy's" boss's pugnacity. Every line is delivered like an all-caps Trump tweet. Once Spicer's podium turns into Segway attack vehicle, McCarthy has shown us who this man really is: the abused surrogate, projecting the bullying vengeance he himself is terrified of.
Ad hoc SNL cast member Alec Baldwin sits in the guest host's seat this week—amazingly, his 17th time hosting the show. "Alec Baldwin's 17th Time Monologue" focuses on the fact Baldwin looks like a man who's been around long enough to have hosted 17 times, or so goes the Pete Davidson shtick. This turns out to be the episode's weakest moment. Baldwin deserves a better opening while Davidson's "I'm the stoner kid in the cast" bit has worn thin. Overall, Baldwin turns in a decent performance marred only by several small performance flubs. It's one thing to sit in with the band for a song, another to headline the show. But in everything—in particular the 10-to-1 fart joke sketch "Gym Class"—Baldwin is game, up for anything, and funny. Always funny.
"Russell Stover" and "Pitch Meeting" are strong early-show sketches that take satirical aim at the tendency of white-led national food brands to appropriate fashionably progressive causes to sell their products (Starbucks, anyone?) No, that heart-shaped box of chocolates is not for Valentine's Day, sweetie, it's filled with bite-sized chocolate faces of famous African-Americans…for Black History Month! Concerned about immigration, multiculturalism, and transgender issues? "Hard cut, Cheetos." It's a curious pairing—back-to-back sketches, essentially about the same idea. But both are effective, and serve as a lead-in to SNL's hardest-hitting, most full-throated attack on the Trump Presidency to date: "Jake Tapper."
It would be interesting to know what percentage of current Saturday Night Live viewers have even heard of Adrian Lyne's 1987 film, Fatal Attraction—let alone seen it. But the Glenn Close-Michael Douglas erotic thriller serves as the framing device for "Jake Tapper," a pre-tape sketch that gives us CNN host Jake Tapper (Beck Bennett) stalked by a sexually ravenous Kellyanne Conway (Kate McKinnon). Tapper has rebuffed Conway's efforts to appear on his show, and she is out for blackmail: either she's put back on CNN or Tapper dies. This is less satire, more parody, to the point of an absurdist burlesque on the idea of Conway's craven corruption as Trump's propaganda mouthpiece.
There will be those who decry the sketch as having gone too far. Indeed, it is a violent, sexually charged riff on two actual people who, presumably, did not sign off on the outlandish portrayal. Still, this is exhilarating, anti-establishment political comedy—exactly what Saturday Night Live, with its huge soapbox, can do better than any other show. In response to a bullying, thin-skinned Trump, here is aggressive pushback by a gang of network television comedians. That SNL finally feels empowered to be subversive is why the show has life again. That it pushes back so forcefully, that Trump and his supporters will, no doubt, push back with equal force, is why Trump's election has made subversive American political comedy great again.
Weekend Update—featuring Kate McKinnon's "Senator Elizabeth Warren" (something's not right here…the cadence of her voice is right, but the tone, the music of it is off), Alex Moffat's douchey "Guy Who Just Bought A Boat," and Leslie Jones and Mikey Day's Fifty Shades Darker-inspired "Greg And Shelly Duncan"—is serviceable this week, back to good after an off week. There are rumors that NBC may broadcast a half-hour, mid-week Update to cash in on the segment's recent Trump-trolling resurgence. Though the improbable pairing of Colin Jost and Michael Che is still not quite ready for primetime, the possibility of character appearances by SNL cast members gives this idea promise.
"Drill Sergeant," "Trump People's Court" (Cecily Strong as Judge Marilyn Milian: "I want one day without a CNN alert that doesn't scare the hell outta me!"), "Beyoncé's Babies" (with Tracy Morgan!), and "Leslie Wants To Play Trump" are good to excellent sketches that would carry an average episode, but they are overshadowed by McCarthy's Spicer and McKinnon's Conway. Even Ed Sheeran's solid performances of two new songs—"Shape of You" (pretty good) and "Castle on the Hill" (pretty great) from his upcoming album, ÷—pale, set in the flow of an episode where America's finest female comedians (on and off-screen—thank you writers!) are hell-bent on ripping the current administration a new one. And apparently, a lot of people are watching this full-frontal assault. SNL ratings are at their highest point in two decades, up 22% since last season.
What is so interesting about this new found ratings success is the oft-overlooked fact that Saturday Night Live likes to be liked. The show gets better when it's popular. How rewarding it must be for the SNL staff to realize that the audience has finally caught up with its best work years. And, how rewarding to us as audience to have a front row seat as SNL42 plays out in the coming months.
SNL returns March 4 with guest host Octavia Spencer.
Chris White writes and directs independent feature films. His latest is Unbecoming, an award-winning, southern gothic comedy starring Patti D'Arbanville and Michael Forest. Follow Chris on Twitter.