SDCC 2018: Watch Disney's First Looks at New Episodes of Star vs. the Forces of Evil and Big City Greens
Photo: Screenshot via Disney
TV
News
Comic-Con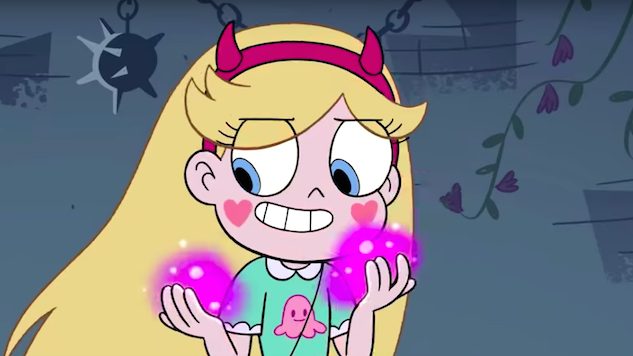 Star vs. the Forces of Evil was officially picked up for a fourth season earlier this year, but now fans at SDCC have finally seen what that fourth season is going to look like—and for all you fans not in San Diego this week, Paste has the first look:
The last time we saw Princess Star Butterfly, she was handing the magical key to the Mewni kingdom over to Queen Eclipsa. She had to; she had just learned that her ancestors had stolen the throne from Eclipsa's line by encasing the monster-loving Queen Eclipsa in crystal, handing the half-monster, half-mewman baby Princess Meteora off to a robot nanny to be raised in self-hating isolation, and plucking a nobody mewman baby from the peasantry to take Meteora's magical royal place.
As can be seen in the clip above, it turns out that Star Butterfly doesn't need her wand to perform her adorably destructive battle spells after all—all she needs is her two hands, and her best friend, Marco, fighting at her side. Which is lucky, because it looks like Star's compassionate decision to answer for a generations-old injustice has resulted in a Mewni overruled by darker impulses than it can stand.
Hurry, Star! Hurry, Marco! Hurry, ex-king River! Hurry… existentially bored dungeon master? Find ex-Queen Moon and save Mewni before it's too monstrously late!
With Star, Marco and the King needing until sometime in 2019 to find Moon and return to our screens, it's fortuitous that Disney has a new hero (of sorts) to keep us entertained in the meantime: Cricket Green, of Chris and Shane Houghton's animated "fish-out-of-water" family comedy Big City Greens. Cricket and family have been entertaining Disney audiences all summer, but in case you and your family haven't gotten on the Green train yet, Paste has a look at the misadventures still ahead this season for Cricket Green and his new Big City Family:
And don't worry about falling in with a new animated crowd only to find out they won't ever be coming back—Big City Greens was picked up for a second season ahead of its premiere. Bingo bango!
Star vs. the Forces of Evil and Big City Greens are available streaming anytime on Disney Channel on demand and on the Disney NOW app. They will return for new seasons in 2019, along with new series Amphibia and The Owl House.
---
Alexis Gunderson is a TV critic whose writing has appeared on
Forever Young Adult
,
Screener
, and
Birth.Movies.Death
. She'll go ten rounds fighting for teens and intelligently executed genre fare to be taken seriously by pop culture. She can be found @AlexisKG.