Skip Your Wedding and Go On a Weddingcation: Italy
Part Two: Venice and Florence
Photos by Vicky Kuperman
Food
Features
Italy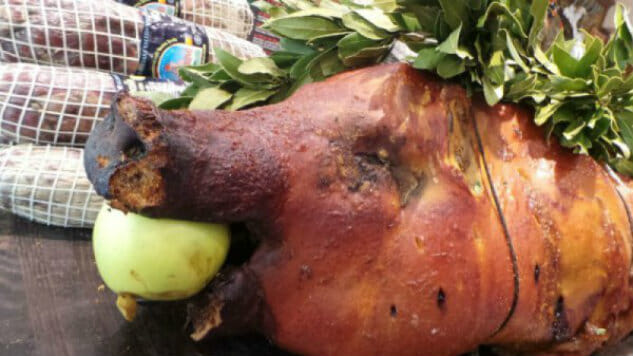 You've always dreamed of forgetting about the wedding and just spending the money on a lavish vacation for yourself and your partner. Why not? What's stopping you? Pesky relatives? Guilt-tripping friends? Forget them and focus on all the good food you'll eat and the sights you'll see.
Yesterday, I told you how my husband and I weddingcationed in Greece. Today, our adventure continues in Italy, which was obviously made for lovers … of pasta.
Venice
We had one day here so we had to make the most of it.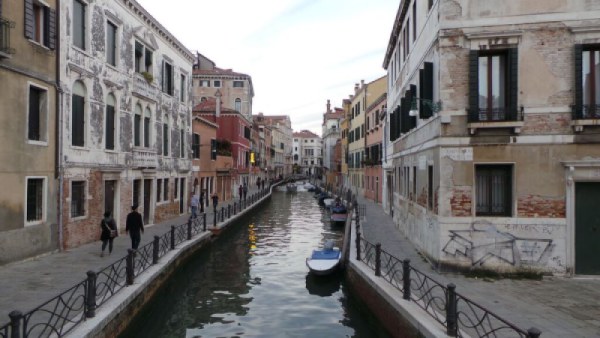 After stopping to gaze at the wonder that is Venice, we enjoyed an orgasmic chocolate donut, the first of many gelatos and a frothy cappuccino at a charming outdoor cafe.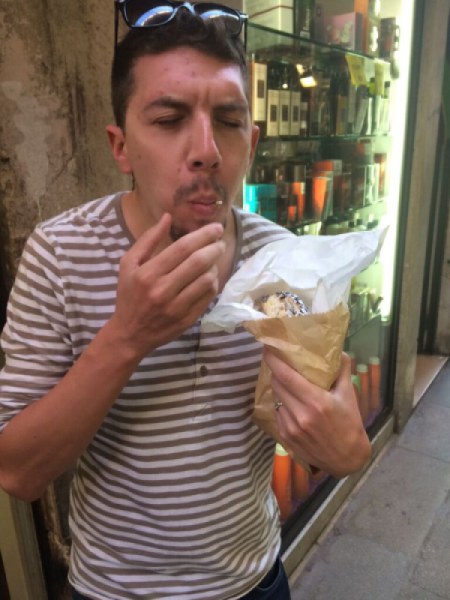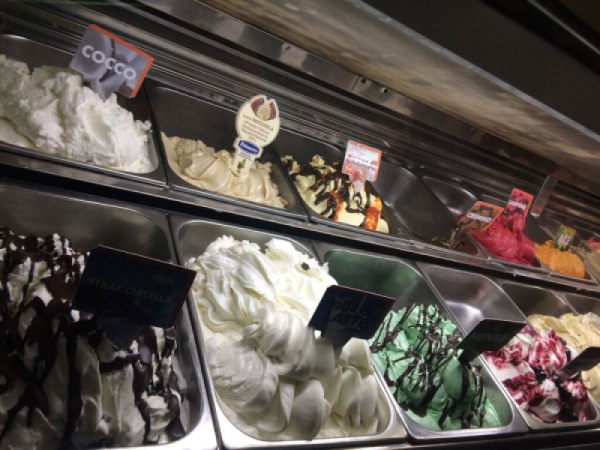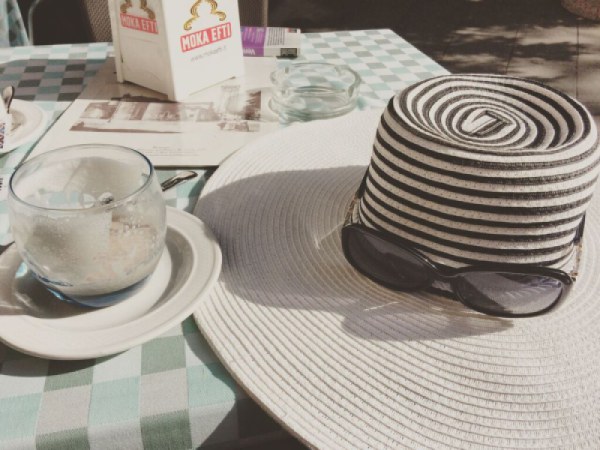 Then we set out to find Antica Trattoria Poste Vecie, recommended to us by a native Venetian. It dates back to 1500 and is the oldest restaurant in Venice. Word on the street is that Casanova used to dine there.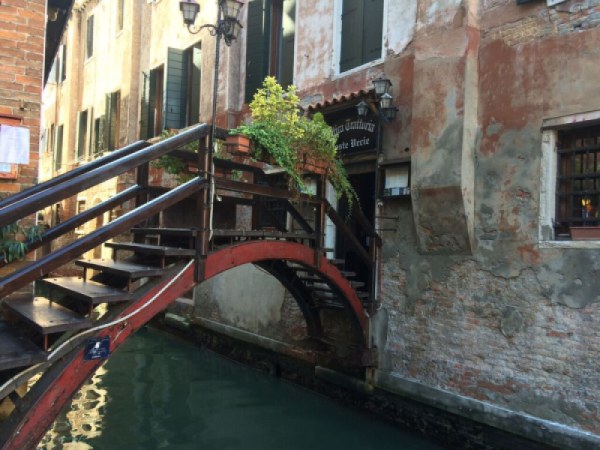 The entrance is adorable.
We dined (read: stuffed ourselves) on the seductive, alluring and mysterious Venetian dishes. The Bacala Monte Carlo is their classic appetizer. Grey shrimp might not sound appealing but my mouth would disagree with you. It was the perfect crustacean. It's subtle taste went perfectly with its two neighbors on the plate; the creamy, smooth polenta and the not-too-fishy sardines.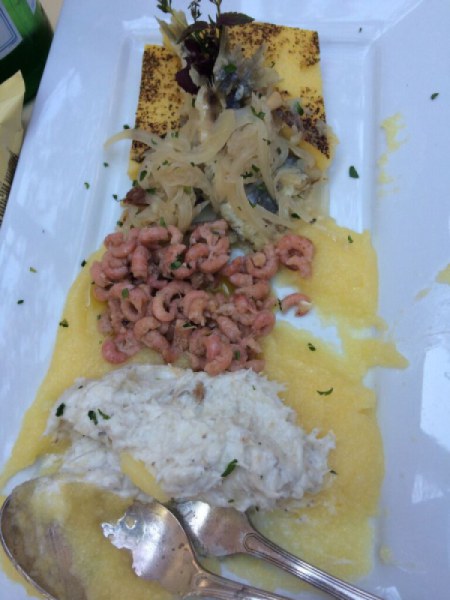 The lobster linguini not only came in a huge portion, but I can still taste the incredibly fresh, lobster, the creamy, sweet sauce and the mound of linguini. And yes, I finished every. Single. Bite. Max got the pumpkin ravioli. I can't tell you what it tasted like because he scarfed it up in five minutes. And he's usually a slow eater!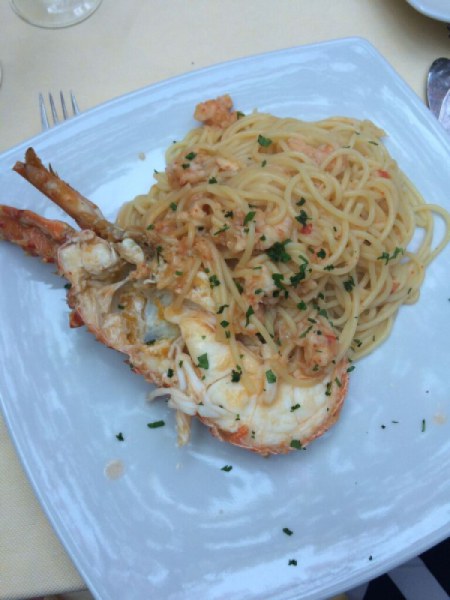 Portion control? What's that?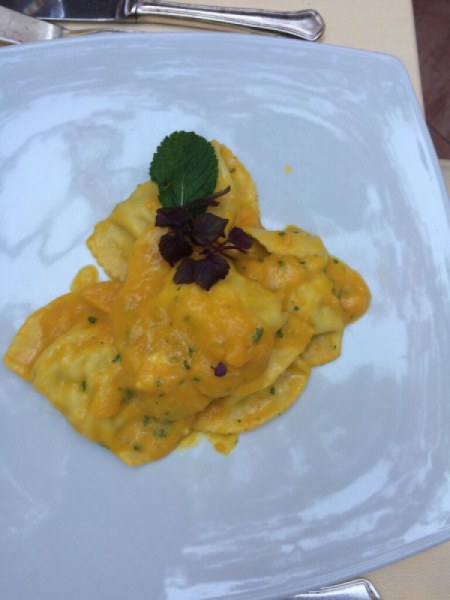 After our food coma, we were on the move again to the fifth and final (weep) city in our journey.
Florence
What's the first thing you think of when you think of Florence? Art! What's the second thing? PIZZA!
We barely dropped our bags off at the lovely Canto Degli Scali B&B before we booked it to Il Pizzaiulo, near the Basilica de Santa Croce. One of the many great things about Florence is it's a walking city, which is great for burning off all those calories. The pizza here is truly some of the best in Florence. Like most Florentine pizza, it was held up by a thin crust. The cheese was plentiful and fresh, sourced from local Tuscan cows. The tomato sauce was sweet and succulent and the toppings – arugula/eggplant for me and artichoke/mushroom for him – were the perfect addition to two already perfect pies.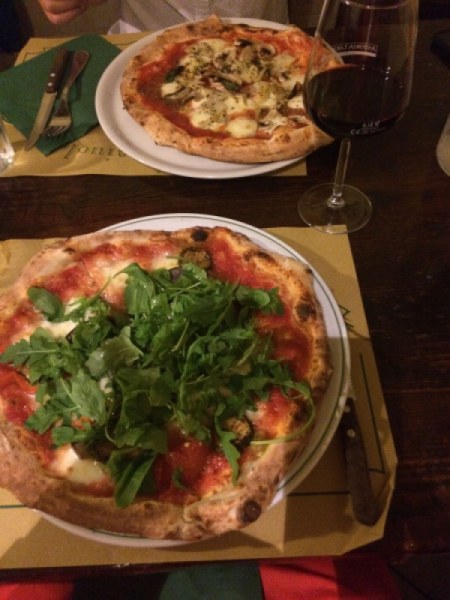 It was one pizza per person. It was the arugula/eggplant for me and the artichoke/mushroom for him. And more than enough Tuscan wine to go around!
They serve wine like water in Florence so we staggered back to our huge two-bedroom villa and found that our host Marco, along with his brother, had left us Prosecco and rich, rich chocolates!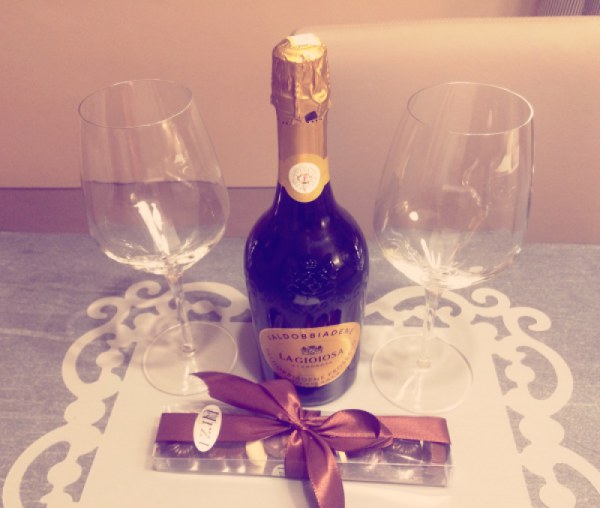 Thank you, guys!
Day two in Florence started with a monster five-hour tour of the Uffizi Gallery Museum. Actually, it started with a hangover. But that doesn't slow you down in Italy.
After the museum, we waited in line for these epic sandwiches we'd been hearing about at All'Antico Vinaio.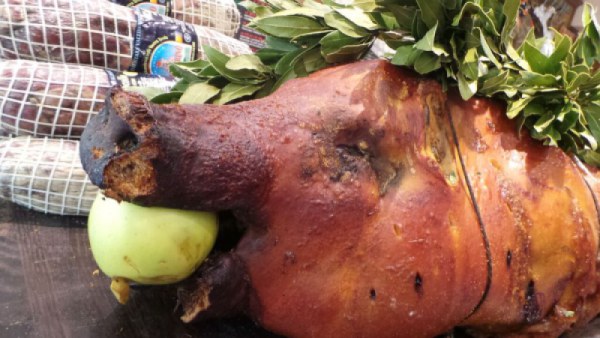 This guy made the wait go by faster.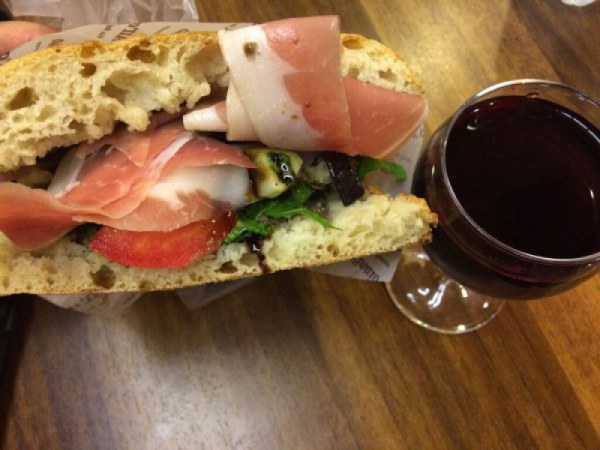 The sandwiches were sooooo worth the wait. Prosciutto, salami, tomato, avocado, greens, fresh bread and a secret sauce that tied it all together. The proscuitto was the perfect level of salty and blended with the avocado like heaven between bread. And of course, there was wine.
Acqua Al 2's dinner did not disappoint. It was delicious, cheap and fun. The manicotti was in there somewhere…under all that fresh, spicy Italian tomato sauce.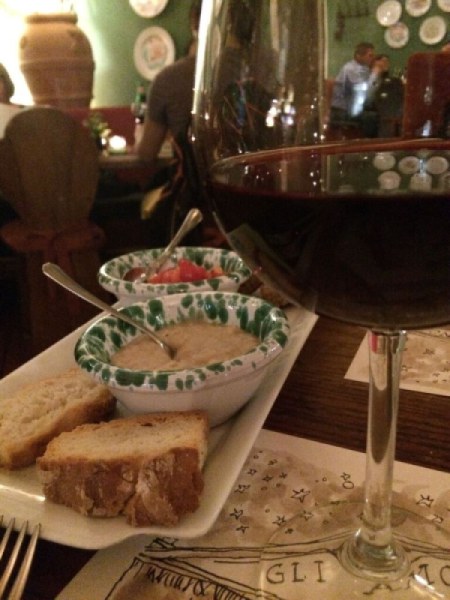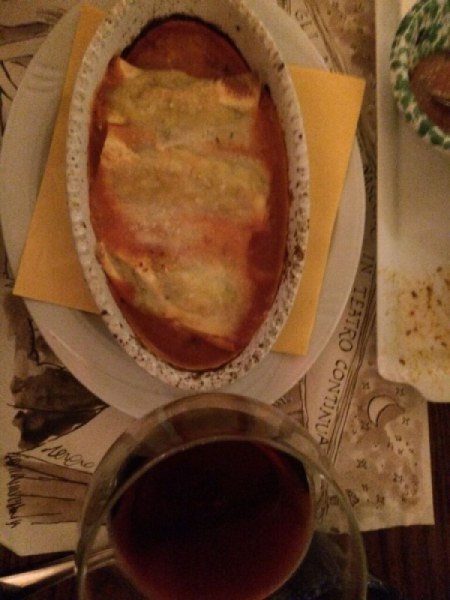 Remember how I had the third best Tiramisu I'd ever had in Athens? Acqua Al 2's tiramisu comes in at a second place. If the Grand Bretagne's Tiramisu was a cloud, Acqua Al 2's Tiramisu was heaven. The smooth, creamy, delectable and sweet bites were enjoyed with my eyes closed. I even think I lost my ability to hear. The only sense working was taste.
After seeing Michelangelo's David on Day 3, we ended up near the Duomo. And we were hungry. Still! We sat down at The Bench Caffe, a small, unassuming lunch place. The view of Le Duomo wasn't half-bad. To our surprise, we were served some of the best pasta al dente we'd ever tasted! I can still taste the meat and cheese. Every forkful of the al dente pasta was like a refreshing reminder that sometimes the simplest recipes are the most gratifying.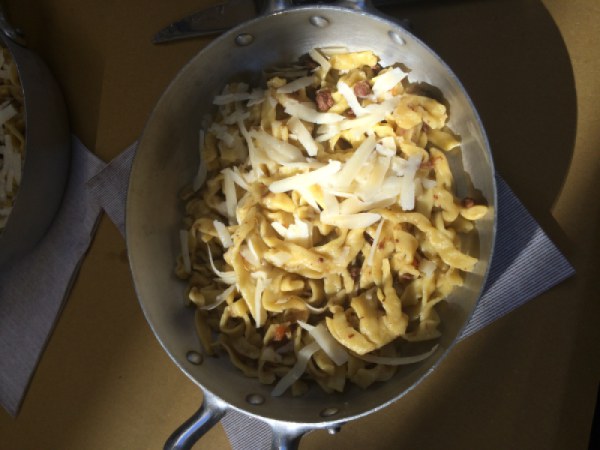 Our last day in Florence, and of the trip, ended in a climactic meal at Il Latini. Here's what you need to know about Il Latini. The meal is all you can eat with no menu. They just keep bringing you stuff. You get seated with strangers. Don't eat all day. You will not be able to move afterwards. Your photos will be blurry because of how drunk you get. We had to double-fist grappa to help coat our stomachs from the four-hour meal.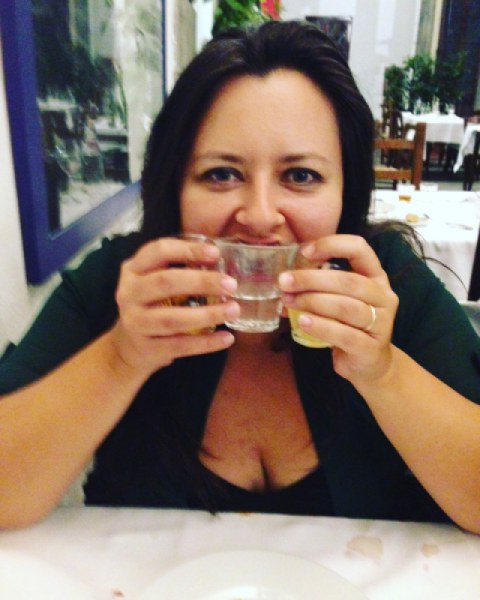 And finally, we come to it: Il Latini wins for the world's best tiramisu award! (Told you about the blurry photos!)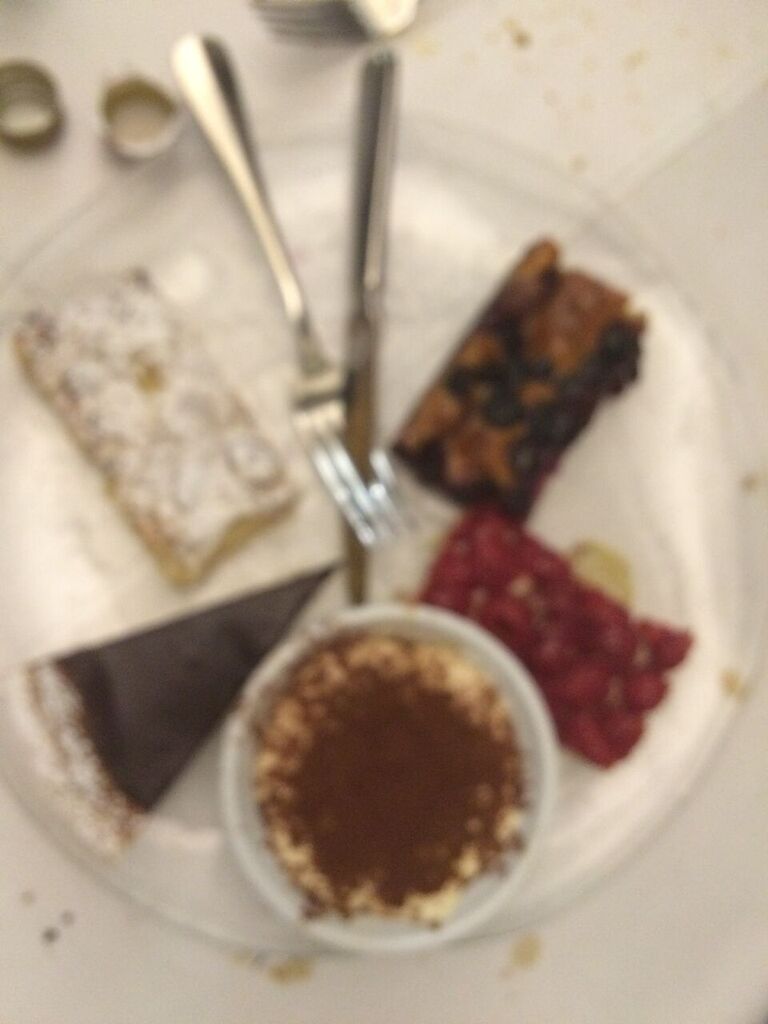 With that last bite of tiramisu, our 14-day eating and drinking journey came to an end. No regrets!
I'm not one to tell you what to do, but in case you're still on the fence, and leaning towards eloping, here's a price comparison.
All international flights for two people between three countries = $2,935
Wedding Shuttle Buses for 150 Guests in New York City = $5,250
Island-hopping ferry rides in the Greek Islands for two people = $241
Dry-cleaning a wedding dress you'll never wear again = $250
Over 20 gourmet, European meals = $1,400
Cocktail hour for your relatives you haven't seen in years = $7,500
Two weeks of luxury European accommodations = $3,530
Cost of a wedding dress you'll never wear again = $1,000-$6,000
See you on the ferry!
Vicky Kuperman is a stand-up comedian and author living in New York City. Her comedic dating book, The Russian Drop, is available on Amazon. Her album When I Could Feel is on iTunes. Her travel and food Instagram @coffeewineview is updated daily.