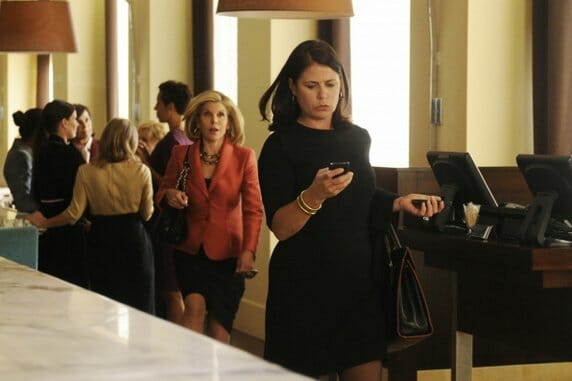 The Good Wife returned to business as usual for "And the Law Won," its second episode of the season. Or as usual as things can be at Lockhart/Gardner.
Will (Josh Charles) has his law license back, and his first case brings him opposite Lionel Deerfield (returning guest star Ed Herrmann), the lawyer who helped defend him last season. As always with The Good Wife's legal cases, the plot veers off in a surprising direction. You never, ever feel like you're watching an episode of Law & Order with this show. So the action starts off with Will suing the Chicago police department for wrongful death, but the main problem becomes that jury members start to ask questions of the witnesses. Guest star James Urbaniak does a great job of providing the night's comic relief as a judge who is obsessed with anything having to do with Harvard University, his alma mater.
Alicia (Julianna Margulies) is concerned that the court-appointed trustee Clarke Hayden (Nathan Lane) is paying too much attention to her opinion. "I'm not playing this game. Thunderdome," she tells him. Although I seriously doubt Alicia is a fan of the Mad Max movies, it was a very fun pop culture reference. Clarke tries to assure Alicia that she's giving herself too much credit and that he's not basing his firing decisions on Alicia's views. But it definitely seems like Clarke cares about what Alicia thinks. It will be very interesting to see this storyline play out, particularly since Clarke told Alicia she must take Kalinda's husband back as a client.
Maura Tierney began her extended guest arc as wealthy businesswoman Maddie Hayward this week. It was fun to see the two actresses, who both had long careers on ER, interact with each other. (You have to wonder, did they compare notes between takes? Debate who was cuter, George Clooney or Goran Visnjic?) In typical The Good Wife fashion, Maddie's motives remain unclear. She donated money to Peter's campaign after only meeting Alicia once. It can't be as simple as Maddie would like to be friends with Alicia, can it?
All in all, it was a strong episode except for the Kalinda (Archie Panjabi) storyline. I have three main concerns: 1) We've already seen Kalinda against a formidable foe. Blake (Scott Porter) and Kalinda already did this fine line between love and hate dance. This has a bit of redundant feel. 2) The behavior Kalinda is exhibiting seems beneath her. I know she's trying to appear cool and above it all but really would she let this man sexually assault her in an ice cream parlor? 3) The storyline is taking Kalinda away from the show's main action. Sure, she eventually helped Will win his case, but she was distracted and not on her game for most of the episode. Overall, this story arc isn't working for me. I think we need to understand the backstory here soon. Why were they married? What money did Kalinda take? How did it take Nick (Marc Warren) this long to find her? Why does he have such a hold over Kalinda?
I did love the look on Alicia's face when Kalinda tells Alicia Nick is her husband. Margulies is one of those rare actresses who can say nothing during an entire scene and viewers know exactly what she is thinking. Therefore, it's particularly silly when the script has her saying to herself, "Yep, I'm exhausted and it's not even noon." The Good Wife is better than that.
A few more random thoughts about the episode:
• It's fantastic when the show reminds viewers that Alicia and Peter (Chris Noth) used to be couple who truly loved each other. The final scene of them giggling over Eli was charming.
• Eli running Peter's campaign is the best Eli the series can give us.
• The drama made such a smart decision to build the friendship between Will and Diane. They are much better when they are uniting against a common enemy.
• Still not enough Cary (Matt Czuchry) in this episode. They brought him back to the firm, now let's put him on a case.