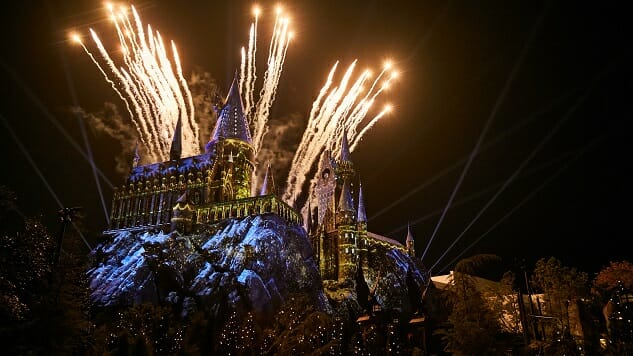 Hogwarts doesn't seem like the kind of place that would celebrate Christmas. I've never read a Harry Potter book, or anything, but I can't imagine most witches or wizards getting all that excited about the birth of the guy who displaced the old pagan gods. Maybe, like department stores and network TV, they're just into the secular side of the holiday? Or maybe witches are cooler with Christianity than Christianity is with them.
It doesn't matter why Hogwarts celebrates Christmas, though. We should all just be happy that it does. Otherwise we wouldn't be able to enjoy The Magic of Christmas at Hogwarts Castle, a beautiful light show at Universal Orlando Resort that uses projections and pyrotechnics to turn the castle into a festive holiday spectacle. The show combines images from J.K. Rowling's books with traditional Christmas flair, with young Hogwarts students on brooms making snowmen appear around the castle, and ghosts twirling across its walls in a holiday dance. At the end the entire castle comes to life with brilliant lights before fireworks explode above it. It should be a glorious end to a long day at Universal's theme parks.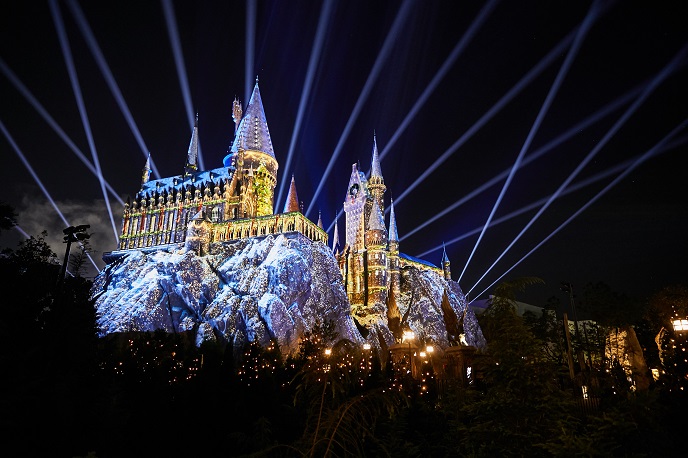 Even if the combo of Christmas and witchcraft seems contradictory, Universal's cleared all of it with the official queen of all things Potter. "We're constantly making sure that we are telling [Rowling's] story the way she wants it told," Laura Sauls, Universal's manager of creative development and show direction, tells Paste. "The Magic of Christmas at Hogwarts castle has definitely got her touch on it. We're staying true to her stories and working with her group and her direct partners to make sure we're telling those stories."
The holiday spirit lives all over Universal during its annual celebration. Beyond the traditional decorations that can now be found throughout both Universal Studios Florida and Islands of Adventure, there's a handful of special shows and events exclusive to this time of year. And although The Magic of Christmas might be the headliner, it's not the only thing that'll get you and your family ready for the season.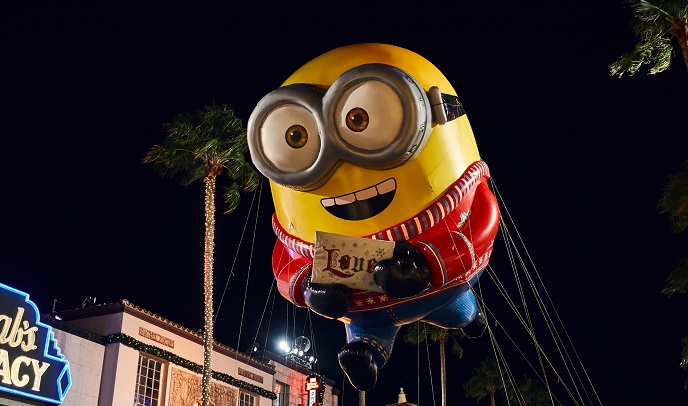 One of the first signs that the Christmas season is finally underway every year is the Macy's Thanksgiving Day Parade. If you've always wanted to attend but can't make it up to New York on one of the biggest holidays of the year, Universal has the next best thing. Every day during the holiday Universal's Holiday Parade featuring Macy's will march down the streets of Universal Studios. It has almost everything you expect from the real parade: floats and balloons featuring popular characters like Shrek and the Minions, dancers in elaborate costumes, holiday music, a sea of confetti, and, of course, a show-ending visit from Santa Claus. And those balloons are made by Macy's crack balloon team. "They're the only people to get these big giant balloons," Sauls says. "They've been doing it for 92 years." All that's missing are high school marching bands, Broadway show numbers, and poorly lip synced pop stars. It'll also be like 20 or 30 degrees warmer than New York this time of year, so maybe this parade's even better?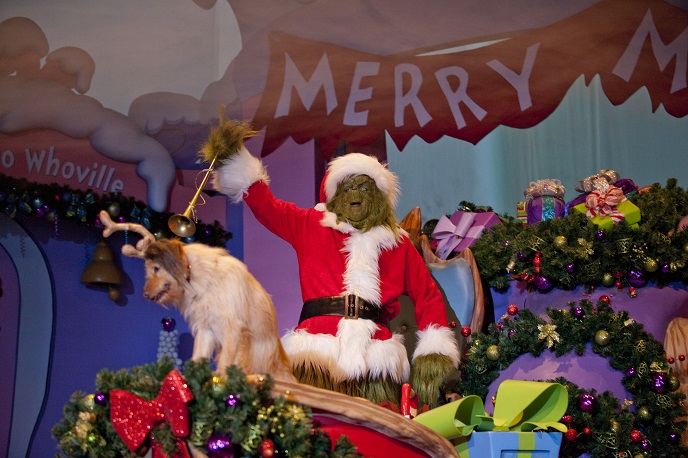 Over at Islands of Adventure, Seuss Landing has gotten a very Grinchy makeover. Expect to find carolling Whos throughout the area, and special dining opportunities with the Grinch himself. If you're into shows, the Grinchmas Who-liday Spectacular is a live staging of Dr. Seuss's original book, with an elaborately designed recreation of Whoville and a rare peak inside the Grinch's cave. This Grinch is a human actor inside a startlingly lifelike Grinch suit, and based on an press Q&A he presided over at Universal's media preview, the guy in the suit definitely lives up to the mischievousness and quick wit the Grinch is known for.
The other major attraction posting up at Universal during the holidays is Mannheim Steamroller. The shockingly popular new age Christmas music factory will be playing live on ten different nights during the holiday season, starting on Nov. 17 and running every Saturday and Sunday through Dec. 16.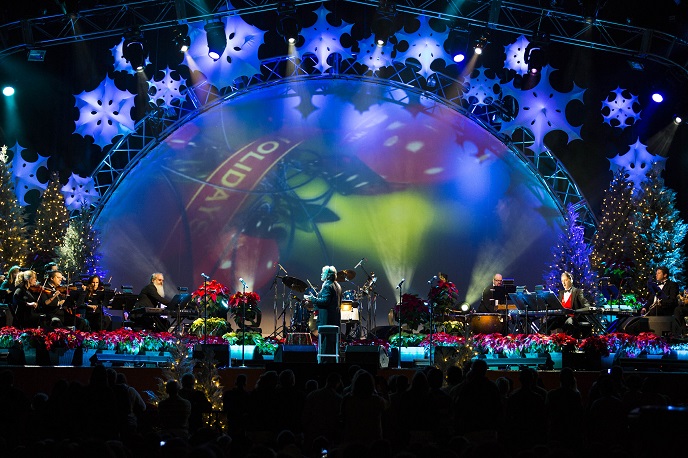 If you want to be a Scrooge, you'll find something to bah humbug about. The projections on Hogwarts can be a little dark and hard to make out in the early part of The Magic of Christmas. The Whos in the Grinch show might trigger your gag reflex if you're allergic to musical theatre over-emoting. Although it's standard theme park practice to profit off your corporate IP, this version of the Macy's parade feels even more shamelessly commercial than the original, as every character is owned by Universal. And Mannheim Steamroller insists on playing Mannheim Steamroller music, for some reason. You'd have to be a real grump to not enjoy at least some of these events, though, and within the specialized world of theme park live entertainment they're all more fun and better performed than they need to be.
Between these four major holiday events, Universal's covered most of the Christmas bases. There's the tradition of the Macy's parade, the cross-generational nostalgia of the sweet and sour Grinch story, a surprisingly elegant holiday celebration from one of the biggest cultural touchstones of the last 20 years (uh, its name is Harry Potter), and the inexplicably popular pomp and circumstance of Mannheim Steamroller. If you like your theme park adventures dripping with holiday cheer, Universal has exactly what's on your list.
---
Holidays at Universal Orlando Resort start on Saturday Nov. 17 and run through Sunday Jan. 6.
Garrett Martin edits Paste's comedy and games sections. He's on Twitter @grmartin.