Watch Adam Goldberg (and His Alter-Ego) Perform New Songs as The Goldberg Sisters at Paste
The actor and his mysterious twin are back with another sprawling garage-psych album, Home: A Nice Place to Visit.
Music
Features
The Goldberg Sisters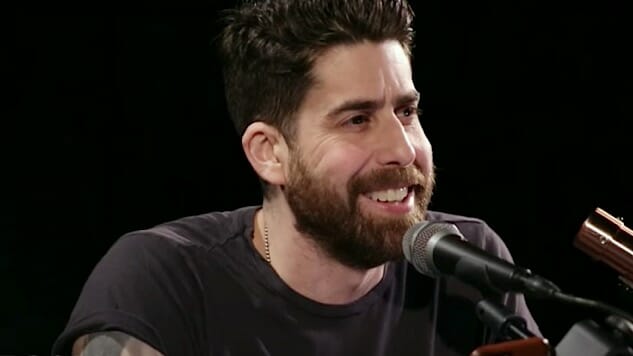 Actor Adam Goldberg has quietly been recording music for as long as he's been on screens big and small—lots of it, first under the monicker Landy and, since 2011, as The Goldberg sisters. Every few years, he gathers up the songs he's recorded in his garage with longtime collaborator Andrew Lynch (and another mysterious accomplice) and compiles an album of mega-tracked psych rock in the mold of The Flaming Lips, Tame Impala and a foundational influence, David Bowie.
His new LP, Home: A Nice Place to Visit, released digitally on May 4 (an expanded edition with two LPs and book of his photographs is coming soon), is his strongest effort yet, with Goldberg playing all the instruments save for violin and trumpet. The album is lush with swirling loops, vintage synths, wobbly guitars, tinny vocals, and a cheeky humor that belies its complex compositions. (The album's third track, '"The Kids Are Alwrong," offers "get off my dick" as a chorus refrain.)
"A lot of the songs are just songs, written conventionally on a piano or something, and then I just feel like I need to give them something that hints at what i'm trying to do with the record and so I can't just sit here on a stool play guitar, although I imagine that'd be much less stressful," he said during a recent visit to the Paste Studio in New York, where he performed three new songs as well as an older one, from 2013's Stranger's Morning.
He also chatted about what compels him to make all this music on top of his ongoing filmmaking and photography projects. Mostly, he said, it's sheer volume. "I wish it was something more analog and romantic-sounding, but the drives, the hard drives, start to get filled up with stuff and, it's like one feels like they're just hoarding a bunch of unreleased material," he said. "Two times ago, when we did this record Stranger's Morning, I'm pretty sure I said, 'That's it, never again.' Because prior to that, it had been a little more conventional—another guy plays drums, another guy plays bass, I'm maybe multitasking but I'm not playing every single instrument—and after that grueling affair I sort of thought, 'That's got to be it, I must have it all out of me.' And then, you know, obviously I love music…I probably spend more time taking pictures and making music than I do earning a living."
Goldberg, joined by Lynch on keyboard and trumpet, opened the four-song Paste set with a melded-together performance of "It Can Get You Down," from Stranger's Morning, and "When or Where or Why," from Home.
Goldberg almost never performs live, in part because, as he put it, "I don't have a band."
"What I really enjoy is the recording process and coming up with lots of different ways of layering sound and removing sound and editing sound," he said. "And so this [performance] sort of approximates that gesture a little bit."
Home: A Nice Place to Visit comes three years after Goldberg's most recent film project, No Way Jose, a bittersweet story about a struggling musician that he co-wrote and directed. For the self-labeled "multi-hyphenate, knowing the difference between a three-minute pop song and a 90-minute movie or a series of photographs is all part of pulling stories from the same basic creative impulse, with undulations here and there as he gets older.
"I always think of the acting thing as this performance instinct that I had when I was a really, really little kid," he said. "So often times I'll be working as an actor on a job-job, on a day job, and I'll be like, 'Oh wow, I'm sort of like living out the dream of a 6-year-old.' So it doesn't track artistically for me as much as it might have when I was 19 or 20. But even since then I've been making music and making little films since I was a teenager. So acting was sort of this vortex that sucked me into it a little bit. But I always wanted to tell stories, I guess, and create moods and atmosphere and stuff like that, so I think of the film and the photography stuff and the music stuff as the same expressive conduit, muscle, or something… Somewhere in there there's an excellent metaphor, and I'll get back to you on that when we're not here anymore."
The Goldberg Sisters concluded the performance with another two-song merge, of "School" and "Sliver of Light," from Home.
According to Goldberg's press team, many of his songs are co-conceived by his "mythical sister-twin, Celeste," who was not present for the performance of the songs at Paste, but did make an appearance near the end of the session to answer a few questions about the Goldberg Sisters project. After Goldberg stepped of camera for a moment, Celeste appeared in his place and quickly disavowed the proceedings.
"I told him I wouldn't do this," she said. "I'm well aware of what happened. Obviously his guitar wasn't even in tune. He fucked up two loops—he just kept hitting the loops over and over again. It's embarrassing."
Asked if she was, in fact, the primary songwriter, the Celeste demurred. "I'm the mistress mind." Maybe she's the muse? "No, no, I'm not the muse. Adam's the muse. When he goes off and does his little jobs, I'll sort of cull from his angst, if you will, and write what he's thinking, if he was able to put them into words."
Celeste abruptly excused herself and Goldberg returned, annoyed and apologetic. "Thankfully because of the acting money," he said, "I can get her her own goddamn suite. I don't have any money left to pay the PR people."
The digital edition of Home: A Nice Place to Visit came out May 4 ("hot and streaming"), with the expanded physical edition, with two LPs and a book of photographs, coming soon. "I just thought it would be—I mean I'm not breaking any ground here—but nice to actually hold something instead of having a bunch of thumb drives that represent all the time spent in my garage," Goldberg said.
So keep an eye out for that. And for Celeste.