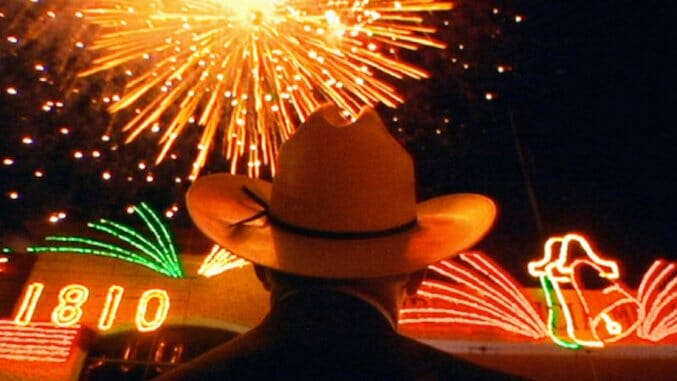 With 45365, Tchoupitoulas, and now Western, the Ross Brothers, Bill and Turner, are quietly developing a distinctive voice in the realm of nonfiction cinema: one that seeks the beauty in the everyday, shunning talking heads and polemical point-making in favor of intimate observation and expressive imagery. In 45365, this sensibility manifested itself in a portrait of a small Ohio town that fashioned unexpected poetry out of the mundane; in Tchoupitoulas, the Rosses discovered a child's-eye-view lyricism out of three young boys' late-night odyssey in a post-Hurricane Katrina New Orleans.
Western has many of the same virtues, but this time they filter it through a more overtly political lens. Broadly speaking, the film tackles the hot-button issue of security along the U.S.-Mexican border, especially in light of the increasingly violent drug wars south of the border. But instead of bringing us into the terrifying heart of the U.S.'s ineffectual war on drugs à la Denis Villeneuve's fiction film Sicario, the Rosses explore this subject by examining a Texas town, Eagle Pass, which is right across from the Mexican town of Piedras Negras. The Americans and Mexicans in Eagle Pass seem to be coexisting just fine under the leadership of Mayor Chad Foster.
With his warmhearted, gregarious "aw shucks" demeanor, Foster exudes the kind of easy, inviting charisma that makes it understandable how he's managed to reach across the cultural aisle and keep peace in this border town (the fact he also speaks fluent Spanish surely helps his cause). He's not the film's only subject, though: There's also Martín Wall, a longtime cattle wrangler living in Eagle Pass whose other main passion in life is his daughter, Brylyn, whom he's grooming to take up the family business.
Somewhat unusually for a Ross Brothers film, a dramatic arc of sorts develops: Thanks to a bout of gangland violence, the U.S. government orders cattle passage between Eagle Pass and Piedras Negras halted indefinitely. This has an especially detrimental effect on Martín, who finds his lifelong livelihood put on hold because of what he feels is basically politicians in Washington, D.C. flexing their muscles. The move frustrates Foster, too, but he tries his best to maintain stability between Eagle Pass and Piedras Negras, even after the Mexican town's mayor, José Maldonaldo, is killed in a plane accident—until an incident late in the film shakes his resolve permanently.
But while other, more activist filmmakers might have used these developments as an opportunity to score larger political points, the Rosses never break from their impressionistic, observational gaze. Only occasional radio and television broadcasts heard in the background and/or over a black screen offer a sense of a wider world outside this relative bubble; this strategy increases the devastating effect when the violence of that outside world suddenly intrudes into this self-proclaimed "paradise."
The Rosses' visual and aural sensibility remains as acutely expressive as ever. It's appropriate, in some ways, that the film is named Western; with its many wide desert landscape shots, the Rosses deliberately evoke the aura of classic movie Westerns (the fact that Foster and Wall are both frequently seen wearing cowboy hats helps further the comparison). But two separate shots of crows—one seen on a border-fence wire as a radio broadcast about the latest bout of Mexican drug-gang violence plays on the soundtrack—suggest peril ahead. Thunder and lightning becomes another foreboding visual motif, with the weather phenomenon lighting up the skies of Eagle Pass every so often until, at one point, we finally see showers disrupt a previously joyous evening town fair. The Rosses also retain a fondness for recurring musical motifs; beyond Casey Wayne McAllister's mournful theme, Schubert's "Ave Maria" pops up twice in fairly quick succession toward the end, implying a sense of spiritual doubt.
So skilled are the Rosses in using sounds and images to tell their story that they need only juxtapose a strategically placed news broadcast and a sequence of Foster going to church for the first time in years to suggest the man's crisis of confidence at a crucial moment. Western represents the best kind of political filmmaking, bursting with an empathetic artistry that makes the political deeply personal—and lyrical.
Directors: Bill Ross IV, Turner Ross
Starring: Chad Foster, Martín Wall, Brylyn Wall
Release Date: September 25, 2015
---
Kenji Fujishima is a freelance film critic, contributing to Slant Magazine, Brooklyn Magazine, The Playlist, and the Village Voice in addition to Paste. He is also Deputy Editor of Movie Mezzanine and former editor-in-chief of In Review Online. When he's not watching movies and writing and editing film criticism, he's trying to absorb as much music, art and literature as possible. He has not infrequently been called a "culture vulture" for that reason.