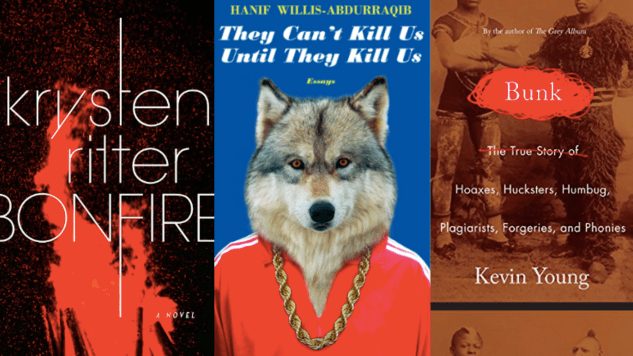 Whether you're a fan of Krysten Ritter or Brandon Sanderson, there's something for every reader to love in November's most anticipated books. These six novels and four nonfiction titles promise entertaining reads for diverse literary taste, so be prepared to add to your personal library.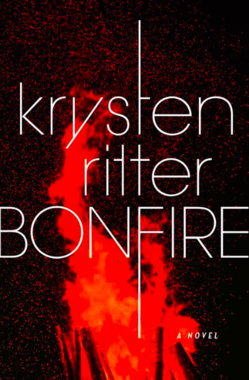 1. Bonfire by Krysten Ritter
Release Date: November 7th from Crown Archetype
Why You'll Love It: Ritter, famous for her starring role in Jessica Jones, delivers a thrilling debut novel that proves she's as talented a writer as she is an actor.
Description: It has been 10 years since Abby Williams left home and scrubbed away all visible evidence of her small-town roots. Now working as an environmental lawyer in Chicago, she has a thriving career, a modern apartment, and her pick of meaningless one-night stands. But when a new case takes her back home to Barrens, Indiana, the life Abby painstakingly created begins to crack. Tasked with investigating Optimal Plastics, the town's most high-profile company and economic heart, Abby begins to find strange connections to Barrens's biggest scandal from more than a decade ago, involving the popular Kaycee Mitchell and her closest friends—just before Kaycee disappeared for good.
Abby knows the key to solving any case lies in the weak spots, the unanswered questions. But as she tries desperately to find out what really happened to Kaycee, troubling memories begin to resurface and she begins to doubt her own observations. And when she unearths an even more disturbing secret—a ritual called "The Game"—it will threaten reputations, and lives, in the community and risk exposing a darkness that may consume her.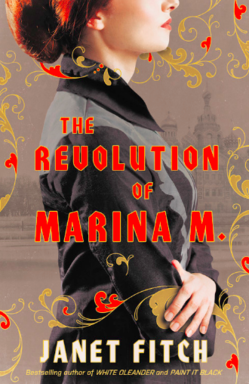 2. The Revolution of Marina M. by Janet Finch
Release Date: November 7th from Little, Brown and Company
Why You'll Love It: Finch narrows the Russian Revolution to one woman's perspective, crafting a gorgeous epic that's a must-read for historical fiction fans.
Description: St. Petersburg, New Year's Eve, 1916. Marina Makarova is a young woman of privilege who aches to break free of the constraints of her genteel life, a life about to be violently upended by the vast forces of history. Swept up on these tides, Marina will join the marches for workers' rights, fall in love with a radical young poet, and betray everything she holds dear, before being betrayed in turn.
As her country goes through almost unimaginable upheaval, Marina's own coming-of-age unfolds, marked by deep passion and devastating loss, and the private heroism of an ordinary woman living through extraordinary times. This is the epic, mesmerizing story of one indomitable woman's journey through some of the most dramatic events of the last century.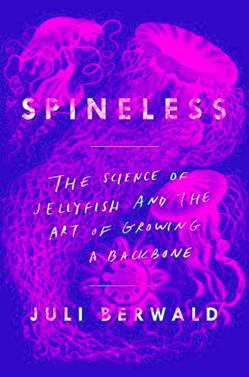 3. Spineless: The Science of Jellyfish and the Art of Growing a Backbone by Juli Berwald
Release Date: November 7th from Riverhead Books
Why You'll Love It: Berwald blends memoir and science into a compelling read that will make you rethink everything you know about jellyfish.
Description: Juli Berwald's journey into the world of jellyfish is a personal one. More than a decade ago, she left the sea and her scientific career behind to raise a family in landlocked Austin, Texas. Increasingly dire headlines drew her back to jellies, as unprecedented jellyfish blooms toppled ecosystems and collapsed the world's most productive fisheries. What was unclear was whether these incidents were symptoms of a changing planet or part of a natural cycle.
Berwald's desire to understand jellyfish takes her on a scientific odyssey. She travels the globe to meet the scientists who devote their careers to jellies; hitches rides on Japanese fishing boats to see giant jellyfish in the wild; raises jellyfish in her dining room; and throughout it all marvels at the complexity of these fascinating and ominous biological wonders. Gracefully blending personal memoir with crystal-clear distillations of science, Spineless reveals that jellyfish are a bellwether for the damage we're inflicting on the climate and the oceans and a call to realize our collective responsibility for the planet we share.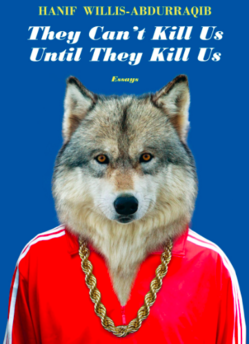 4. They Can't Kill Us Until They Kill Us by Hanif Abdurraqib
Release Date: November 7th from Two Dollar Radio
Why You'll Love It: Abdurraqib's essays are necessary reading now more than ever, and this collection is the perfect place to begin.
Description: In an age of confusion, fear, and loss, Abdurraqib's is a voice that matters. Whether he's attending a Bruce Springsteen concert the day after visiting Michael Brown's grave, or discussing public displays of affection at a Carly Rae Jepsen show, he writes with a poignancy and magnetism that resonates profoundly.
In the wake of the nightclub attacks in Paris, he recalls how he sought refuge as a teenager in music, at shows, and wonders whether the next generation of young Muslims will not be afforded that opportunity now. While discussing the everyday threat to the lives of black Americans, Abdurraqib recounts the first time he was ordered to the ground by police officers: for attempting to enter his own car.
In essays that have been published by the New York Times, MTV, and Pitchfork, among others—along with original, previously unreleased essays—Abdurraqib uses music and culture as a lens through which to view our world, so that we might better understand ourselves, and in so doing proves himself a bellwether for our times.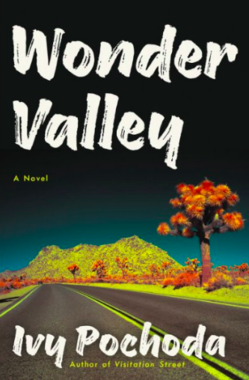 5. Wonder Valley by Ivy Pochoda
Release Date: November 7th from Ecco
Why You'll Love It: Pochoda weaves six characters' tales into an entrancing dive into contemporary L.A. life.
Description: During a typically crowded morning commute in Los Angeles, a naked runner is dodging between the stalled cars. The strange sight makes the local news and captures the imaginations of a stunning cast of misfits and lost souls.
There's Ren, just out of juvie, who travels to L.A. in search of his mother. There's Owen and James, teenage twins who live in a desert commune, where their father, a self-proclaimed healer, holds a powerful sway over his disciples. There's Britt, who shows up at the commune harboring a dark secret. There's Tony, a bored and unhappy lawyer who is inspired by the runner. And there's Blake, a drifter hiding in the desert, doing his best to fight off his most violent instincts. Their lives will all intertwine and come crashing together in a shocking way, one that could only happen in this enchanting, dangerous city.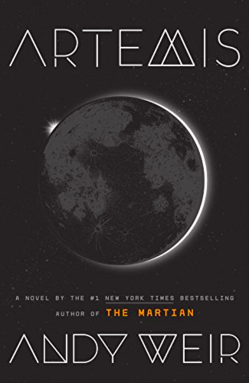 6. Artemis by Andy Weir
Release Date: November 14th from Crown
Why You'll Love It: The author of The Martian returns to space with an entertaining heist novel that will leave you wanting your own adventures on the moon.
Description: Jazz Bashara is a criminal. Well, sort of. Life on Artemis, the first and only city on the moon, is tough if you're not a rich tourist or an eccentric billionaire. So smuggling in the occasional harmless bit of contraband barely counts, right? Not when you've got debts to pay and your job as a porter barely covers the rent.
Everything changes when Jazz sees the chance to commit the perfect crime, with a reward too lucrative to turn down. But pulling off the impossible is just the start of her problems, as she learns that she's stepped square into a conspiracy for control of Artemis itself—and that now, her only chance at survival lies in a gambit even riskier than the first.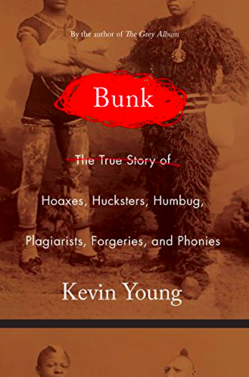 7. Bunk: The Rise of Hoaxes, Humbug, Plagiarists, Phonies, Post-Facts, and Facts News by Kevin Young
Release Date: November 14th from Graywolf Press
Why You'll Love It: In chronicling the history of hoaxes in the United States, Young illuminates the sobering role of fake news today.
Description: Bunk traces the history of the hoax as a peculiarly American phenomenon, examining what motivates hucksters and makes the rest of us so gullible. Disturbingly, Young finds that fakery is woven from stereotype and suspicion, race being the most insidious American hoax of all. He chronicles how Barnum came to fame by displaying figures like Joice Heth, a black woman whom he pretended was the 161-year-old nursemaid to George Washington, and What Is It?, an African American man Barnum professed was a newly discovered missing link in evolution.
Bunk then turns to the hoaxing of history and the ways that forgers, plagiarists, and journalistic fakers invent backstories and falsehoods to sell us lies about themselves and about the world in our own time, from pretend Native Americans Grey Owl and Nasdijj to the deadly imposture of Clark Rockefeller, from the made-up memoirs of James Frey to the identity theft of Rachel Dolezal. In this brilliant and timely work, Young asks what it means to live in a post-factual world of "truthiness" where everything is up for interpretation and everyone is subject to a pervasive cynicism that damages our ideas of reality, fact, and art.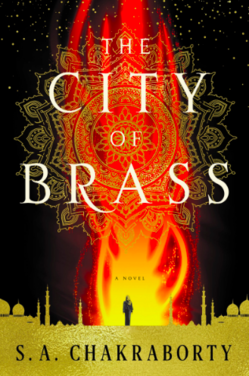 8. The City of Brass by S.A. Chakraborty
Release Date: November 14th from Harper Voyager
Why You'll Love It: Chakraborty's first book in her in Daevabad Trilogy introduces an enchanting world of magic and treachery that will leave you clamoring for book two.
Description: Nahri has never believed in magic. Certainly, she has power; on the streets of 18-century Cairo, she's a con woman of unsurpassed talent. But she knows better than anyone that the trades she uses to get by—palm readings, zars, and a mysterious gift for healing—are all tricks, both the means to the delightful end of swindling Ottoman nobles and a reliable way to survive.
But when Nahri accidentally summons Dara, an equally sly, darkly mysterious djinn warrior, to her side during one of her cons, she's forced to reconsider her beliefs. For Dara tells Nahri an extraordinary tale: across hot, windswept sands teeming with creatures of fire and rivers where the mythical marid sleep, past ruins of once-magnificent human metropolises and mountains where the circling birds of prey are more than what they seem, lies Daevabad, the legendary city of brass—a city to which Nahri is irrevocably bound.
In Daevabad, within gilded brass walls laced with enchantments and behind the six gates of the six djinn tribes, old resentments run deep. And when Nahri decides to enter this world, her arrival threatens to ignite a war that has been simmering for centuries.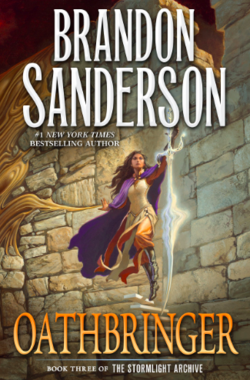 9. Oathbringer by Brandon Sanderson
Release Date: November 14th from Tor Books
Why You'll Love It: Sanderson's third book in the Stormlight Archive expands the enthralling world of Roshar, gifting readers with the most exciting installment yet in the series.
Description: Dalinar Kholin's Alethi armies won a fleeting victory at a terrible cost: The enemy Parshendi summoned the violent Everstorm, which now sweeps the world with destruction, and in its passing awakens the once peaceful and subservient parshmen to the horror of their millennia-long enslavement by humans. While on a desperate flight to warn his family of the threat, Kaladin Stormblessed must come to grips with the fact that the newly kindled anger of the parshmen may be wholly justified.
Nestled in the mountains high above the storms, in the tower city of Urithiru, Shallan Davar investigates the wonders of the ancient stronghold of the Knights Radiant and unearths dark secrets lurking in its depths. And Dalinar realizes that his holy mission to unite his homeland of Alethkar was too narrow in scope. Unless all the nations of Roshar can put aside Dalinar's blood-soaked past and stand together?and unless Dalinar himself can confront that past?even the restoration of the Knights Radiant will not prevent the end of civilization.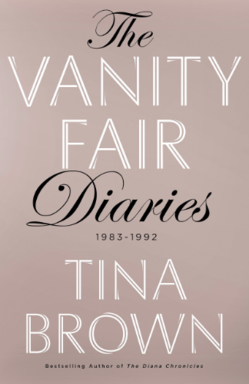 10. The Vanity Fair Diaries: 1983 – 1992 by Tina Brown
Release Date: November 14th from Henry Holt and Co.
Why You'll Love It: In her new book, Brown delivers a fascinating, behind-the-scenes look at her eight years as Vanity Fair's editor-in-chief.
Description: The Vanity Fair Diaries is the story of an Englishwoman barely out of her twenties who arrives in New York City with a dream. Summoned from London in hopes that she can save Condé Nast's troubled new flagship Vanity Fair, Tina Brown is immediately plunged into the maelstrom of the competitive New York media world and the backstabbing rivalries at the court of the planet's slickest, most glamour-focused magazine company. She survives the politics, the intrigue, and the attempts to derail her by a simple stratagem: succeeding. In the face of rampant skepticism, she triumphantly reinvents a failing magazine.
Here are the inside stories of Vanity Fair scoops and covers that sold millions?the Reagan kiss, the meltdown of Princess Diana's marriage to Prince Charles, the sensational Annie Leibovitz cover of a gloriously pregnant, naked Demi Moore. In the diary's cinematic pages, the drama, the comedy, and the struggle of running an "it" magazine come to life.