The heart of songwriting lies in the art of storytelling. It's no wonder, then, that so many bands and artists emphasize the importance of reading, especially while on the road. From classic novels to fellow rock stars' memoirs, short stories to nonfiction, these 20 musicians gave 41 book recommendations based on what they've been reading for fun.
What are you currently reading? Moby Dick by Herman Melville
Why would you recommend it? I'm a big believer in being a student of creativity before making the endeavor to create something, and sticking with that idea thereafter. I didn't even try to write a song until I had been playing and learning the work of others for years. Therefore, I've been working my way through as many Western classics as I can, especially while on tour. Melville, Orwell, Vonnegut, etc. were so ridiculously tapped into the importance of constant insight that as a writer, it's intoxicating to try and get caught up into the headspace they were in. Also, I wanted to read a book whose length would knock up my pretentiousness a couple notches.
2. Sarah Hayes (Admiral Fallow)
What are you reading? Burning Your Boats: Collected Stories by Angela Carter
Why would you recommend it? I became hooked on Angela Carter after reading Wise Children and Nights at the Circus. When I saw that all her short stories had been compiled in this volume, I jumped at the chance. Her writing is vivid and humorous with a persistent dark undercurrent, and she deconstructs fairytale themes—talking animals, mysterious forest dwellings, beauties and beasts—with a startling ruthlessness. Her distinctive style brings everything to life. Carter captures a miniature world within each tale, yet all the stories occupy the same larger sinister realm. Reading them in quick succession, it's easy to become lost in both.
3. Tony Dekker (Great Lake Swimmers
What are you reading? Writing Gordon Lightfoot by Dave Bidini
Why would you recommend it? Writing Gordon Lightfoot is a comprehensive snapshot of Canadian culture and politics, its greater context in the world, and the life of Gordon Lightfoot leading up to the Mariposa Folk Festival in the summer of 1972. It reads like a road map through the nascent folk and hard-rock scenes of Toronto and beyond during the 1970s; I've found it to be an intense and insightful slice of Canadiana. I love coming across books like this that narrow the lens on our under-documented cultural icons.
4. Alex Nauth (Foxy Shazam)
What are you currently reading? Kitchen Confidential by Anthony Bourdain.
Why would you recommend it? I love this book because not only does it allow me to learn more about a field I've always been intrigued by, but it does so in a no-bullshit demeanor. I'm falling in love with taste and presentation of an art while being shown all the gruesome truths that lurk behind it. The only downside is reading about a tender filet mignon all afternoon and stopping at a rest stop to eat a baconator. If only the book were a scratch-n-sniff.
5. Chadwick Stokes (State Radio, Dispatch)
What are you currently reading? Just Kids by Patti Smith
Why would you recommend it? She's an artist in the complete sense of the word and in this book her life weaves in and out of clouds and reality in wonderful prose.
6. Brendan Kelly (Brendan Kelly and the Wandering Birds, The Lawrence Arms)
What are you reading? A Clash of Kings by George R. R. Martin.
Why would you recommend it? Well, it's the second book in a pretty big series, so the first and biggest reason I'd recommend it is because if you're even considering reading this book, you've already read the first, very long book (A Game Of Thrones) and why would you stop now? Okay, so if we take that aspect away, you should read this book for several reasons. Firstly, it's really good, fast and compelling reading. The characters are well thought out and complex and George Martin kills off his characters, even main characters with the brutal whimsy of a smallpox outbreak. It's also the basis of the HBO show Game of Thrones, which everyone is talking about, so you can finally get over there and throw in your two cents about the Lannisters or whatever the dorks in your office are debating over by the coffee machine. And finally, it's being heralded by nerds as the next truly great fantasy series since The Fellowship of the Ring, so you should read it if for no other reason than to have some ammunition to argue this nerdiest-of-all-arguments when it finally comes up in your life. Yes, the books are slightly embarrassing. Don't be such a wimp. They're fun books and they feature lots and lots of talk about cutting off people's "manhood" and feeding them to the hounds and stuff. If that doesn't make you want to read these books, then you're a robot.
7. Eric Hehr (Gold Motel)
What are you reading? Glamorama by Bret Easton Ellis
Why would you recommend it? I enjoy Ellis due to his ability to depict the vapidity of consumerism and the absurd decadence of celebrity culture without using any editorial opinions. He never directly comments on the insipid worlds he creates or the depersonalization of his solipsistic characters. He leaves the purpose and meaning in the hands of the audience. I think the "world" of Ellis—superlative trust-fund celebrities, flashing neon lights and big brand corporations, the decomposing vacuousness of late-century American culture—is most acutely depicted in Glamorama. And for this reason, I think it will inevitably become a text-book in future college courses studying post-modernism in fiction. How we perceive 1950s Americana, the nuclear family, and the martini generation in Sloan Wilson's The Man In The Grey Flannel Suit is not far off from how we will eventually look back on 1990s Americana, consumerism, and Generation X in Ellis's Glamorama. It's a beautiful time capsule.
8. Urge Overkill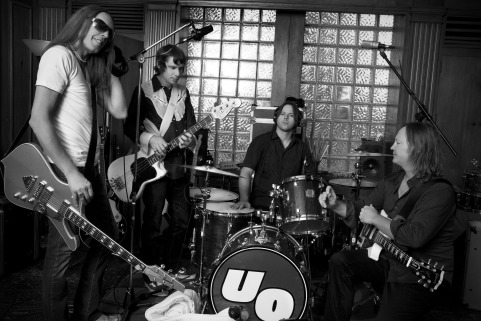 Photo by Jeffery Millies
What are you reading? UO highly recommends Nora Titone's My Thoughts Be Bloody: The Bitter Rivalry Between Edwin and John Wilkes Booth That Led to An American Tragedy, Alfred Lansing's Endurance: Shackleton's Incredible Voyage and Thomas Hardy's Jude the Obscure
Why would you recommend it? I've always been fascinated by John Wilkes Booth, but this book offers a whole new BIZARRO take on the motives behind his dirty deed (and just when you thought you've read everything on the Lincoln assassination?!). Books are essential to the sanity and refinement of any touring band.
9. Julia Stone (Angus and Julia Stone)
What are you reading? A Wild Sheep Chase by Haruki Murakami
Why would you recommend it? Well, I can't say for sure why, I have just started [it]. I previously enjoyed books by this author. I'll write you a section from the page I am on, which is lovely: "So it was that she and her slip vanished forever. Some things are forgotten, some things disappear and some things die."
10. Jay Brannan
What are you reading? Room by Emma Donoghue
Why would you recommend it? A compelling and disturbing read about an abducted woman and her son, told from the perspective of a child born in captivity. At first, I found the childish voice of the narrator a bit antagonizing, but it quickly became endearing, and fascinating to see how much wonder and detail a child can find in the confines of one tiny room because he has never experienced a larger world. It's difficult to say much more without giving away plot points, but while the story is suspenseful and in some ways a thriller, it also had me looking at the basics of life through a completely fresh set of eyes.
11. Josh Ritter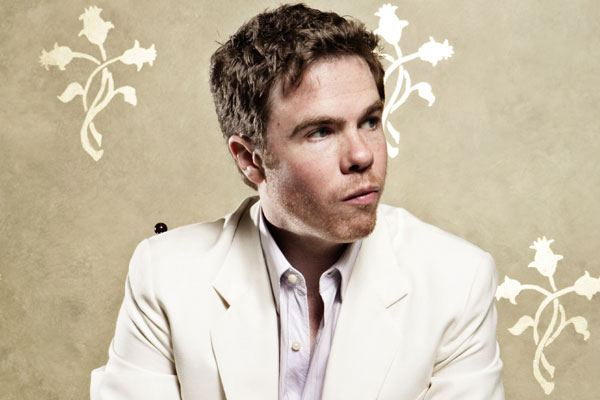 What are you currently reading? Under the Care of the Fatherly Leader by Bradley K. Martin.
Why would you recommend it? It's easy to look at North Korea and be distracted by how totally bonkers it appears. Martin tells the history of the most reclusive country on earth so that we can more fully understand how it became that way.
12. Danny Barria (The Big Sleep)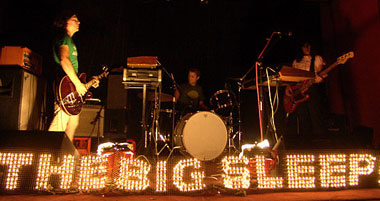 Photo by Jasper
What are you reading? The Dam Busters by Paul Brickhill
Why would you recommend it? It's the true story of a WWII bomber squadron that was formed to drop special bombs on dams used to produce electricity in Germany. It's got action, drama, tragedy, a bit of science, and it all actually happened. What's better than that (except maybe Cormac McCarthy)?
13. Sydney Wayser
What are you reading? Cleopatra: A Life by Stacy Schiff
Why would you recommend it? I love fiction, but that being said, I think it is important to check in with reality every so often. This book is a glimpse into the life of one of the most famous and fictionalized woman in history. Stacy Schiff invites you into an older world and clarifies the stories with fact. Even though this is a biography it is written in such a way that sucks you in and keeps you wanting more.
14. Mark Kozelek (Sun Kil Moon)
What are you currently reading? Black Postcards: A Rock & Roll Romance by Dean Wareham, Book of Lost Things by John Connolly, The Kid Stays In The Picture by Robert Evans and Atlas: From the Streets to the Ring: A Son's Struggle to Become a Man by Teddy Atlas
Why would you recommend it?
Black Postcards: Dean and I have traveled the same circuits for a long time now. This is one of those books where you say, "I'm so glad somebody wrote this!" Every other page has a reference to something I'm familiar with—a hotel in London, a festival in Spain, or a road manager. Dean captures the indie rock world with total accuracy. It's all in there—getting signed, getting dropped, getting the flu, getting divorced, getting slapped in the face by a stalker. I've never related to an autobiography more than this book.
Book of Lost Things: I never cried so hard at the end of a book. I love all of John's books, but this one is my favorite. John's an incredible writer, but also a kind, thoughtful, and inspirational person. I'm happy to be able to say he is my friend.
The Kid Stays In The Picture: What a book! Some great stuff in here about his involvement with the production of Love Story, The Godfather, Rosemary's Baby and other classic films. What a shock to read how he was almost with Sharon Tate and Abigail Folger the night of the Manson murders. I also liked the part about him coaching Mia Farrow through her divorce with Sinatra during the making of Rosemary's Baby. One amazing story after another. This guy lived through some extreme highs and some extreme lows, and he didn't waste one minute of his life.
Atlas: Teddy is one of my favorite characters in boxing. I don't know why HBO hasn't hired him to be a commentator. He's one of the smartest guys in boxing. I love the behind the scenes stories about training a young Mike Tyson, Michael Moorer, and also Teddy's relationship with Cus D'Amato. Teddy is a great trainer, commentator, motivator and as it turned out, a great writer.
15. Josh Hyslop
What are you currently reading? Out Of Our Minds: Learning to be Creative by Sir Ken Robinson
Why would you recommend it? People should read this book because it's incredibly inspiring and thought-provokIng. Robinson believes that everyone has the ability to be creative. Most of us just aren't aware of what creativity looks like and the many forms it can take.
16. Radical Face
What are you currently reading? The Given Day by Dennis Lehane
Why would you recommend it? I've been a fan of Lehane for a long time now, but I was waiting to dive into this one. It takes place in the early 1900s, which is where the timeline ends for the second record I'm working on in this Family Tree project. I wanted to wait until they lined up. I'm about halfway through at this point, but so far I love it. This might end up being my top novel from him. It's my favorite style of historical fiction (if you can really use that label) in that the historical elements feel active and alive, instead of simply being checkpoints or afterthoughts. It's a great book so far.
17. Greg Sullo (Dinosaur Feathers)
What are you currently reading? I just finished The Third Reich by Roberto Bolaño
Why would you recommend it? Bolaño has a reputation for being a little hard to get into, because his stuff can be dense and he goes on a lot of tangents. But The Third Reich is really easy to get into from the get-go-it's practically a beach read. Although, I may just be saying that because it basically takes place on the beach. His work is always filled with intrigue and complex characters and The Third Reich is no different. I often find books to be either enjoyable or rewarding and Bolaño is one of the few authors for me who is able to be both at once.
18. Eric Burdon (The Animals)
What are you currently reading? Just started The Expats by Chris Pavone and just finished Shadow Divers: The True Adventure of Two Americans Who Risked Everything to Solve One of the Last Mysteries of World War II by Robert Kurson
19. ">Colin Munroe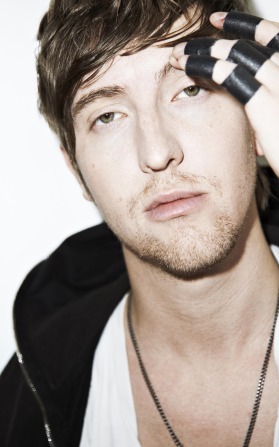 What are you currently reading? Narcissus and Goldmund
by Hermann Hesse
Why would you recommend it? It beautifully illustrates the duality of the "heart" and the "head" that we all struggle to reconcile inside ourselves. And it makes a good companion for anyone wandering in life.
20. Young Hines
What are you currently reading? Papillon by Henri Charrière
Why would you recommend it? It's a survival story. In solitary confinement on Devil's Island, he would imagine himself as a butterfly and aviate through the bars and across the ocean to fields of grass and smiling faces. Next time someone says they are "bored" think about that! Perspective is everything and attitude is all.