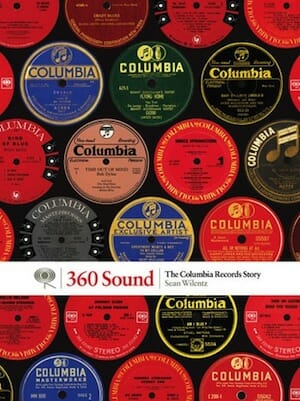 Sean Wilentz, a history professor at Princeton University, writes on prominent American figures, including Ronald Reagan and Andrew Jackson. Along with respected music critic Greil Marcus, he penned a collection on the American ballad, and he wrote a book on Bob Dylan—in fact, he holds the title historian-in-residence for Bob Dylan's fan website.
Wilentz's latest work, 360 Sound: The Columbia Records Story, reports on the up-and-down history of one of the few American musical institutions older than Dylan —his label, Columbia Records. This book commemorates Columbia's 125th anniversary.
360 Sound has presentation on its side. It's not just a history text; it comes filled with huge, coffee-table-book-sized pictures of fascinatingly old recording machinery and gorgeous record labels. And of course plenty of superstars: seductive photographs of Bruce Springsteen, Beyoncé and Frank Sinatra, who sings into a microphone with his hands in his pockets, as if he neither knew nor cared what happened around him, the world on a string. Along with Wilentz's writing, we find blurbs from Dave Marsh, another esteemed music critic.
You might think the history of a music label would interest only the artists who recorded for it. 360 Sound dispels this notion. Again and again, like a protagonist in an action movie, Columbia faced extinction—from competing technologies and other labels, musicians fighting for their jobs, exogenous factors like the 1929 market crash and World War II, and repeated failures to recognize newly popular musical forms, such as rock in the '60s. Somehow, the label dodged and feinted, grew stronger and fought back, surviving to the present. Wilentz notes that Columbia at the end of 2011 holds the title as America's foremost label in market share, with 9.39 percent of the U.S. album (remember those?) market.
The American inventor Thomas Edison first patented a phonograph for recording sound in 1878, but he believed that recording music took priority only "behind dictation, phonographic books for the blind, and the teaching of elocution." Edison sold the rights to his device (to a cousin of Graham Bell, the man behind the telephone), and Columbia came into being in 1887. The company took its name from its original home base in Washington D.C. Early recordings sold by the label include a "well known yodeler of the Washington police patrol" and William Jennings Bryan's "cross of gold" speech.
Columbia survived a threat from the development of radio in the 1920s, began experimenting with electronic recording techniques, and played an important part in the recording of early jazz and blues music. Wilentz notes Columbia's strange relationship with black music, producing "race records" that perpetuated racism and segregation but also captured important landmark moments in black music. The label did this "not because they loved music, but because they loved making money," Wilentz writes.
While the book does not dig much further, Columbia's relationship with black popular musical forms remained convoluted. Post WWII, although several big jazz names graced the Columbia roster, the company paid little attention to soul, funk or disco—or if it did, the artists don't get discussed in 360 Sound. The label also found only intermittent success with hip-hop, despite that genre's close ties with Columbia's eventual home, New York City.
Blindsided by the 1929 stock market crash, Columbia received an unforeseen gift from the end of Prohibition—the development of the jukebox. By the mid-1940s, this device accounted for a whopping "60 percent of all the records produced in the U.S.," writes Wilentz.
The Columbia label changed hands several times, moving to the American Record Company and then to CBS. CBS moved the operation to New York City and World War II hit not long after, restricting the materials available for the making of records. Columbia also faced a massive strike by the American Federation of Musicians, who argued that records were stealing their jobs.
After World War II, Columbia's history starts to sound more familiar, as its artistic imprint covers most areas of post-war music. New microphones and other sonic innovations rolled out, and the label developed the LP, a record that played at 33 1/3 rotations per minute and contained much more music than previous records spinning at 78 rpm. Columbia put out music recorded by, among many: Leonard Bernstein, Barbra Streisand, Miles Davis, The Byrds (though Columbia came to rock music a few years late, it did a good job of making up for lost time), Michael Jackson, Elvis Costello, LL Cool J, Mariah Carey, Lauryn Hill and Adele.
The history of Columbia turns out to also be largely a history of specific men—hardly any women appear in the book, aside from musicians. These gentlemen pushed the label in certain directions or signed specific juggernaut artists. Arthur Satherly connected Columbia with country and western star Gene Autry; Don Law oversaw recording sessions with Robert Johnson, a seminal figure in the recorded history of blues. A man by the name of Ted Wallerstein decided to take advantage of the law of demand, reducing the price of all classical recordings by 50 percent, which boosted sales "elevenfold." George Avakian brought on Miles Davis and Johnny Mathis. John Hammond remains famous for signing Billie Holiday, Bob Dylan, Janis Joplin and Bruce Springsteen.
In later years, Columbia had men like Goddard Lieberson, motivated by his "impatience with the conventional distinctions between 'elevated' and 'popular' music." Clive Davis made Columbia a "premier major rock and roll label." Walter Yetnikoff (a man, Wilentz informs us, who "was as horny as anyone") also happened to be "a tough, street-smart businessman."
The biggest letdown of 360 Sound comes towards the end of the book. The recording industry changed massively in recent years with digital downloads and Internet streaming. It's nearly impossible to read the book and admire all the old LP covers—an exhibition of Columbia album covers designed by one of its premier designers, John Berg, can be seen on display at Guild Hall in East Hampton, N.Y.—without speculating about the future of a label like Columbia.
Wilentz made his name as a historian, not a seer. Still, he doesn't have much to offer about what might be ahead. He suggests that a label like Columbia has two things going for it: "their respected imprimaturs" and "the resources at their command to record and then market artists with brand appeal." He goes on to say, "it is one thing to record music inexpensively and make it readily available . . . it is quite another to make that music stand out."
Presumably Columbia has a better strategy for adapting to the future than simply hoping that the best artists will continue to need its assistance in getting their music to stand out. Columbia still has a resource edge, but getting information directly to a wide audience has never been easier.
When writing about music, musicians and their product always receive plenty of attention, but the business side of things frequently gets short shrift—often on purpose, since economics can be seen as impure, corrupting and diverting from actual art.
Part of the value of a book like 360 Sound (along with the cool anecdotes and pretty pictures) lies in its ability to remind us that music doesn't occur in a vacuum. Market forces, distribution structures, demographics, decisions made by key personnel (even personalities, for gosh sakes), the availability of technology, and a decent amount of luck determine what music gets heard—and also what music gets made. Of course, the reason the Internet represents such a big threat to institutions like record labels is that it offers a possible way around this whole system.
360 Sound tells the story of America's oldest record company—a story that's almost certain to change course again soon— for better or for worse.
Elias Leight is getting a Ph.D. at Princeton in politics. He is from Northampton, Massachusetts, and writes about music at signothetimesblog.