20 Years After the Series Finale, Buffy the Vampire Slayer Stars Are Returning for Audible Original Slayers: A Buffyverse Story
Photo Courtesy of 20th Television
Books
News
Audible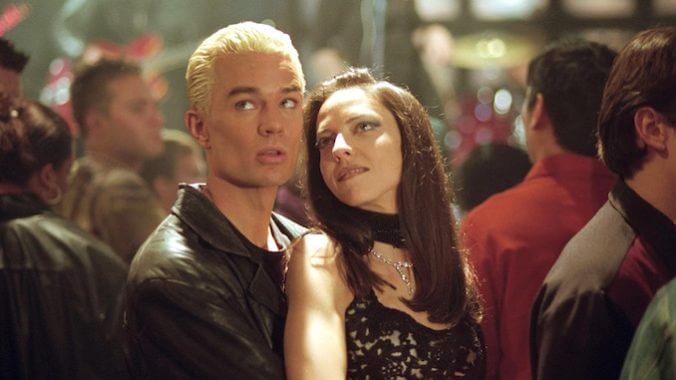 Buffy acolytes, rejoice! Earlier this year, Buffy the Vampire Slayer's series finale celebrated its 20th anniversary, but now, some of the most iconic names in the Buffyverse are coming back, this time for an original audio drama from Audible. Boasting a dream creative team and a fantastic Buffy cast reunion, this series is not one to miss for both new and old fans of the classic series.
The series, titled Slayers: A Buffyverse Story, takes place (at least partially) in an alternate universe than the one we followed for seven years in the original series. According to a press release, "the upcoming scripted audio original picks up 10 years after the events of the final episode of Buffy the Vampire Slayer. Since then, Spike (James Marsters) has gone deep undercover in Los Angeles, convincing the forces of darkness that he's back to his evil ways. When his cover is compromised by sixteen-year-old Indira Nunnally (Laya DeLeon Hayes), Spike finds himself on baby-slayer-sitting duty once more. While he attempts to track down a watcher for his eager new protégé, their paths collide with the veteran Slayer of a parallel reality where Buffy Summers (Sarah Michelle Gellar) never existed… a reality where Cordelia Chase (Charisma Carpenter) is the one-and-only Slayer. She needs Spike's help with a classic big bad terrorizing her world… his old flame, Drusilla (Juliet Landau)."
Featuring the returns of not only Marsters, Carpenter, and Landau, Anthony Stewart Head (Giles), Emma Caulfield (Anya), Amber Benson (Tara), James Charles Leary (Clem), and Danny Strong (Jonathan) will all be reprising their iconic roles as well.
Aside from the star-studded line-up, the creative team includes similarly significant players in the Buffy canon: Amber Benson and Christopher Golden. Benson, best known for playing fan-favorite Tara in the series, has briefly written for the Buffyverse in the past (she co-penned a comic mini-series called Willow & Tara for indie publisher Dark Horse in 2003), and is now stepping in as co-writer of this series. While Golden may be relatively unknown to casual viewers of Buffy, he has written a vast majority of the Buffyverse tie-in novels, as well as numerous guide books and other various texts about the show. Benson and Golden, alongside Kc Wayland, also act as co-directors of Slayers.
Most notably, series creator Joss Whedon's name is nowhere to be found within the press release for the show, marking the series' first true step away from the disgraced showrunner. Up until this point, anything still carrying the Buffyverse banner still lists Whedon's name among the credits, like the Boom! Studios comic reboots of both Buffy and Angel, so his absence from any mention in the press release is interesting to say the least, and may mark the franchise's newfound severing from his tainted legacy.
For fans of the Buffyverse, this is sure to be a welcome return to the Hellmouth, and for any new fans, there's still time before its October 12th release date to catch up. For fans new and old, there is nothing more exciting than the prospect of returning to Sunnydale this fall, and hopefully for more visits in the future.
Slayers: A Buffyverse Story premieres October 12th on Audible. 
---
Anna Govert is the TV Editor of Paste Magazine. For any and all thoughts about TV, film, and her unshakable love of Buffy the Vampire Slayer, you can follow her @annagovert.
For all the latest TV news, reviews, lists and features, follow @Paste_TV.