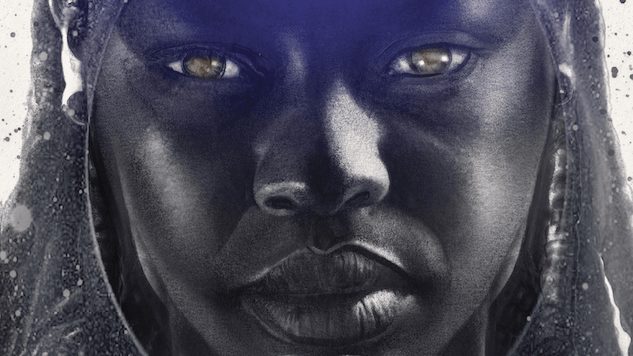 When we think about speculative fiction, we tend to imagine long fantasy sagas or science fiction epics. But the genres boast short fiction that's just as enthralling as your favorite series; you just have to know where to look. This list rounds up five must-read story collections from genius authors, including Ted Chiang, Nnedi Okorafor and N.K. Jemisin.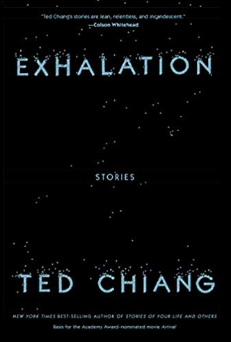 Exhalation by Ted Chiang
Release Date: May 2019 from Knopf
Why You'll Love It: Hugo- and Nebula-winning author Ted Chiang has written captivating short fiction for decades. His first short story collection, Stories of Your Life and Others (whose titular tale was adapted into the film Arrival), delivered eight fascinating tales back in 2002. And with his second collection's release this month, you can finally read nine more of his stories in one place.
Description: In these nine provocative and poignant stories, Ted Chiang tackles some of humanity's oldest questions along with new quandaries only he could imagine. In "The Merchant and the Alchemist's Gate," a portal through time forces a fabric seller in ancient Baghdad to grapple with past mistakes and second chances. In "Exhalation," an alien scientist makes a shocking discovery with ramifications that are literally universal. In "Anxiety Is the Dizziness of Freedom," the ability to glimpse into alternate universes necessitates a radically new examination of the concepts of choice and free will. Exhalation is Chiang at his best: profound, sympathetic, revelatory.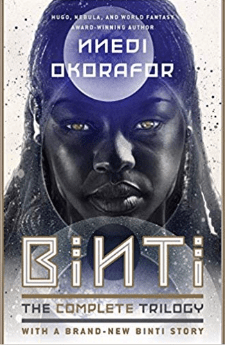 Binti: The Complete Trilogy by Nnedi Okorafor
Release Date: February 2019 from DAW
Why You'll Love It: Nnedi Okorafor writes brilliant Africanfuturist literature, including her Hugo- and Nebula-winning Binti trilogy. Yes, the omnibus technically includes three novellas and only one short story, but this sci-fi epic about a heroine's journey through space is a must-read.
Description: Binti is a young Himba girl with the chance of a lifetime: to attend the prestigious Oomza University. Despite her family's concerns, Binti's talent for mathematics and her aptitude with astrolabes make her a prime candidate to undertake this interstellar journey. But everything changes when the jellyfish-like Medusae attack Binti's spaceship, leaving her the only survivor. Now, Binti must fend for herself, alone on a ship full of the beings who murdered her crew, with five days until she reaches her destination.
There is more to the history of the Medusae—and their war with the Khoush—than first meets the eye. If Binti is to survive this voyage and save the inhabitants of the unsuspecting planet that houses Oomza Uni, it will take all of her knowledge and talents to broker the peace.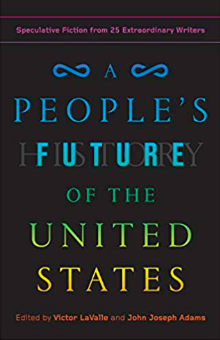 A People's Future of the United States edited by Victor LaValle and John Joseph Adams
Release Date: February 2019 from One World
Why You'll Love It: This collection imagines "new futures for America," delivering an emotional rollercoaster ride sure to make you rage one minute and tear up with hope the next. You'll be amazed that this slim tome boasts 25 stories from speculative fiction stars, including N.K. Jemisin (also on this list), G. Willow Wilson, Charlie Jane Anders, Hugh Howey and more.
Description: In these tumultuous times, in our deeply divided country, many people are angry, frightened and hurting. Knowing that imagining a brighter tomorrow has always been an act of resistance, editors Victor LaValle and John Joseph Adams invited an extraordinarily talented group of writers to share stories that explore new forms of freedom, love and justice. They asked for narratives that would challenge oppressive American myths, release us from the chokehold of our history and give us new futures to believe in. The result is this spectacular collection of 25 tales that blend the dark and the light, the dystopian and the utopian. These tales are vivid with struggle and hardship—whether it's the othered and the terrorized, or dragonriders and covert commandos—but these characters don't flee, they fight.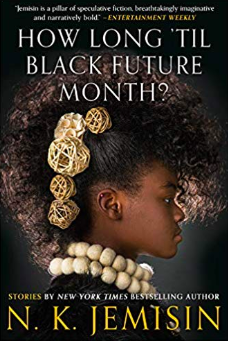 How Long 'Til Black Future Month? by N.K. Jemisin
Release Date: November 2018 from Orbit
Why You'll Love It: N.K. Jemisin made history by winning the Hugo Award for Best Novel three years in a row for the Broken Earth series, and her short fiction is equally as captivating. This collection includes powerful stories that you'll want to savor, introducing enthralling characters in every tale.
Description: In the first collection of her evocative short fiction, which includes never-before-seen stories, N.K. Jemisin equally challenges and delights readers with thought-provoking narratives of destruction, rebirth and redemption. Spirits haunt the flooded streets of New Orleans in the aftermath of Hurricane Katrina. In a parallel universe, a utopian society watches our world, trying to learn from our mistakes. A black mother in the Jim Crow South must save her daughter from a fey offering impossible promises. And in the Hugo Award-nominated short story "The City Born Great," a young street kid fights to give birth to an old metropolis' soul.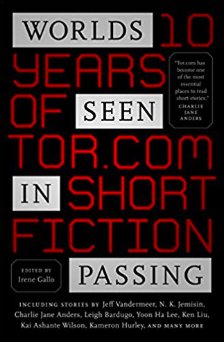 Worlds Seen in Passing: Ten Years of Tor.com Short Fiction edited by Irene Gallo
Release Date: September 2018 from Tor.com
Why You'll Love It: Tor.com publishes original sci-fi, fantasy and horror short stories every month, which you can read here (seriously, go check it out right now). Tor.com publisher and Tor Books creative director Irene Gallo collected the most riveting stories from the past decade into this glorious volume, including fiction by N.K. Jemisin, Jeff VanderMeer, JY Yang and more.
Description: Since it began in 2008, Tor.com has explored countless new worlds of fiction, delving into possible and impossible futures, alternate and intriguing pasts, and realms of fantasy previously unexplored. Its hundreds of remarkable stories span from science fiction to fantasy to horror, and everything in between. This volume collects some of the best short stories Tor.com has to offer, with Hugo and Nebula Award-winning short stories and novelettes chosen from all 10 years of the program.