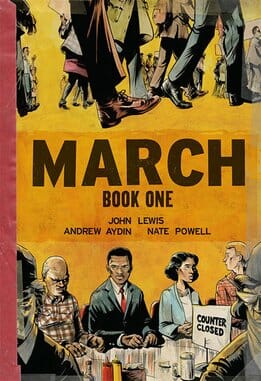 Writer: John Lewis and Andrew Aydin
Artist: Nate Powell
Publisher: Top Shelf
Release Date: August 13, 2013
The first entry in a projected autobiographical trilogy based on the life of Congressman and civil rights leader John Lewis, March almost reads like a sequel to The Silence of Our Friends, one of artist Nate Powell's most recent projects. With Powell continuing his civil rights-themed work, the artist renders both stories with a great commitment to individuality, balancing the inherent horror and passion with smaller moments that make them feel truer and more relatable.
Lewis' story flashes back and forth between Inauguration Day 2009 and his childhood through young adulthood. It's a familiar device when it comes to laying out a biography in a more cinematic, less chronological fashion, but it's used well by co-scribe Andrew Aydin, who works in Lewis' D.C. office and makes his debut in the comics field with this work. The wondrousness of Powell's art is no surprise by now, but the level of the writing is a nice treat. The script isn't mind-melting or hugely innovative, but it establishes storylines and themes with confidence and easily holds one's interest. There's an especially nice moment that implicitly justifies the choice of the comics medium, when we learn that Lewis was inspired by a 1958 comic book about Martin Luther King Jr.
Now. That art again. There's no question that Powell is one of the most exciting visual talents on the scene, and part of what makes his illustrations a delight to look at is the ease with which he conveys complicated situations. His abilities are particularly evident with text, which skitters and whips around the edges of panels. Often, characters far away are talking, and we see their dialogue rendered so delicately that you can almost read it, but not quite. When action overlaps from one panel into the next, it's done so seamlessly that it hardly calls attention to itself. Every once in a while, we get a big, dark night scene in the country, reminiscent of the 1930s WPA prints of the South, with a tiny house dwarfed by trees and encroaching black negative space. It's easy to see the heroes of the civil rights movement as more than human, but the words and pictures work together in March (Book One) to put the everyday back into their lives and, in doing so, enrich the story beyond mere hagiography.