As someone who absolutely inhaled One of Us Is Lying, Karen M. McManus' 2017 debut novel about four teens suspected of murder, I was thrilled to learn we're getting two new books from the author this year. One of Us Is Next, the sequel to McManus' bestselling debut, published in January. And now The Cousins is hitting shelves in late 2020!
Haven't heard about the latest book yet? Let us dish about it:
Milly, Aubrey and Jonah Story are cousins, but they barely know each another, and they've never even met their grandmother. Rich and reclusive, she disinherited their parents before they were born. So when they each receive a letter inviting them to work at her island resort for the summer, they're surprised…and curious.
Their parents are all clear on one point—not going is not an option. This could be the opportunity to get back into Grandmother's good graces. But when the cousins arrive on the island, it's immediately clear that she has different plans for them. And the longer they stay, the more they realize how mysterious—and dark—their family's past is.
The entire Story family has secrets. Whatever pulled them apart years ago isn't over—and this summer, the cousins will learn everything.
More dark and twisty secrets from McManus, who is an absolute master of suspense? Yes, please. Delacorte Press will publish The Cousins on December 1st, promising to end 2020 with epic thrills. And lucky for you, we have the first look at the novel! You can check out the cover reveal and read an exclusive excerpt from The Cousins below. You can also pre-order the novel here, and trust us, you'll want to know what happens after reading the first chapter.
Cover design by Alison Impey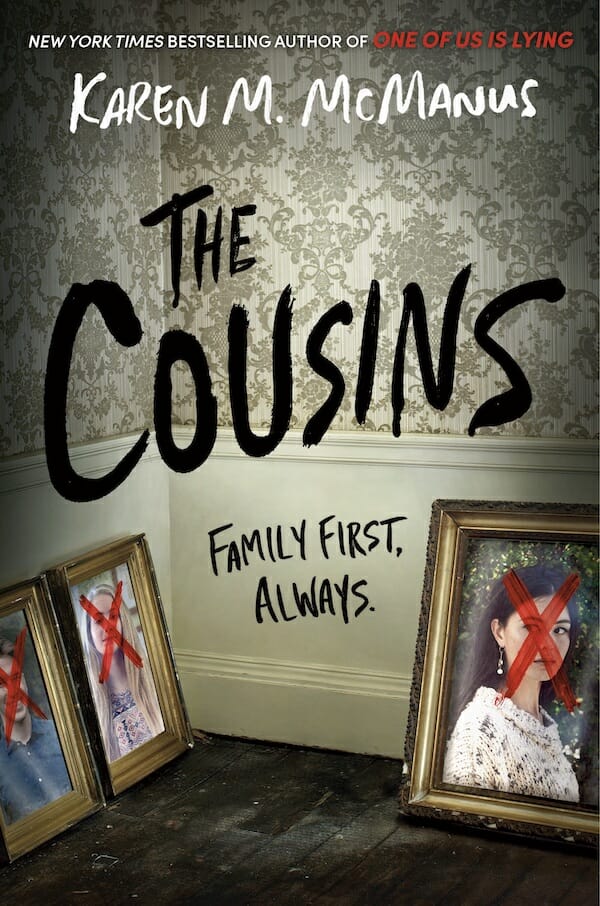 Chapter 1
"Let me get this straight," I say, my cheeks warming as I stuff the letter back into its envelope. "This woman I have never met—who cut you out of her life without looking back, who didn't come to your wedding or my christening or anything related to this family for the past twenty-four years, who hasn't called or emailed or written until, oh, five minutes ago—this woman wants me to work at her hotel?"
"I don't think you're looking at this the right way, Milly."
My voice rises to a near shriek. "How am I supposed to look at it?"
"Shhh," Mom hisses, her eyes darting around the room. If there's one thing she hates, it's a scene. "As an opportunity."
"For what?" I ask. She hesitates, twisting her cocktail ring—nothing like the five-carat emerald stunner I've seen on my grandmother's hand in old pictures—and suddenly I get it. "No, wait—don't answer that. That's the wrong question. I should have said for who."
"Whom," my mother says. She seriously cannot help herself.
"You think this is a chance to get back into her good graces, don't you? To be—re-inherited."
"That's not a word."
"God, Mom, would you give it a rest? My grammar is not the issue!"
"I'm sorry," Mom says, and that surprises me so much that I don't finish the rant I was building toward. Her eyes are still bright, but now they're watery, too. "It's just—this is my mother, Milly. I've waited years to hear from her. I don't know why now, or why you, or why this, but she's finally reaching out. If we don't take her up on it, we might not get another chance."
"Chance for what?"
"To get to know her again."
It's on the tip of my tongue to say Who cares, but I bite it back. I was going to follow that up with We've been fine all this time without her, but that's not true. We're not fine.
My mother lives at the edge of a Mildred Story-shaped hole, and has for my entire life. It's turned her into the kind of person who keeps everybody at a distance—even my dad, who I know she loved as much as she's capable of loving anyone. When I was little, I'd watch them together and wish for something as perfect. Once I got older, though, I started noticing all the little ways Mom would push Dad aside. How she'd stiffen at hugs, use work as an excuse to stay away until past our bedtimes, and beg off family outings with migraines that never bothered her in the office. Eventually, being chilly and closed off turned into criticizing absolutely everything Dad said or did. Right up to the point when she finally asked him to leave.
Now that he's gone, she does the same thing to me.
I draw a question mark in the condensation of my water glass. "You want me to go away for the entire summer?" I ask.
"You'd love it, Milly." When I snort, she adds, "No, you really would. It's a gorgeous resort, and kids apply from all over to work there. It's actually very competitive. Staff quarters are beautiful, you get full access to all the facilities—it's like a vacation."
"A vacation where I'm my grandmother's employee."
"You'd be with your cousins."
"I don't know my cousins." I haven't seen Aubrey since Uncle Adam's family moved to Oregon when we were five. Jonah lives in Rhode Island, which isn't that far away, but my mother and his father barely talk. The last time we all got together was for Uncle Anders's birthday when I was eight. I only remember two things about Jonah: One, he whacked me in the head with a plastic bat and seemed disappointed when I didn't cry. And two, he blew up like a balloon when he ate an appetizer he was allergic to, even though his mother warned him to stay away from it. "You could get to know them. You're all the same age, and none of you has any brothers or sisters. It would be nice for you to be closer."
"What, like you're close to Uncle Adam, Uncle Anders, and Uncle Archer? You guys barely talk to one another! My cousins and I have nothing in common." I shove the envelope back toward her. "I'm not doing it. I'm not a dog that'll come running just because she calls. And I don't want to be gone all summer."
Mom starts twisting her cocktail ring again. "I thought you might say that. And I realize it's a lot to ask. So I want to give you something in return." Her hand moves up to the chunky gold links gleaming against her black dress. "I know how much you've always loved my diamond teardrop necklace. What if I gave it to you as a thank-you?"
I sit up straighter, already imagining the necklace sparkling at my throat. I've dreamed about it for years. But I thought it would be a gift—not a bribe.
"Why wouldn't you just give it to me because I'm your daughter?" I've always wondered but never dared ask. Maybe because I'm afraid the answer would be the same one she gave my dad, not with her words but with her actions: You aren't enough.
"It's an heirloom," Mom says, like that doesn't prove my entire point. I frown as she rests one manicured hand on the edge of the envelope. She doesn't push it, exactly. Just sort of taps it. "I always thought I'd give it to you when you turned twenty-one, but if you're going to spend your summer in my hometown—well, it just seems right to do it sooner."
I exhale a silent sigh and take the envelope, turning it over in my hand while Mom sips her wine, content to wait me out. I'm not sure which is more frustrating: that my mother is trying to blackmail me into spending the summer working for a grandmother I've never met, or that it's totally going to work.