A Kid Befriends a Superhero on These Exclusive Olympia #4 Variant Covers
Header image illustration by Paul Maybury
Books
Features
olympia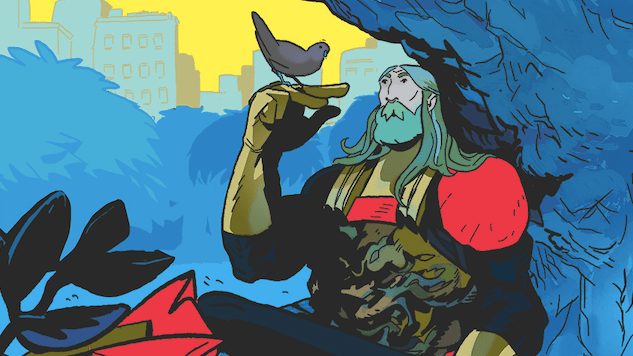 What if your favorite superhero dropped bleeding and broken into your life? Olympia, a new five-issue comic series, explores what happens when a legendary hero enters our dimension and catalyzes a dangerous chain of events. Image Comics will release a double-sized first issue on November 20th, and the description has already hooked us:
Elon is a latchkey kid who spends his days alone reading comic books—until his favorite superhero, Olympian, comes crashing off the page and into reality! But as he nurses his wounded and delirious hero back to health, he discovers Olympian isn't the only thing that came through…something evil followed him.
Curt Pires co-wrote the series with his father, Tony Pires, while Tony was in the hospital battling cancer. After Tony passed away, the comic became a way for Curt to "share how great [his] dad was." The Olympia team also includes Alex Diotto (art), Dee Cunniffe (colors) and Micah Myers (letters).
We're excited to exclusively reveal two variant covers for issue four. But before we get to the covers, we want to share Curt Pires' thoughts on the writing process and what readers can expect by the time issue four debuts.
Paste: What was the process of creating this comic with your father? What catharsis has it given you?
Curt Pires: Well, the idea was my father's. He's the one who came up with the core concept that the series is built on—the idea of this warrior from another time/dimension crashing down and being looked after and sort of mentoring the little kid. That was his initial pitch to me. He was in the hospital in late 2016 and was very, very sick. I'd come in to visit him, and he pitched me the idea. After that, we broke the story walking laps around the hospital. He was an active guy his whole life and hated sitting still, so even when he was sick as a dog we would walk laps. We would break the story together and talk everything out, and then I'd script it. He'd make suggestions and sometimes we'd go with them, and sometimes we'd decide to go a different direction. I've really never worked on a book in this method before.
As for the catharsis, I wish I could give you a perfect answer and tell you that making the book has healed me and helped me process the trauma of everything my family has been through, but that's not really the case. I'm still raw; I'm still in pain. I still miss him every damn day. I'd still cancel this book, and every other project I'm on to have him back, but that's not how things work. The universe and God move in mysterious ways. I find that surrendering myself to that—letting go of this illusion of control that we fight so hard to maintain as humans—is key to staying sane. I'm just trying to use this book to make people feel less alone or bring them some enjoyment.
I'm happy that through the book I'm able to share how great my dad was and how much I loved him, though. That much is a blessing. In a way, if people are thinking about you—missing you—you never really die.
Paste: What attracted you to the era of '60s cosmic comics that Olympia pays homage to?
Pires: I love the work of Jack Kirby—and the work of Stan [Lee] and Jack together. There's something about the optimism and the high frequency at which those comics put out ideas with little regard for hand holding or even really justifying what they're doing. The comics are just plain fun. I wanted to evoke that and juxtapose it with a heavier feel.
Paste: What can readers look forward to by issue four?
Pires: Issue four is where things shift from character focused and start building towards the big blockbuster event that is the oversized fifth issue. All the players are on the board, and the scope of the threat that Elon, Kirby and Olympian are dealing with is made clear. Things take off in really exciting directions.
Olympia #4 Variant Cover Art and Colors by Paul Maybury: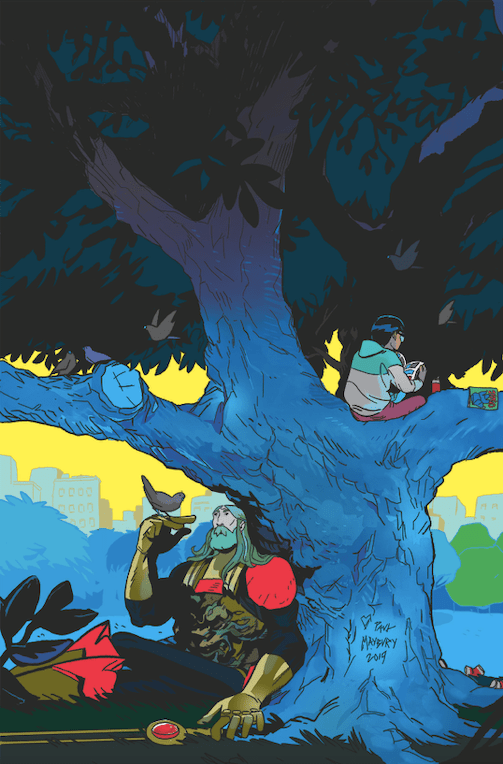 Olympia #4 Variant Cover Art by Tyler Bence and Colors by Bill Crabtree: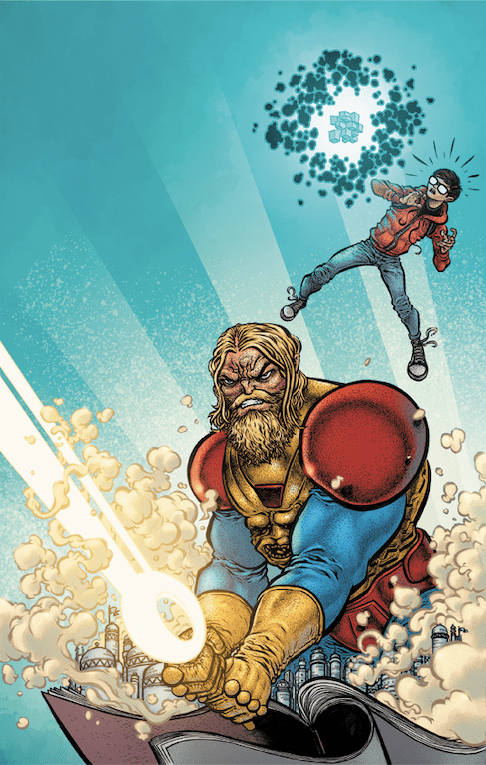 You can learn more about Olympia here ahead of its November 20th release.