Queens of Noise: The Real Story of the Runaways by Evelyn McDonnell
Peeling away the clichés on the Runaways
Books
Reviews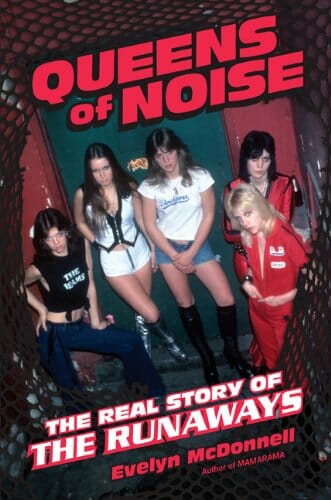 When the Runaways exploded—all feathered hair 'n' Quaaludes—on the LA glam/rock scene, they impaled stereotypes and rocked as hard as any garage band ever. They glammed, glittered, growled, taunted and worked hard to scratch out a place beyond stereotypical fantasies of sex-starved teens slashing at guitars and screaming revolt.
With five records in three years, several worldwide tours and endless runs through crummy bars and cattle-barn arenas, they never busted the bias. Jailbait queens on the road to ruin, churning out teen beat clichés about partying, sex and rebellion, the joke blew up in their faces.
Until now.
Evelyn McDonnell, former pop critic at The Miami Herald, co-editor with NPR music critic Ann Powers of Rock She Wrote and a journalism professor at Loyola Marymount in Los Angeles, explores the reality and meaning beyond the obvious. Recognizing the prurient nature and at times ham-fisted handling of these five young women, she also explores the reality of what the Runaways actually achieved, this in a (mostly) linear narrative as exhausting as it is real.
Starting with the Beatlemania hysteria surrounding the Runaways in Japan, McDonnell establishes the apex of what being a supernova in spandex can mean, then immediately moves to the very beginnings.
Joan (Jett) Larkin rides four buses on a first trip, taking her from Canoga Park to Huntington Beach, to jam with Sandy (Wes) Pesavento. Beyond overcoming Los Angeles's lack of mass transit, the two girls found kindred spirits and the root of a band of sisters, united to rock like the guys.
Following a mostly chronologic order, McDonnell traces the group's evolution, charts its progress, and lifts the veil on how a minor LA scenester named Kim Fowley could harness a concept and realize a band that, though torn apart by their diverging musical interests, hormones and lack of career support, would go on to influence a myriad of girl rockers.
Fowley wasn't looking for an enduring legacy. He wanted to titillate, to make money. With a strong bubble-pop creative vein, he teamed with the young women to create songs that sized up the youth experience in the Bowie/Zep era. Through luck, he recruited girls who looked good and could play.
For Jett, West, Lita Ford and Jackie Fox, playing was more—it was everything. Coquette Cherie Curie arrived as the blond bombshell to replace eventual Bangle Micki Steele, most likely at the urging of A&R man Denny Rosencrantz, a close friend of rock legend Jimi Hendrix.
Hendrix advised his friend: "Denny, some day girls with guitars are going to play rock 'n' roll … they're going to be like aliens when they show up in the rock 'n' roll climate – whenever they show up, no one is going to know what it is. If you're ever in promotion in the music business and an all-girl band comes along, remember this moment."
McDonnell, who interviewed all the principles, producers, publicists and hangers-on and combed through source material, recognizes the way drugs, time and personal refraction can shift various people's takes on what happened.
Rosencrantz often catches blame for the Curie/Steele swap, based on the idea that a blond lead singer ranks as the ultimate fantasy. But in trying to create a comprehensive view of what happened, McDonnell also offers other perspectives to balance the reality. She quotes scenester/fanzine editor Phast Phreddie Patterson, who acknowledges, "Micki says that Kim made advances toward her. I do not doubt this. Kim says that Denny Rosencrantz wanted a blond lead singer, and that led to Micki leaving the band. I am sure that elements of both stories have merit."
Working fanzines like BOMP and Backdoor Man, Fowley built the buzz. House parties and showcases at the legendary Whiskey A Go-Go added heat. Advocacy by Rodney Bingheimer, owner of the hot spot Rodney's English Disco, brought around the Robert Plants and Jimmy Pages.
The five young women hurled themselves into this life full-tilt. McDonnell paints the financial issues that plagued them, including thefts of rental cars and unpaid hotel bills. The author covers her subjects without hysteria, acknowledges the drug use, the rare-for-the-time, out-of-the-closet lesbianism. She describes the friction without sensationalism. She seeks to understand how the band survived at all.
As an academic, McDonnell wants to draw larger contexts. She cites Reyner Banham's 1971 Los Angeles: The Architecture of Four Ecologies as a template for the worlds the girls moved in/through. She also notes culture critic Peter Plagens' 1972 Artform Sunshine Noir response in her attempt to create a larger context for the Runaways. She comes across a bit heavy. Why couldn't this simply be a story of determined young women trying to emerge in their own right, a time of excessive hedonism and an undisciplined business where lightning strikes?
Obviously, sketchiness comes in. Young girls, older guys, permissive realities, extreme exhaustion: these yield inappropriate uses of influence, sexual alliances and druggings as both party favors and coping mechanisms.
By the time the Cherry Bomb explodes, the Runaways have aligned with fellow strugglers Cheap Trick, who would use the girls' Japanese uberstardom as a template for their breakout "Live at Budokhan." The Runaways find the Ramones as tour mates, the Sex Pistols as confidants and a host of never-quites who viewed them as patron saints of raw music, realized.
In spite of everything, all the girls—except Fox, who went to law school, and West, who eventually slid into the seamy underworld—kept trying to make their way in rock music. Jett became an international superstar, founded her own label, refused to pander and proved the punk anthem she wanted the Runaways to cut had traction: her "I Love Rock & Roll" hit No. 1 around the world. Meanwhile, Ford went the shredding metal route: She rode MTV's hair-metal wave in her skintight spandex to duets with Ozzy Osbourne and the ubiquitous "Kiss Me Deadly."
Not everyone fared so well…but all kept questing. Forever charged by the experience of living the unbridled rock life, their sheer drive emerges from McDonnell's interviews. Their legacy straddles the ground the Runaways broke and the taboos they shattered, though it may be buoyed by the success of the band's two most visible members.
McDonnell doesn't seek to resolve this legacy issue, but celebrates the spirit of what could happen when listeners ignore conventional wisdom about girls-in-rock. An almost-feminist manifest, ultimately Queens comes down to a simple story: rock as an escape route from suburban teenage expectation.
Without drowning in the minutiae of who played what, which take or outfit made it into view, what emerges is the hormonal tension of adolescence, the friction of divergent musical agendas (Jett: punk and glam. West and Ford: Deep Purple). The Runaways lived rock life to the hilt. Without apology, without calculation, they came to play, took what was there and left a legacy of corsets, snarling girls, dumb hooks and a ferocity that rivaled the punks who emerged as the Runaways fell apart.
In the end, McDonnell provides a primer of how bands come together, what they face in the jaws of trying to create arena-sized success without proper management and how it can all go wrong. She paints a sobering picture of not making it.
Holly Gleason is a Nashville-based music and culture critic. Her work has appeared in The Oxford American, Rolling Stone, Playboy, Musician, and No Depression.